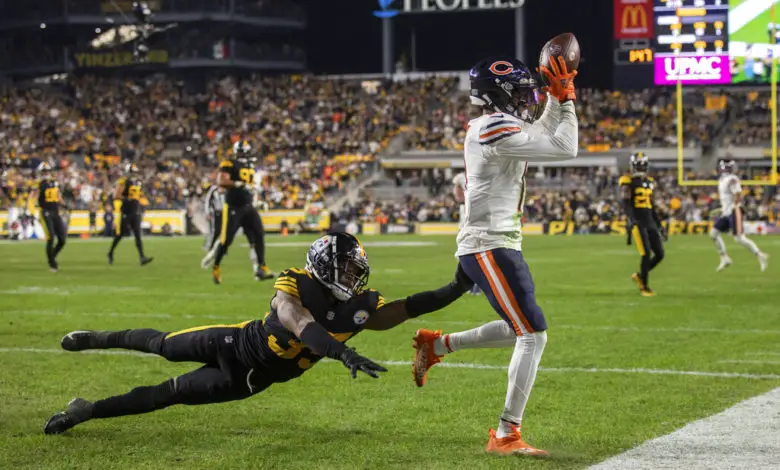 Darnell Mooney Could See Slight Drop in Production if Bears Reshape WR Room
GM Ryan Poles aims to assemble a collection of pass-catchers who can help bring out the best in second-year quarterback Justin Fields. He's scouting big, fast receivers at the NFL Combine, and ideally, would like to find at least one playmaking wide receiver in the draft or in free agency. If Poles can successfully reshape his WR room, the end result could mean a slight drop in production by Darnell Mooney.
Check out Mooney's 2021 target share:
24.9% from Fields
25.7% from Nick Foles
29.1% from Andy Dalton
26.7% overall (sixth-highest among wide receivers)
That's pretty consistent and puts Mooney, who catches about 60% of all passes thrown to him, in a favorable position to repeat his 2021 season. Or does it?
Mooney may have been force-fed targets because former head coach Matt Nagy put the freeze on Allen Robinson last year, and his lowest (but still strong) target share came from Fields. It's also worth noting that Mooney's lowest catch rate came from his rookie teammate (53.8%) and that the wide receiver performed above average in only three of nine games Fields started and finished.
Don't sleep on Darnell Mooney as a rock solid WR2 for the #Bears in 2022 and beyond.

Last season, Mooney was open on 52% of his man coverage routes. Get Justin Fields some time, and that connection will continue to get better. pic.twitter.com/SVh7zll0xi

— Chris Maltby (@ChrisMaltbyBD) February 27, 2022
In theory, having a bonafide playmaker starting opposite Mooney should help the third-year receiver. Chicago lacks a star-quality wid receiver, but Poles intends to change that.
"We saw that in the Super Bowl," Poles said Tuesday. "It's guys who can make plays when their number is called. That's what we [are looking] for. And you can see that on their college tape."
The Rams, who won this year's Super Bowl, featured reigning Offensive Player of the Year Cooper Kupp and supplemented him with Odell Beckham Jr. and Robert Woods. The Bengals, who lost the title game, built their passing game on wideout Ja'Marr Chase, with Tee Higgins and Tyler Boyd complimenting the rookie from LSU. With that type of arsenal, quarterbacks Matthew Stafford and Joe Burrow were among the league's best.
With the Bears' first selection coming at No. 39, they can hope that a couple of receivers with first-round talent fall to them on Day 2. Depending on your favorite analysts and scouting services, that could mean one of Jahan Dotson of Penn State, Alabama's Jameson Williams, Skyy Moore of Western Michigan, Purdue's David Bell or fast-rising 6'5″ Christian Watson of North Dakota State, whom Poles has twice interviewed already.
Last month, new head coach Matt Eberflus and his staff put together profile tapes of every position group, then met with Poles, his scouts, and other front office personnel to communicate what he needs to run his offensive and defensive schemes. When it came to the receiving corps, the word most often mentioned was "playmaker."
"You want explosive, athletic ability that can produce chunk plays," Eberflus said. "If you throw a screen, you want a guy who can take it and go for 15 (yards). Or go all the way."
Watson seems to be the very definition of that guy, though Chris Olave of Ohio State would look nice in orange and navy blue, too. He's unlikely to be available when Poles makes his first selection, however.
Of the eight receivers currently on the roster, four have contracts that expire March 16: Robinson, Marquise Goodwin, Damiere Byrd, and Jakeem Grant Sr. Three others — Dazz Newsome, Nsimba Webster, and Isaiah Coulter — spent all or most of last season on the practice squad. That means it could be Mooney plus a lot of new faces in 2022. Barring a rookie season commensurate with what Chase did in Cincinnati, Fields and Mooney should improve on their statistics a great deal next year. That will be critical for Fields to make a significant jump in his development.
The key for Poles and Eberflus will be to find somebody who takes the pressure off of Mooney to be the No. 1 target in Luke Getsy's passing offense. Poles is keenly aware.
"It's just finding players who fit our scheme that allow us to be balanced," Poles said. "That's important. And as I mentioned before, it's just the playmaker piece. (You want) guys who can make plays. For a lot of the really good quarterbacks — especially the young ones — when things go crazy, who can they go to that they trust, is dependable, and can make plays?"
The new GM appreciates what he has in Mooney, too.
"He's hungry to be special," Poles added. "I'm always looking for guys who are raising their own bar in terms of where they want to go. He wants to be special. You can feel that in him. We've all been around people who want to be the absolute best they can be, and it's contagious and it gives you energy. It gives you hope."
JUSTIN FIELDS AND DARNELL MOONEY CAN'T BE STOPPED
pic.twitter.com/kVx8gncTke

— PFF (@PFF) October 3, 2021
In a perfect world, the Bears would deploy a triple threat wide receiver corps similar to what the Rams and Bengals used to reach the title game. That, combined with Chicago's ground game, could mean marked improvement over a squad that struggled to score last season. David Montgomery, Khalil Herbert, and Fields himself could force defenses to overcompensate when defending the Bears. With Fields running an offense that is big on play-action, jet sweeps, and bootlegs, the second-year QB should be able to buy significant time for his receivers to get open.
It's also worth noting that Poles witnessed Chiefs quarterback Patrick Mahomes utilizing a pair of trustworthy go-to studs in wide receiver Tyreek Hill and tight end Travis Kelce. Expect Cole Kmet to be a big part of Chicago's offense, too. That's quite a bit of firepower if Poles reshapes the receiver room and all cylinders are clicking on game day.
What, then, should fans expect from Mooney in 2022? Probably 70-80 catches for 900-1,000 yards and a handful of TDs. That's a small step back from his 2021 stats, but it's also elite for a WR2, and very similar to what Higgins did in Cincinnati.