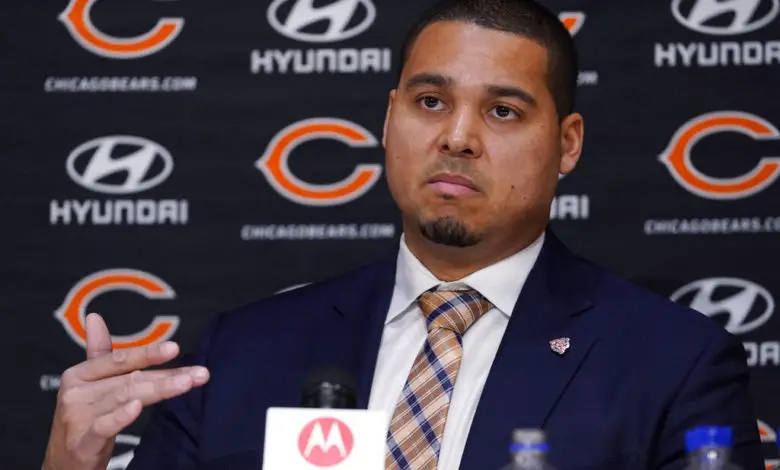 First & Long: Many Offseason Options Available to Poles, Combine Kicks Off New NFL Year, Packers Negotiating New Deal for Rodgers
Imagine you've just accepted a gig as a first-time GM with the NFL's most storied franchise, and you're walking into your first talent evaluation event where you will have the final decision on which players are drafted 60 days from now. Sounds absolutely dreamy until you realize you have just five total picks, none in the first round. Cue the sad trombone as the new NFL year informally kicks off with this week's scouting combine.
Welcome to NFL Scouting Combine week, where the #Bears don't have a ton of draft picks but do have money to spend.https://t.co/TVYToyABtk

— Patrick Finley (@patrickfinley) February 28, 2022
That's the dilemma staring down Ryan Poles this week. To further complicate matters, half his roster is made up of unrestricted free agents, many that played key minutes during the 2021 season. He'll have to replace underperforming WR Allen Robinson, and because he can't cut or trade the equally disinterested Eddie Jackson, he'll have to find some competition to relight the fire that made the safety a two-time Pro Bowler.
And let's not forget Roquan Smith, the team's best linebacker, is deservedly due for a contract extension while James Daniels, their best offensive lineman, is an unrestricted free agent who is most definitely in Chicago's plans if a deal can be struck.
But wait, there's more. Matt Eberflus, his hand-picked head coach, wants to convert the Bears to a 4-3 defensive alignment that predominantly runs a Tampa-2 formation, which means he may have to find a linebacker or two and a free safety that excels in coverage. Poles also needs backup tight end, may need a quarterback to play behind Justin Fields, and his offensive line probably represents the biggest challenge of his inaugural campaign.
Take a deep breath and repeat after me: "It will all be alright."
The rookie GM believes the Bears can compete for the NFC North crown in 2022, and he's on record as stating that once he takes the division he never intends to give it back. Looks like we've got a live one here, huh?
Maybe not. There are many paths to fielding a championship team and Poles will enter his first season with nary a bad contract nor binding attachment to an untalented player, including Jackson.
The Bears are probably somewhat better than the squad that finished 7-10 before George McCaskey kicked Ryan Pace and Matt Nagy to the curb, and most of the players who will return are among the team's best. So the foundation is definitely in place. Further, if you're going to enter any draft sans a first-round pick, this is the year to do it, especially considering the pool of talent is very deep at positions where Chicago has dire need.
It's not a stretch to say that half of the first 30 players selected will be wide receivers, offensive linemen, and defensive backs. That means that Poles may find first-round talent despite not having a pick until round two. He may even be able to afford to trade down 5-10 slots and grab an extra pick in doing so.
Then there is the matter of free agency. Pace left his successor flush with a decent amount of spending cash, and though there are a lot of holes to fill. Poles should be able to lock down at least one impact starter and a gaggle of very good role players once the market opens. Expect the novice GM to find skilled players that are quick and hungry. It may not be enough to top Green Bay in the upcoming season, but the direction of the team will feel much more positive than any of the last three seasons.
Bears News & Notes
There's a Flag…On the Play
Hmmm. No Aaron Rodgers or Davante Adams. Are the Packers being coy or conspicuous?
Green Bay ➡️ the UK! 🇬🇧#Packers will play in London in 2022 📰: https://t.co/gcUJJDh3dt#GoPackGo pic.twitter.com/33czZP2YMv

— Green Bay Packers (@packers) February 28, 2022
Northern Exposure
The Packers and Rodgers are working on a deal that would make the reigning MVP the highest-paid player in football, per NFL Network insider Ian Rappaport.
Most analysts expect the Lions to sign strictly role-players among this year's crop of free agents.
Ex-Vikings head coach Mike Zimmer reportedly complained openly all season about quarterback Kirk Cousins.
NFL News & Notes
LSU cornerback Derek Stingley Jr. and Mississippi quarterback Matt Corral, two of the top players in April's draft, will not work out at the NFL scouting combine, which began Monday in Indianapolis.
The Raiders and Jaguars will meet in this season's Pro Football Hall of Fame Game on August 4 in Canton, OH.
Quincy Avery, who is a private coach for Houston QB Deshaun Watson, said that the Texans wide receiver corps were "bargain bin names" at best.
Dallas owner Jerry Jones, who also serves as the team's de facto GM, said he is undecided as to whether the Cowboys will keep, cut, or trade WR Amari Cooper this offseason.
Adams tops a list of 11 players most likely to receive a franchise tag before the March 8 deadline.
Due to a previous deal that included structured void years, Terron Armstead will not be receiving a franchise tag. That means the Saints will need to give him a new deal if they want to keep their stud left tackle in the fold.
Six teams are expected to seek a starting quarterback in trade, including the Saints, Bucs, and Steelers.
The Dolphins were set to pursue quarterback Tom Brady and head coach Sean Payton before Brian Flores filed his lawsuit against the team and the league.
Erik Burkhardt, the agent for Cardinals QB Kyler Murray submitted a strawman contract proposal for his client as a public statement.
By stating that "actions speak louder than words," Burkhardt apparently had a Jerry Maguire-like epiphany.
The Colts have submitted a rule change with regard to overtime games.
Green Bay, Detroit, and Washington DC are the finalists to be named the host city for the 2024 NFL draft.
Two-Point Conversion
When you lose the supermodel (Brady) you have to rely on catwalk digs to sell tickets and merch, natch. No, I was not a writer for Gossip Girl a decade ago.
Beginning in the 2023 season, the Tampa Bay Buccaneers will be bringing back their creamsicle colors, their original orange and white uniforms for Throwback Games, as they did from 2009-2012.

— Adam Schefter (@AdamSchefter) February 28, 2022
Three Yards and a Cloud of Dust (Combine version)
Alabama LB Will Anderson Jr. had 31 tackles for loss last season, which was 9 more than any other D1-FBS player.
Georgia is sending 14 prospects to the NFL Scouting Combine, the most of any NCAA school.
Iowa State running back Breece Hall had the most total TDs by a non-QB last season with 23.
From the Podium
"I think the best way to explain [the property purchase in Arlington Heights] is like anybody who's bought a house, or a lot to build a house. There's a time between when the property is under contract and closing, and during that time, there are a number of things that need to be done in terms of due diligence: making sure that there's clear title to the house or lot, if it's a lot, determining whether it's a buildable lot and so forth, a lot of regulations that need to be checked out." – George McCaskey
Running Out the Clock
Hey Jude by the Beatles – It's nice that Green Bay will be giving up a home game to travel to the UK this year, but I'm hoping their two tilts against the Bears will be played stateside.