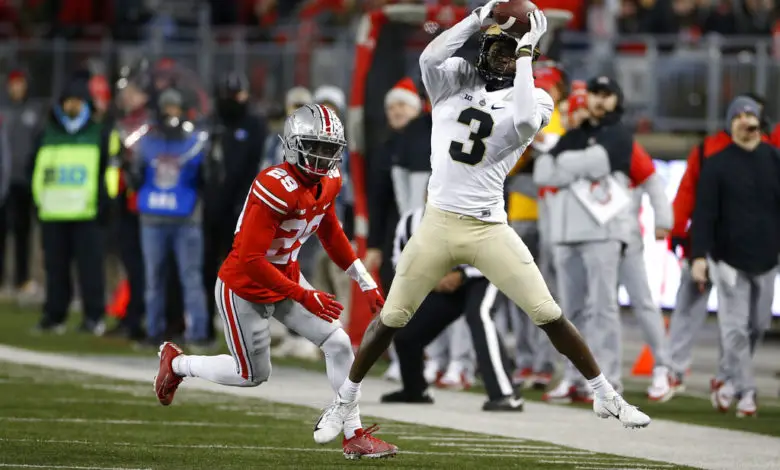 Bears Scouting Big, Fast Receivers at NFL Scouting Combine
Assuming the Bears lose wide receiver Allen Robinson to free agency, they'll need to add to a playmaking pass-catcher to replace him. The pickings in free agency are either expensive or risky, so GM Ryan Poles may try to replace Robinson in this year's draft. Though he doesn't select until No. 39 overall, the newly-minted executive has been scouting big, fast receivers at this year's NFL Scouting Combine.
Christian Watson of North Dakota State has been a target, and Poles met with the 6'5″ wide receiver on Wednesday, his second meeting with Watson since the GM was hired by Chicago. Justin Fields needs a big target to further his development, and Watson, who runs a 4.38 40-yard dash, could be available when Poles makes his first selection.
Another wide receiver the Bears might be interested in is David Bell of Purdue. At 6'2″ and 205 pounds, has the size, underrated athleticism, and ball skills Poles is seeking. In a recent mock draft by The Draft Network's Damian Parsons, Chicago lands Bell at No. 39 overall.
Though he is not as fast as Watson, Bell had a career-high 96 catches for 1,286 yards and six touchdowns in 2022 and has been compared, stylistically, to Robinson, whose exit from Chicago is expected soon. When healthy and playing at the top of his game, Robinson was the most important offensive weapon for the Bears, though he and Fields never really gelled in 2021. It's fair to blame A-Rob's relationship with Ryan Pace and Matt Nagy, and the team's decision to franchise the offensive weapon last year. Still, Robinson looked like he quit on his teammates too many times last season.
I keep hearing that David Bell can't separate. I just don't get it.

He's diverse in his releases, technical with his stems and clean out of his breaks. Just because he's not a speedster doesn't mean he can't get open. #Bears pic.twitter.com/Z4Hs7TfQ5B

— Jacob Infante (@jacobinfante24) February 26, 2022
The Boilermaker wants to be known for the same consistency that made Robinson a number one threat in Chicago's offense over five seasons. He also said his greatest asset is his hands.
"Being reliable when your number is called," Bell said. "Making those big third-down catches, those big fourth-down catches in prime-time games."
At Purdue, Bell scored 21 touchdowns over the last three seasons and totes a highlight reel of after-the-catch ability that combines above-average change-of-direction skills with a tremendous ability to conquer one-on-one tacklers. Bell's catch radius is above average and he is adept at finding the ball. That will help remove some of the pressure off of Fields to display pinpoint accuracy with his throws.
When asked which NFL wide receiver he compares himself to, Bell went with a hybrid version of three elite players: Keenan Allen for route-running, Amari Cooper for explosiveness and quickness, and Robinson, for his ability to catch in traffic. Those three receivers have combined for 10 Pro Bowl selections.
Bell's body control and ball skills really flash on back-shoulder throws. He also shows a willingness to work over the middle on underneath routes, where his frame and strength would make him an easy target for Fields. That would also free Darnell Mooney up to be more of a deep threat in Luke Getsy's new offense. That said, the combination of Bell and Mooney would still leave Chicago lacking a true WR1.
Another draft option, though it's unlikely he'll fall to the Bears at No. 39, is Chris Olave of Ohio State. He and Fields were teammates in college, and Olave told reporters on Wednesday that he wouldn't mind getting the chance to pair up with the second-year quarterback in Chicago.
"Oh yeah, definitely, having him in college as my quarterback I know what he can do on and off the field and I know how hard he works," Olave said. "So I feel like we're very similar in ways and I feel like we can complement each other if we do end up on the same team."
The Buckeye is said to have impeccable route-running skills and a high football IQ, though he lacks the physical stature to be a dominant possession receiver in traffic. Olave also struggles against tight coverage, though he flashes the necessary high-end separation skills to excel in the pro game. Olave took advantage of a higher market share of targets at OSU in 2020 when he was the preferred target of Fields.
His route-running skills and a quick release will translate well in Getsy's offensive system, and he could play inside or outside depending on how Chicago's offense attacks the perimeter. Expectations for Olave should fall in line with some of the other successful rookies of recent years: an immediate impact player on his new team once he finds his footing.
Olave and Fields still communicate though Fields is flying blind when it comes to what to expect during skills evaluations.
"Oh yeah, Justin [and I] talk a little bit but he didn't have a combine last year," Olave said. "Se he went to the pro day. I thought he was going to run a fast 4.3 but he ended up running 4.4, but he slipped at the start so we've got to put that in there.
Justin is a great player, a great dude, and I can't wait to see his career take off."
Olave is an explosive play waiting to happen, something the Bears could really use. The Buckeye averaged more than 15.5 yards per reception over his collegiate career. That said, he prefers to be drafted by the Raiders.
My oldest brother is a huge fan of the Raiders," Olave said. "So I'd love to go there. They have a great organization."
It's probably a mott point anyway, as Olave should be a top 20 selection this year, and Poles lacks the draft picks to move up even if he wanted to.