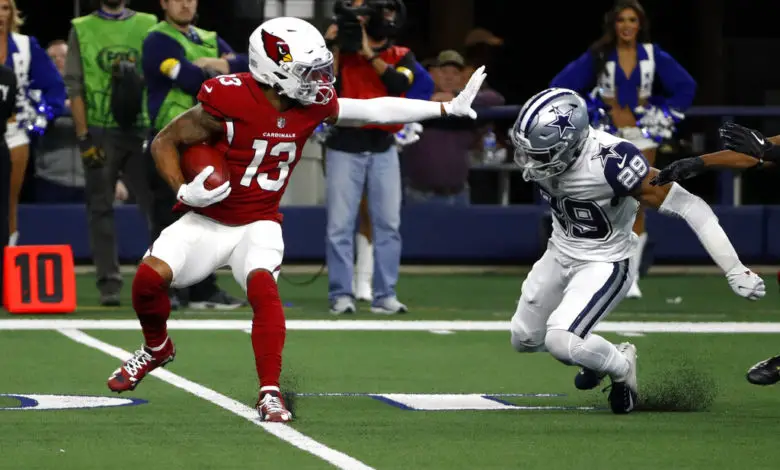 Christian Kirk, James Daniels Could Be Bears Only Marquee Signings in Free Agency
Ryan Poles will have his work cut out for him as soon as the new NFL season officially begins on March 16. In addition to preparing for the draft, the new GM inherited a roster that has 35 free agents, 27 of them unrestricted. With so many holes to fill, it's unlikely the Bears may make a big splash in free agency on any one player. In fact, their marquee signings may be limited to wide receiver Christian Kirk and offensive lineman James Daniels.
Kyler Murray goes deep to Christian Kirk and connects for an 80-yard TD. What a grab in full stride by Kirk. #Cardinals are up 21-0. pic.twitter.com/D6iDhK3Chi

— Ari Meirov (@MySportsUpdate) October 20, 2020
Compounding matters is a lack of draft picks. Moving up last year to select Justin Fields in the first round and Teven Jenkins in Round 2 leaves Poles with just five selections in this year's draft, barring trades, of course. Though the Bears aren't officially rebuilding, they are cleaning house, and the bulk of their free agents probably aren't coming back.
According to Field Yates, Chicago is slated to have nearly $2 million in unused cap space roll over to the 2022 season. That would bring their current cap space to around $42 million. That money will spend pretty fast considering Poles may have to turn over half the roster. Crunching those numbers means WR Allen Robinson is unlikely to return, and the same could be said for DT Akiem Hicks. Bilal Nichols is probably one of a handful of players who may be on the proverbial bubble.
"Be selective in free agency," Poles said last month after he was introduced at Halas Hall. "[It's] really attacking that second and third wave of free agency, where you can get good value, and the beautiful thing is you get players that are highly motivated in that area. I think we could all agree if you get thrown $100 million, it takes a special human to show up in a physical game and put the work in to be great. So there's a ton of value there."
If we categorize who stays and who walks, it's clear the 2022 roster will definitely bear the signature of Chicago's new chief personnel executive.
These free agents will definitely not be coming back: Andy Dalton, Damien Williams, Damiere Byrd, Marquise Goodwin, Jimmy Graham, Jesse James, Germain Ifedi, Elijah Wilkinson, Adam Redmond, Margus Hunt, Bruce Irvin, Cassius Marsh, Alec Ogletree, Tashaun Gipson Sr., Joel Iyiegbuniwe, Artie Burns, Deon Bush, DeAndre Houston-Carson, Marqui Christian, Ryan Nall, Teez Tabor, Robinson, and Hicks.
These free agents are on the bubble but could be back at the right price: Jason Peters, Jakeem Grant, Sr.,  J.P. Holtz, Alex Bars, Christian Jones, Xavier Crawford, Pat O'Donnell, Patrick Scales, and Nichols. Peters is 40 years old and could retire.
These are exclusive rights free agents who will return: Lachavious Simmons, Sam Mustipher, and Jesper Horsted. All can be signed to one-year deals at the league minimum.
Bears free agent RG James Daniels is a young, ascending player the #Jets should have in their sights. And if nothing else a career in the @WWE is also on the table for him. #TakeFlight pic.twitter.com/Nrd7Sq74mx

— Tommy Griffenkranz (@therealtgriff) January 20, 2022
If there is one free agent the Bears will do everything in their power to retain, it's Daniels. He was one of Chicago's highest-graded linemen this year and is unrestricted. Poles could place a franchise tag on the 24-year-old guard, but it's more likely that he will work out a long-term deal with Daniels. The guard has started all four years since he was drafted and has never been graded below 65.0 by Pro Football Focus. A five-year deal worth $55 million and $48 million guaranteed will probably keep him in Chicago. The downside is that other teams know Poles can't stretch his budget on any one player, so if the bidding goes beyond that, he's gone.
Looking at the open market, Kirk is featured among the second-tier of wide receivers set to hit free agency, the target area mentioned by Poles. Teams that miss out on Davante Adams, Chris Godwin, and Mike Williams will be dipping into this group, and the Cardinals WR may the best available. Kirk finished the year as Arizona's leading receiver with 77 catches for 905 yards and five scores. He has great wheels, runs good routes, and is still just 25 years old. Pairing Kirk with third-year WR Darnell Mooney could provide a significant boost to the development of Justin Fields. The market for Kirk is $22 million over two years. A longer deal might be a better option for Poles, and 4/$38 million seems fair.
If the Bears can get Daniel and Kirk signed, Poles will have about $23-$25 million left to spend in that third wave of free agency. Look for him to take chances on younger players who have failed to reach their lofty projections. Those types of players usually salary cap casualties. Players coming off extensive injuries but are fully rehabilitated could be a consideration, too.
If Poles decides to cut or trade Nick Foles, he'll have to find a backup quarterback as well. Tarik Cohen and Eddie Goldman could be cut to give the Bears more cap flexibility. The Bears have a replacement for Cohen in Khalil Herbert and could find a backup defensive tackle in the later rounds of the draft or in undrafted free agency.
As far as Chicago's premium free agents, look for Robinson to reunite with the Jaguars. He feels unloved in Chicago and even if the new regime wanted to give him a chance to redeem himself, A-Rob is probably too pricey to even consider. Jacksonville's second-year QB Trevor Lawrence is in desperate need of a true veteran No. 1 receiver, and Robinson, 28, still has a few good years of elite football left. The Bears get a little younger and for about $55 million over four years, the Jaguars get a guy super hungry to re-establish himself as one of the game's better receivers.
Hicks should have a robust market despite regressing each year since his terrific 2018 season. He's missed 20 games over the last three years, so health is a consideration, and probably pushed the needle away from a return to Chicago. While he doesn't possess great tackle and sacks statistics, he's still effective on a per-play basis. This season, he recorded a 10.6% pressure rate, which is on par with the 10.7% he recorded in 2018. In the right situation, and with limited reps, he could be an effective situational lineman.
The Chargers look to be an excellent fit for the 32-year-old veteran. Los Angeles head coach Brandon Staley has familiarity with Hicks dating back to his time as linebackers coach for the Bears in 2017-18. Hicks would help to solve the Chargers' run defense woes while also giving them an interior pass-rusher, something they've lacked for the past three seasons. At $17 million over two years, Hicks is worth any risk he poses for a team that would value his leadership while getting the most out of situational snaps.