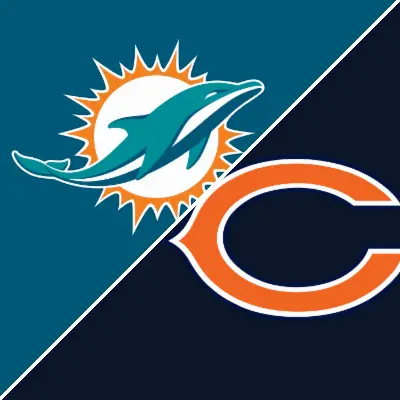 Chicago Bears vs Miami Dolphins – Week 9 Game Preview: Overview, Keys to Game, Insights
Any momentum the Bears (3-5) had built up after a surprising victory over New England Patriots went away as quickly as it appeared when the Cowboys beat them handily last Sunday. The defense which had been holding its own, finally showed some cracks with Dallas running up 49 points.
Some good news for Chicago is coming from the improved play of quarterback Justin Fields. The young QB just played his two best games of the season and the acquisition of wide receiver Chase Claypool from the Steelers could give him a badly needed weapon.
Pro Bowl linebacker Roquan Smith was traded away at this week's deadline as well, further weakening a defense already down edge rusher Robert Quinn. Now injuries to the secondary might leave that unit weakened against the Bears next opponent, the explosive Dolphins, who to come to Soldier Field this Sunday.
Miami (5-3) came out of the gate red-hot in 2022, winning their first three games behind quarterback Tua Tagovailoa. He then missed most of the next three games with concussion symptoms and his team went winless. Now they have won the two games since Tua has returned to the lineup.
The Dolphins have a terrific 1-2 punch at wide receiver with Tyreek Hill and Jaylen Waddle, who have combined to give their team the third best passing offense in football. A underperforming running attack and red zone struggles, however, have limited them to just 22.3 points a game.
Miami's defense has struggled for most of the season especially stopping the pass. Relevant to Bears fan interests, though, they have one of the best run defenses in the league. They have only created seven turnovers through the first eight games of the season, less than one a contest.
This will be another tough test for Chicago as they battle the difficult portion of their schedule. Maybe history will repeat itself with another unlikely win against a favored AFC East opponent.
Where to Watch/Listen
Sunday, November 6 at 12:00pm CT on CBS, WBBM Radio (English), and WRTO Radio (Spanish).
Keys to Victory
Here are my keys to Sunday's game. If these things happen, the Bears should have a shot to win.
Continue to get Justin Fields out of the pocket for runs and passes. Offensive coordinator Luke Getsy has done a very good job the past two games giving his quarterback a run/pass option on bootlegs. When combined with called running plays it's giving life to Chicago's stagnant offense.
Be prepared for Miami's quick throwing game plan. Head coach Mike McDaniel's passing attack is built on quick screens and crossing patterns that help spring speed burners like Hill and Waddle. The Bears should focus on batting down fast throws and clogging up passing lanes.
Try not to let new acquisition Bradley Chubb wreck the game. The Dolphins just traded for the Broncos stud pass rusher this week. He's obviously going to be a problem for Chicago's makeshift O-line so it's important to make sure to pay extra attention to him.
Take advantage of Tua's inevitable mistakes when they happen. Miami's young quarterback makes a fair number of ill-advised throws but defenders have had difficulty holding on to interceptions against him this season. Detroit and Pittsburgh dropped several potential picks the last two weeks. Getting those turnovers could keep the Bears in the game.
Don't Tell Me the Odds
The Bears are 4.5 point underdogs at home on Sunday against the talented Dolphins. The over/under of 45.5 is one of the highest in a game featuring Chicago this season as the offense shows some signs of life.
It's Football Weather
The forecast for Sunday in Chicago is 61 degrees with sun and a 15 mile-an-hour southwest wind.
My Prediction
I think the Bears offense continues to get better and they put up some points but the defense continues to struggle with injuries and the loss of impact talent to trades. The Dolphins will hold on late for a 31-24 road win.
Official Bears Preview
Here are Bears analysts Jeff Joniak and Tom Thayer with their preview of the Bears' upcoming Week 9 matchup.