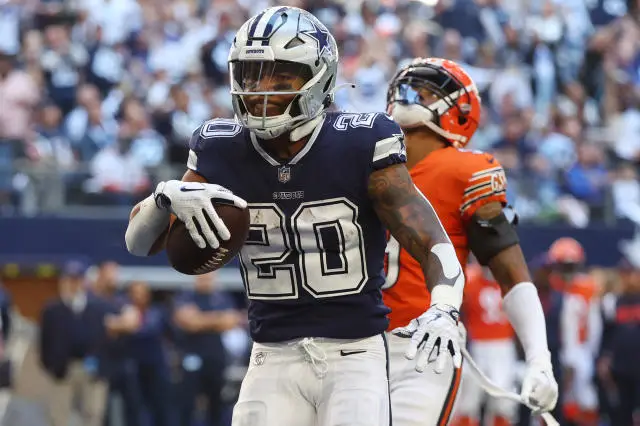 Chicago Bears Score and Recap (Week 8): Cowboys 49, Bears 29 – AT&T Stadium a House of Horrors for Bears Defense
The Bears were hoping to build on the momentum from their surprising upset of the New England Patriots in Dallas on Sunday. Unfortunately, Chicago's defense did not match their quality performance from Monday and the Cowboys shredded them.
Dak Prescott in the Dallas offense came out of the gate on fire in the first two possessions running for a touchdown himself and then completing a TD pass to Ceedee Lamb. Justin Fields answered back with his own quarterback keeper touchdown to make it 14-7.
The Bears defense continued to have no answer for the Cowboys who would run for two more touchdowns to score on their first four possessions of the game. In a flash, Matt Eberflus found his team down 21 points.
Fields threw a touchdown pass to N'Keal Harry after an interception was erased by a roughing the passer penalty. Then Eddie Jackson intercepted a pass from Prescott and a late Cairo Santos field goal cut the lead to just 28-17 at the half.
Khalil Herbert ran in a touchdown in the third quarter the cut the deficit to just five points, but that was as close as Chicago would get. Dallas answered immediately with a touchdown run by Tony Pollard.
David Montgomery then fumbled trying to extend a reception for a first down and stud linebacker Micah Parsons picked it up and returned it for a back-breaking Cowboys touchdown.
Cole Kmet pulled down his first touchdown catch since 2020, but it was far too little far too late. Pollard broke a long scoring run to cap off the 49-29 blowout. (Box score)
Why the Bears Lost
The defense got absolutely destroyed allowing 442 total yards and 42 points on Sunday. The Bears offense was actually pretty good but they could not compete with the Dallas onslaught.
Key Moment
Chicago had a chance to get the Cowboys off the field on a 3rd down and eight trailing by just five in the third quarter. Instead, they jumped offside and allowed a 16-yard completion to Lamb and Dallas went on to score.
Stats That Matter
Another strong game for Fields who had 151 passing yards and two touchdowns to go along with 60 on the ground and another score. His performance would've been enough to win on most days.
Herbert had 99 yards on the ground as he continues to look very much like a number one running back.
Darnell Mooney had probably his best game this year with 70 yards on five catches.
Bottom Line
First the good news, the continued positive developments for Justin Fields are a very good sign going forward with this team. On the other hand, this was another game the Bears did not look prepared early and it was disappointing to see the defense regress so badly after several good performances. These are the kinds of frustrating ups and downs you will see with a rebuilding team.
Next Up
Chicago heads home for a Week 9 match up with the Miami Dolphins on November 6 at 12:00pm CT on CBS.