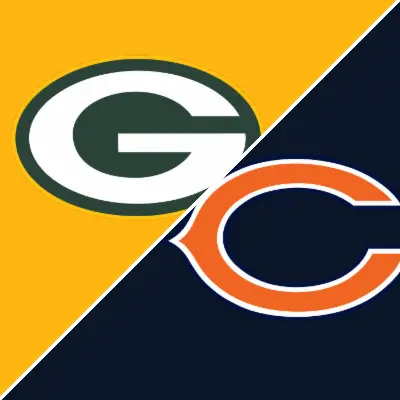 Chicago Bears vs Green Bay Packers – Week 13 Game Preview: Overview, Keys to Game, Insights
The injury-ravaged Chicago Bears (3-9) got crushed by the New York Jets last week at MetLife Stadium. They lost two more key players Sunday when WR Darnell Mooney and S Eddie Jackson suffered significant injuries. Now they return home to take on their scuffling rivals from Green Bay.
It has been wildly disappointing season for the Packers (4-8) after giving Aaron Rodgers a large contract extension. The loss of star receiver Davante Adams to the Raiders has been acutely felt with his replacements struggling to match his production. Red zone issues have held the offense to just 19.6 points scored a game.
Green Bay has had major issues stopping the run including earlier this year against the Bears. They are allowing 154.8 yards per game on the ground, second-worst in the NFL. Their pass defense is actually pretty good but overall they give up 23.6 points a game.
The big question leading into Sunday's game is the status of both starting quarterbacks. Aaron Rodgers is battling a rib injury and a broken thumb but is expected to play. Bears starter Justin Fields missed the Jets game but was able to fully participate in practice Thursday and may play with his separated left shoulder.
The wisdom of starting the Fields with his injury can be debated but it would give the Bears a better chance to win. Green Bay won a Week 2 matchup against Chicago despite an impressive game on the ground for the Bears. Matt Eberflus' decision at quarterback will determine if this is a competitive game or another loss on the way to a high draft pick.
Where to Watch/Listen
Sunday, December 4 at 12:00pm CT on FOX, WBBM Radio (English), and WRTO Radio (Spanish)
Keys to Victory
Here are my keys to Sunday's game. If these things happen, the Bears should have a shot to win.
If Justin Fields plays, make sure to call designed runs for him. The first game against the Packers, Fields only ran for 20 yards and the coaching staff had not figured out how to properly use him. This time they should be able to exploit Green Bay like the Eagles' Jalen Hurts did last week.
Try to contain the Packers run game. Aaron Jones and AJ Dillon combined for 250 yards running in the first game against the Bears. If the beleaguered defensive unit can slow them down they will have a chance to win.
Green Bay is somewhat turnover prone so obviously creating a few of those will help Chicago's cause on Sunday.
Rodgers is still dangerous despite his injury. If Aaron Rodgers is ever going to capture his previous form it will come against the Bears. So just because he is injured don't take the former MVP lightly.
Don't Tell Me the Odds
The Bears were five point underdogs earlier in the week but the possible return of Justin Fields has reduced those odds to just three points. The over/under stands at 44.5 points.
It's Football Weather
The forecast for Soldier Field at game time Sunday afternoon is 41 degrees with sun and a southwest wind at 18 miles an hour.
My Prediction
This is a difficult game to predict based on the uncertain status of the Bears quarterback. If Fields plays, I expect a close game but the Packers will end up winning a close one 30-28.
Official Bears Preview
Here are Bears analysts Jeff Joniak and Tom Thayer with their preview of the Bears' upcoming Week 13 matchup.