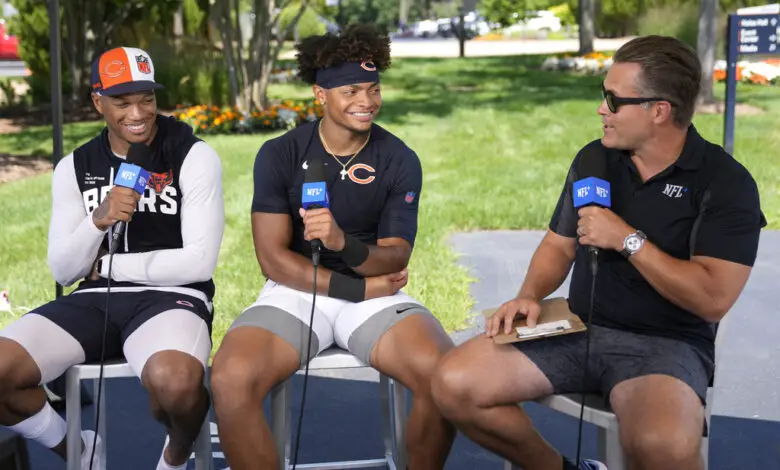 Camp Notes: Preseason Football Arrives, Rookies in the Spotlight, Kevin Warren Does a Nice Thing
The Bears kick off their preseason schedule on Saturday evening with a home tilt against the Titans. Most of the starters will play a series or two, but head coach Matt Eberflus indicated that snap count ranges will be determined for each individual, including Justin Fields, and not by position groups or complete units on the depth chart. Here are your Camp Notes for Friday, August 11.
You need not ask why I love this team so damn much! I'd run through a brick wall for Kevin Warren and the Bears! 🐻⬇️ https://t.co/hZbci5uGvh

— Terence M. Young (@Terence_M_Young) August 11, 2023
Chicago Bears president/CEO Kevin Warren recently met Nicole Mitchell, who is a deaf single mother of three kids from Cook County at the Bears Care Back-to-School Fair, and told her that he will pay her rent for the next year.
Eberflus announced Wednesday that Fields will play a limited number of snaps in Saturday's preseason opener at Soldier Field. While the coaching staff wants to be careful with the third-year quarterback, they also believe the game action will help further his development.
Fields played 18 snaps in the 2022 preseason opening game, completing 4 of 7 passes for 48 yards, with two sacks and a 10-yard run, in case you're wondering.
Fields is one of six players Bears fans should be keying on in Saturday's contest. The others are Darnell Wright and Roschon Johnson on offense, and Gervon Dexter Sr., Tyrique Stevenson, and Noah Sewell on defense. Who am I kidding? Everybody's hoping Fields will air it out to D.J. Moore.
Chase Claypool is still "day-to-day" after leaving practice earlier in the week with a possible hamstring injury.
Stevenson and Tyler Scott contributed to the latest version of the rookie diaries.
Larry Borom has been with the Bears since Ryan Pace drafted him in 2021, but he could be replaced with a waiver wire addition in the coming week, according to Brad Biggs of the Chicago Tribune. "I would be a little surprised if the Bears made a whole slew of waiver claims, but I'd be willing to bet they will make three or four," Biggs wrote. "One position I wonder about is the swing tackle spot. Borom has been working as the backup left tackle. If the Bears are not sold on him, that could be one position where they scan the waiver wire for help. They also could bring in a veteran cut loose by another team who is not subject to waivers.
Another player from the former regime who is in danger of losing his roster spot is Trevis Gipson. He was listed as the fourth-string defensive end when Chicago dropped its first depth chart last week. Kindle Vildor is also at the bottom of the depth chart and could be cut loose before September 10.
The Bears hold the top waiver claim position and will continue to hold that through Week 3 of the regular season.
Chicago's offense has been up and down all of training camp. They looked crisp to open camp but struggled to move the ball when the pads first came on. A couple of sharper days followed, but Thursday's practice was ugly, especially up front. Nate Davis and Lucas Patrick are still unable to practice with the team.
In case you missed it, the Bears have changed their primary logo.
The Bears will suit up 20 rookies for tomorrow night's game against Tennessee.
The Bears removed WR Dante Pettis from the non-football injury list and he is now cleared to practice with the team. Pettis missed the first 12 practices of training camp with an undisclosed injury unrelated to football activities.
The Bears claimed offensive lineman Logan Stenberg off waivers, the team announced. They waived wide receiver Aron Cruickshank, too.
Former Falcons quarterback Matt Ryan was a guest of Ryan Poles at camp on Thursday.
The three local school districts that draw taxes from the Arlington Heights site where the Bears have proposed a multi-billion dollar redevelopment have started a website that has information and frequently asked questions about the project — as it pertains to schools and school funding.
Yannick Ngakoue has finished with at least 8 sacks in all 7 seasons of his career. Safe to say he should be a key piece of the @ChicagoBears' pass rush. @YannickNgakoue pic.twitter.com/fGtmOJMsgE

— NFL (@NFL) August 4, 2023
Five Things
The defense is going to look much more improved than the offense this year. That's to be expected, opponents were able to score at will against the Bears last year. Fans should also expect a few growing pains. Yannick Ngakoue, Andrew Billings, DeMarcus Walker, T.J. Edwards, and Tremaine Edmunds are all new Bears. Chicago should do a much better job of shutting down opponents once that front seven gels.
Make no mistake, the offense will be improved, too. The addition of Moore provides depth to a receiver's room that was almost embarrassing at times. Darnell Mooney will no longer be the primary receiver, and Claypool, Pettis, and Equanimeous St. Brown will slot in accordingly. David Montgomery will be missed, but Bears fans will love D'Onta Foreman in short order. Johnson is the future at running back, however. Chicago also boasts three solid tight ends in Cole Kmet, Robert Tonyan, and Marcedes Lewis. That said, none of that will matter if the offensive line struggles to protect Fields.
Does anybody believe that the Bears are going anywhere but Arlington Park? I'm rooting for the team to stay in Chicago, but it's going to take a tax-subsidized new stadium to make that happen, and I don't see that happening.
The status of Gipson and Borom is a reminder that the competitive team that Ryan Poles intends to field a season or two from now will be fully constructed by his staff. It's going to be interesting to see if Poles extends Mooney, Khalil Herbert, Teven Jenkins, and Jaylon Johnson. Fields is the only sure bet to remain in Chicago, and Kmet has already been extended.
Scott and Johnson will be Chicago's offensive rookies of the year, but I think Dexter, Sewell, and Robinson will be Chicago's best rookies overall.
So the Bears have a player named Gervon Dexter Sr.

Many scouts believe he will be a household name sooner rather than later. pic.twitter.com/YQsLqUSj8j

— NFL Notifications (@NFLNotify) August 10, 2023
Camp Quotes
"For a lot of these rookies, you're going through practice and you're working extremely hard and you can kind of lose that sense when you get out to the game that you're still playing football. … At the end of the day, you're playing a game you love. You worked so hard to get to this level. Now you've just got to go out there and be you." – T.J. Edwards
"As a rookie [Sewell] is doing well. He's very strong, right? He's got good ball skills. And he's very instinctive. I just like the way he knows where the ball is. He can key read fast and I think it's a good competition [with Sanborn]. I know that Jack hasn't had a bunch of reps to be able to fully compete in there and I'm excited about when he gets back to be able to compete at that spot and we'll see where it goes." – Eberflus
"We feel like the offense goes through [the running backs]. We got a bunch of guys in that room that can carry the load. If one of us goes down the other one picks it up. I feel like there's no dropoff. Just seeing these guys at camp, they help me up when I'm not doing too well, and vice versa." – Herbert
"I just said it today, [Dexter] is a huge dude. Like huge. And for him to just go out there and push the pocket and get the batted down balls he's getting, he's a hard dude to throw around, and you can feel his presence in that middle of the field when you're back there playing quarterback. It's going to help the secondary because they're going to feel like they can make plays on the football now that you get somebody that can push that pocket and push that center and that guard all the way into the quarterback." – P.J. Walker