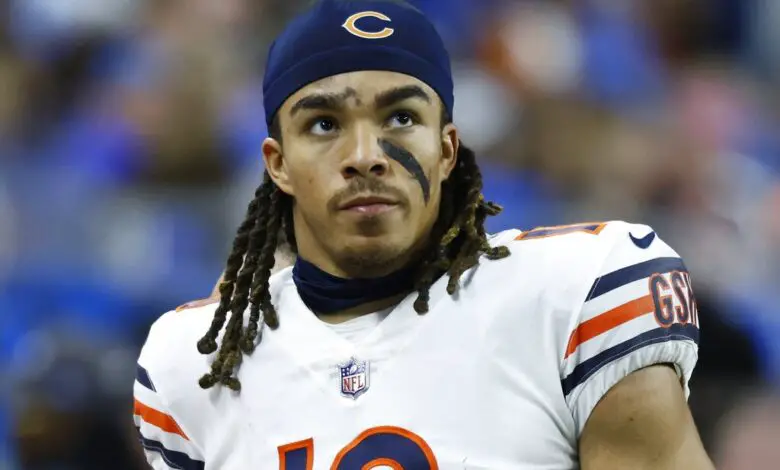 Chase Claypool didn't have the year the Bears' front office envisioned when they traded the team's second-round pick this year to acquire the wide receiver. He was counting on a bounce-back season and with that, a contract extension. Claypool has the size, speed, and flexibility to play out wide or in the slot. He's also very passionate about succeeding, a trait most fans ignore.
Chase Claypool on a mission to silence the haters this year. Great ball by Justin Fields too.

Thanks for the great videos today @Midwestman21pic.twitter.com/S7Aico2aoq

— Joseph Herff (@JosephHerffNFL) August 6, 2023
"For him, it's embracing the role that you have, and us playing off the energy he brings to the field every day," Getsy said according to Jeremy Fowler of ESPN. "He's unique in that not only does he present himself as a huge man, big and fast and strong, but I think his energy is that, too. … He'll need to own that role and be accountable and be available and all that stuff."
Getsy added the Bears' offense "can play wide open with him," due to his versatility. But, unfortunately, the fourth-year wide receiver from Notre Dame has a reported hamstring injury.
Claypool was reportedly running a route against cornerback Jaylon Jones on Wednesday when he pulled up and grabbed his hamstring. He missed time during OTAs and minicamp because of a leg injury and may have re-aggravated it as Chicago nears their preseason opener. Claypool's status for the Titans game is in doubt, though the team has yet to report on the receiver's status.
Claypool started training camp on the Physically Unable to Perform list but was removed only a day later. He's since made plenty of highlight-worthy plays that have surfaced on social media. The extent of Claypool's injury is unknown, and nobody knows how long he will be out. He was seen riding a stationary bike at practice earlier today. That makes D'J. Moore, Darnell Mooney, and Equanimeous St. Brown the top three targets for Justin Fields. Tight end Cole Kmet will see his share of passes, too.
Head coach Matt Eberflus has insisted that current injuries weren't believed to be long-term, although we'll have to wait and see if he feels the same about Claypool.
"We'll see," said Eberflus when asked how long Claypool will be sidelined.
Starters don't typically play more than one series in the first preseason game. Eberflus indicated that snap count ranges will be determined for each individual, including Fields, and not by position groups or complete units on the depth chart.
"We've got to figure that out here in the next couple of days," Eberflus said. "And we'll talk with the coaches about guys when they're going to play, and how many reps for each guy. That will be an individualized thing. We'll have selected starters play here and there and then we'll figure that out as we go with the coaches today."
Hopefully, Claypool will be ready when the Bears travel to Indianapolis to play the Colts on August 19.
The good news is Claypool didn't show signs of a limp. He also spent much of the practice still on the field. That's possibly an indication it's nothing serious.