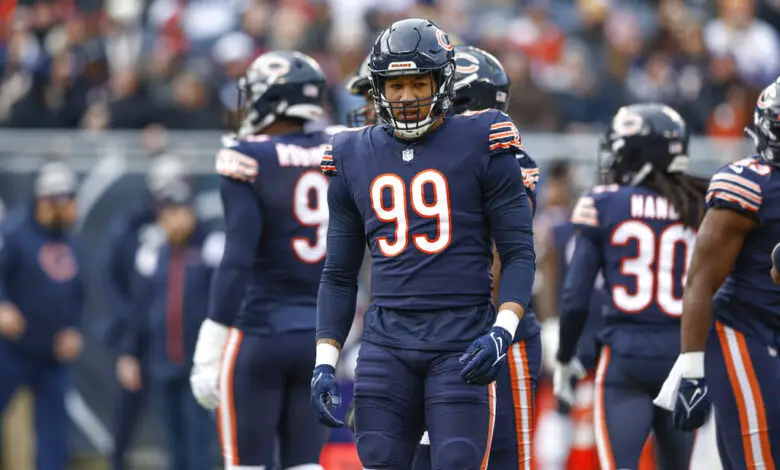 Addition of Ngakoue Might Mean Gipson's Days Numbered
The Bears had high expectations for Trevis Gipson in 2023. After all, he was coming off of a season in which the organization named him its most-improved player. Gipson never got untracked last year, and now he's facing an uphill battle to make Chicago's 53-man roster. The Bears signed edge rusher Yannick Ngakoue and then dropped Gipson to fourth-strong on their first official depth chart.
The Bears eyed Ngakoue for a while before eventually signing him to a one-year, $10.5 million deal last week. A few reasons a deal took time: Ngakoue and his agent, Drew Rosenhaus, were looking for up to $13 million at one point, which was a non-starter for teams. The Bears also were under the impression that Ngakoue wanted a multiyear deal. The sides eventually found a middle ground. Justin Houston was a backup option for Chicago.
Ngakoue alone didn't push Gipson down the depth chart. He's there for a couple of reasons, not the least of which is his poor play a year ago. GM Ryan Poles inherited Gipson from the previous regime, Gipson is listed behind Ngakoue, DeMarcus Walker, Dominique Robinson, Rasheem Green, Terrell Lewis, and D'Anthony Jones. The team will likely carry eight defensive linemen total, and four or five could come from this group.
Ranking Lewis ahead of Gipson is not a huge shock. When he is healthy, Lewis is better than Gipson in all areas. The issue with Lewis has always been his health. But Jones wasn't even drafted. Gipson was getting starting work towards the end of last season and looked to be a lock to make the team this year. In other words, the coaching staff went out of their way to bump him down, especially below an undrafted rookie who has not played a single game.
Lewis was initially a long shot to make the team. He's fifth on the depth chart, and the coaching staff values his leadership. He stood out during minicamp and OTAs, though his dominant reps were against rookie tackle Darnell Wright. The former third-round pick was added to the Bears' practice squad after he was cut by the Rams in December, so he's essentially fighting for his first spot on Chicago's roster.
The front office and coaching staff like Green a great deal, too. The sixth-year veteran played for the Texans last season, notching 42 tackles and 3.5 sacks in a reserve role. The way things are shaking out, Ngakoue and Walker will be the starting ends, with Green and Robinson being the primary backups. Ngakoue doesn't play particularly well against the run, so the reserves should see plenty of action. That makes Jones and Gipson odd men out, however, at least as of today. Things could change, and Chicago's depth chart is still in flux, and still very much a work in progress.
Gipson is the only lineman on the team that was not acquired by Poles. He'll need a miraculous turnaround to make the final cut. It's also going to be interesting to see how much Gipson plays against Tennessee on Saturday night. He'll be gone with the first wave of cuts if he doesn't get on the field. Gipson is a better fit for a 3-4 defense, anyway, and won't remain jobless for long.