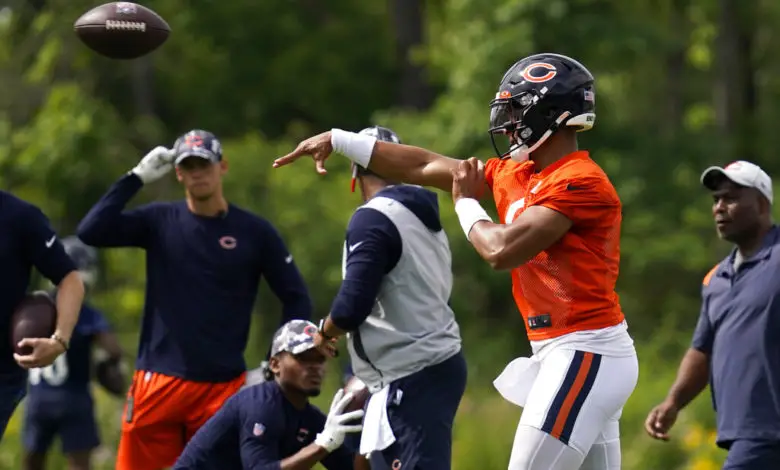 Camp Notes: Jenkins Absent, Patrick Hurt, Fields Coming Along, Rookies Impress
The Bears' offensive line was the talk of Day 2 of practices. Teven Jenkins was a no-show. Lucas Patrick left the field with an injury, and head coach Matt Eberflus continues to tinker with different blocker combinations. Here are your training camp bullets for Friday morning.
Jenkins missed practice Thursday, but Eberflus didn't have much to say. That's his standard operating procedure for injured players. Jenkins missed most of last season after having back surgery, and Matt Nagy bewilderedly returned him to the lineup once the games were meaningless. Jenkins played six games and really struggled, though he did not allow a sack.
That said, the Bears have been a little evasive when it comes to Jenkins' role with the team since March. Initially, GM Ryan Poles was noncommittal when asked if Jones would play left or right tackle. Once summer practices started, rookie Braxton Jones ran with the ones while Jenkins worked with the second unit. Yesterday, Eberflus mentioned Jenkins could be a swing tackle. His role is being continually diminished and it's starting to look like Jenkins might not be in the team's plans.
The acquisition of tackle Riley Reiff in free agency probably didn't sit well with Jenkins, though he has yet to say anything publicly. Reiff, Jones, and Larry Borom all slot above Jenkins on Chicago's depth chart. Sam Mustipher and Doug Kramer are locked in a battle to back up Patrick at center. Michael Schofield is listed as the Bears' starting right guard, and Cody Whitehair will start on the opposite side. That leaves Jenkins, Ja'Tyre Carter, and Lachavious Simmons fighting to be Chicago's eighth lineman.
Could Jenkins move to guard? Probably not. If Eberflus believed that was a possibility, Jenkins would be getting his fair share of reps.
Reiff could be the leader the offensive line has been missing. His pedigree demands respect, and he is one of the more field-intelligent players the Bears have.
"They are good, man. All are very smart, very athletic. They are going to be good players."

-Riley Reiff on Larry Borom, Teven Jenkins and Braxton Joneshttps://t.co/61kro9maT3

— Bears Talk (@NBCSBears) July 27, 2022
Speaking of Patrick, he left practice today with an apparent thumb injury.
In Patrick's absence, Kramer took the snaps as the first-team center. Borom worked as the starting right tackle, and Jones rotated with Reiff at left tackle. At right guard, Eberflus rotated Carter and Mustipher. For some reps, there were three rookies and a second-year pro protecting Justin Fields.
Poles wants his rookies to take jobs away from the veterans. "It's human nature to relax when you feel there's no threat to your job, so I want these young guys to come in and compete for jobs, the first-year GM said last week. "That's going to lift everyone in that entire room to know that they've got to compete and be their best self to make the team, as well as to make the starting line."
Eberflus will continue to tinker with his line until he finds the best combination.
Patrick is a big part of Chicago's offense. He'll serve as the onfield bodyguard of Fields. The two addressed the media on Tuesday to talk about their roles and synergy.
Fields is making strides in Luke Getsy's offense, but the new offensive coordinator said his quarterback "still has a long way to go." 
Getsy pointed to some execution issues Thursday that he wants to see eliminated, including false starts. "It's the lack of execution that I'm focused on right now. That's what pisses me off more than anything."
Kyler Gordon missed some of OTAs and all of the minicamps with an undisclosed injury but has been working with the starters — sometimes as the slot cornerback, with Jaylon Johnson and Kindle Vildor on the outside, and sometimes opposite Johnson while veteran Tavon Young handles the slot.
Bears CB Kyler Gordon: "I had a feeling they were going to tell me to play nickel (during OTAs). … When they told me, honestly I had the biggest smile on my face."

— Kevin Fishbain (@kfishbain) July 28, 2022
Bears coaches approached Gordon and let him know they were going to work him in at nickel cornerback. The rookie was ecstatic. "It's definitely like the quarterback of the defense. You've got to know the calls, be able to communicate, be loud, efficient, fast and smart and be able to react fast."
Cole Kmet made an amazing catch — a back-shoulder ball from Fields down the seam — in seven-on-seven drills. The tight end drew cheers earlier in practice from nearby fans for a catch against safety Eddie Jackson in one-on-ones. Kmet would have dropped both passes last year.
Jackson is approaching this season with a different mindset. The defensive back is eliminating personal goals to focus more on winning football games.
Taking on a bigger leadership role wasn't something Jackson had in mind earlier this year. But as the offseason went on, and the changes throughout the organization mounted, Jackson realized he needed to step up.
Eberflus said back in April that he was giving Jackson "a clean slate" and the sixth-year veteran is out to prove his two Pro-Bowl selections (2018-19) were no fluke.
Five Things
Camp Quotes
"Just getting the experience and those reps. The cool part about it is in a couple more days [on Monday] we get to put pads on, and this thing gets to be real. These helmet practices are great because you get timing and rhythm and stuff like that, but this game is a feel game, and the only way you get the real feel is if it's the real thing. So these reps that will be coming down the road here will be super important for [Justin]." – Getsy.
"[Fields] has come so far from where we started, for sure. "We still have a long way to go, though. As far as  attacking the system and the knowledge of the system and what's going on around him, I think he's done a great job of that — that part of it."– Getsy
"You just get to be more like the run game, just a different job. I feel like me at nickel, I'm just a twitchy dude, so I just like to react a bunch. I just enjoy it and [am] able to be in the run fit, too. Just a lot of different things I can do there to really show all of my abilities. I enjoy nickel." – Gordon
"I just want to be better than I was last year. That's it. Be a better leader. Go out there and make plays and win. … I know I'm a vet now, one of the oldest guys in the room, so a lot of the young guys look up to me. I have to lead from the front. That's how I prepare, how I work, how I'm in meetings, how I walk around the building, and how I attack the weight room. All of that type of stuff. I feel like everything else will fall in line." – Jackson