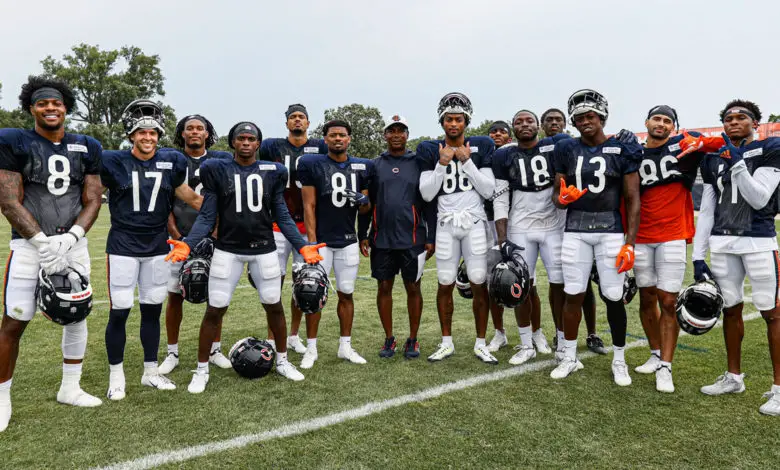 Camp Notes: Getsy Talks Offense, Elite Speed Fun to Watch, Jenkins Participating in Team Meetings
After a day off Thursday, the Bears returned to practice yesterday at Halas Hall. Teven Jenkins is still a no-show, Roquan Smith is still "holding in," and the battle for wide receiver slots and spots has really intensified. Also, Luke Getsy was yesterday's media star. Good morning, and welcome to Saturday's Camp Notes.
Velus Jones Jr. took it to the house on a perfectly placed ball from Justin Fields. You have to love the rookie wide receiver's ability to separate, though Fields looks like he's still adjusting to the speed of Jones. If Fields hit V12 in stride he would have had a 5-6 yard cushion there. But, that's what camp is for, yes?
⚡️V12⚡️ pic.twitter.com/qZ56mPgekf

— Chicago Bears (@ChicagoBears) August 5, 2022
Jones has a ton of talent to match his blazing speed. The rookie wide receiver is going to be a big part of Chicago's offense, and he'll see plenty of action in the return game. His speed alone changes the dynamics of Luke Getsy's offense.
So far, the competition is bringing out the best in everyone. "Everyone's kind of had a day here and there," Getsy said. "It's been fun. Velus did a lot of cool things for us. EQ has been doing a really nice job. Byron Pringle, all the guys. I've been really impressed with the way these guys have attacked the day. We're not good enough at any of those positions, including Darnell Mooney, so we've got a lot of work to do there. But I've been really impressed with their approach."
Equanimeous St. Brown continues to command the attention of the coaching staff and his teammates. Fields has developed a nice rapport with the 6-foot-5 receiver. "He's been in this offense for a number of years, so he really doesn't make mistakes when it comes to running the plays and stuff like that. Plus, he's always in the right spot and knows where to be on certain plays. He's a weapon in this offense for sure."
Fields said he "loves the pressure of being the Chicago Bears quarterback."
Eberflus hasn't said anything about Jenkins except that the 2021 second-rounder is still working with the trainers. Jenkins is only hurting himself at this point.
Offensive coordinator Luke Getsy offered a little bit more of a glimpse into what Jenkins has been up to according to Kevin Fishbain and Adam Jahns of The Athletic ($). The tackle has been participating in the meeting rooms at Halas Hall though he has now missed seven straight practices. "Teven's been great. He's been attentive. He's all in. Once he gets through this [ordeal], he'll be back out there ready to rock and roll."
Rookie Braxton Jones handled every snap at left tackle with the first-team offense for the third day in a row, and Reiff rotated with Larry Borom on the opposite side. "Braxton … is obviously a super athletic kid that we were excited about," said Getsy. "Then you get [him] into the pads and there was zero intimidation. Going against Robert Quinn on your very first one-on-one pass rush, right? It's an intimidating thing. He stepped up and did a great job."
Chicago's offensive line is beginning to take shape, and if the season started today Jones would be in the starting lineup. The shuffling will continue, but right now Jones (left tackle) and Lucas Patrick (center) look like locks. Riley Reiff has the edge opposite Jones, and Cody Whitehair and Michael Schofield head the rotation at left and right guard respectively. Borom shouldn't be counted out at right tackle. The staff reportedly loves the second-year lineman.
The Bears have reportedly signed USFL star DeMarquise Gates. The 26-year-old linebacker signed with the Browns as an undrafted free agent in 2018, though he was cut that summer. Chicago waived Christian Albright with an injury designation as the corresponding move.
The Chicago Bears have signed USFL Champion LB DeMarquis Gates. pic.twitter.com/yWyZnzladh

— USFL (@USFL) August 6, 2022
Train
Chicago also signed cornerback Davontae Harris and defensive tackle Trevon Coley.
Rookie cornerback Kyler Gordon was in street clothes for Friday's practice. Tavon Young took his place in the lineup. Gordon has been rotating between the slot and outside cornerback spots during practices. When he moves to the slot, Kindle Vildor lines up on the outside, and when Gordon lines up outside, Young has been in the slot.
Cole Kmet is on the verge of taking his game to the next level according to Chicago's coaching staff. The tight end has "all of the tools in the toolbox," according to Getsy, and Kmet is expected to have the break-out season we've all been waiting for. The staff has put Kmet in several scenarios to see how much he can handleー like they've done with many playersー and so far they like what they see. Kmet's caught 88 balls for 855 yards and two touchdowns in two NFL seasons and he was held out of the end zone completely in 2021. This year, Kmet has flashed much more in practice.
Five Things
The nice thing about training camp is that fans get to focus on the team while the rest of the NFL is filtered away from Halas Hall. Taking a break from national pundits who rank the Bears near the bottom of the league in nearly every category is a welcome respite. Most analysts are calling for a 3-to-6 win campaign and a top-three pick in next year's draft, though that seems a bit off. While I'd welcome the pick, and hope that GM Ryan Poles trades down in a very quarterback-heavy draft, I think the Bears are capable of winning eight or nine games this season. Signing Reiff and Schofield has given the team a stronger offensive line. And so far, the receivers are playing better than I expected. Depth will be an issue at linebacker if Smith continues to sit out, and the Bears need to find another three-technique. Chicago will surprise a few teams this season if Poles can successfully navigate the waiver wire.
The Bears are still a little short on talent and impact playmakers, so it's important to keep things in perspective. But, there is a palpable difference between this camp and the ones Matt Nagy ran. Matt Eberflus had Fields working against the scout team on Friday to get some reps in against the 3-4 defense. Getsy explained they did that because two of their NFC North rivals, the Packers and Vikings, both play that scheme, and the Bears do not. "You're talking about the big guys up front, [and] everything changes in your rules and assignments when you have three down [linemen]," Getsy said. "So you've got to mix that in. If we had a three-down defense, we'd have to scout team a four-down set."
Eberflus ramped up the intensity of Chicago's practices. The veterans are quickly adjusting. Several players mentioned that Friday's practice was the most grueling of training camp to date. Kmet said Eberflus has increased speed, tempo, and physicality. "That was probably the hardest practice I've ever been a part of," said the third-year tight end. "That's not a joke. It was a tough practice."
The head coach has also incorporated a lot of situational football into the early training camp practices, causing Fields to think and make decisions on the fly instead of scripting everything out. The second-year quarterback must work through his progressions based on the impromptu decisions. It's a work in progress for Fields, and Getsy understands the frustration. But the OC also praised the ability of his QB to immediately bounce back. "He's a competitive dude, man," Getsy said. "You get in that film room, and you can see the hunger, you can see the fight. That's part of our job is to make sure he has clarity through all that. He has that competitive edge that you need to play in this league, especially at this position. We just need to make sure that when we finish those meetings, there's clarity in where he can get progressively better."
Getsy was asked about a recent revelation by Aaron Rodgers. The Green Bay star admitted he consumed ayahuasca while on a visit to South America. It's a plant-based psychedelic and I'm guessing it's not a banned substance – yet. The offensive coordinator laughed it off. Getsy said he "wasn't invited on those trips, and added, "Whatever it takes, I guess."
Camp Quotes
"These [wide receivers] have bought into the right mindset, and the competition brings out the best in all those guys. You've seen these guys working their butts off and pushing themselves and buying into the philosophy of the style of play that we're going to play. That mindset and getting nasty and getting physical is a big part of it. The competition part of it, and I love every bit of it because it makes all of us better." – Getsy
"[Jenkins] is going to get thrown right into the mix of this competition at the tackles, too. This is an open [competition] — right, left, whatever. We're trying to find the best five, so when he gets back, he's someone who's super talented that should jump in there, and hopefully, he takes advantage of the opportunities he's going to get." – Getsy
"You can do two things [when practices get tough]. Tap out, or you can step up." – Eddie Jackson