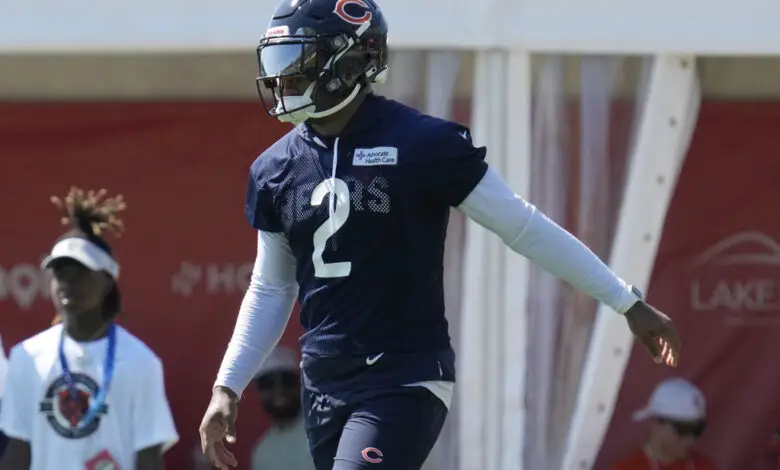 Camp Notes: Fields and Moore Continue to Shine, Tyler Scott Impresses, DeMarcus Walker Leading Improved Defense
The Bears had one of their best offensive seasons last year despite finishing 3-14. Justin Fields accounted for almost all of that offense, but he has a new weapon in D.J. Moore and a happy tight end in Cole Kmet, who just signed a contract extension. Things are, therefore, much more promising compared to last year at this time. Here are your training camp bullets for Thursday, July 27.
Your daily dose of @justnfields ➡️ @idjmoore pic.twitter.com/vV9IdD1eG7

— Chicago Bears (@ChicagoBears) July 27, 2023
The Bears returned to the practice field for their first open practice of training camp on Thursday. On Wednesday the team practiced inside the Walter Payton Center due to air quality issues and thunderstorms.
Fields and Moore continue to be the star attractions at 1920 Football Drive.
Kmet's extension had the entire locker room buzzing.
Jack Sanborn is close to returning to full-time practice and still sees himself as a starter despite a position change. Rookie Noah Sewell is battling Sanborn for the starting gig.
Rookie Tyler Scott has been impressive so far. His wheels, explosiveness, and ability to separate are reportedly jaw-dropping. Darnell Mooney is coming off an injury and looking for a contract extension, but Scott might end up being the better receiver of the two.
Velus Jones has also been impressive through the first two days of camp. Competition for jobs behind the top three receivers is heating up.
Mooney and Jaylon Johnson can make valid cases for preseason contract extensions, but Chase Claypool is going to have to earn it on the field this season. "This being my first extension, it sends a good message," GM Ryan Poles said after the Bears' second training camp practice. "I think everyone knows me, what I stand for, and what I believe in in terms of taking care of [our] players."
Offensive coordinator Luke Getsy intends to deploy two tight end sets at times this year. Kmet and Robert Tonyan are very athletic pass-catchers and will be tough for opponents to defend.
Getsy feels that players returning for a second season in the offense are more familiar and comfortable with the system than they were a year ago.
Elijah Hicks leveled Tonyan on one play, much to the delight of new Bears' DL DeMarcus Walker.
Steve McMichael moved one step closer to entering the Pro Football Hall of Fame. The list of semifinalists was trimmed from 31 players to 12, and Mongo made the cut.
The Rams claimed linebacker Sterling Weatherford, who was released by the Bears earlier this week.
Bears CEO Kevin Warren and Chicago Mayor Brandon Johnson continue to have "productive talks" about keeping the team in Chicago.
Drew Magary, who writes for The Defector and SFGATE, publishes an NFL series called "Why Your Team Sucks" and Bear fans will be disenfranchised by his thoughts on the beloved. Magary reads like a guy who works at Starbucks after flunking out of comedian class at the local library, so take it with a grain of salt.
New Bears DL DeMarcus Walker definitely adds a needed edge/fire to the defense. Two days in a row now you can see it — and hear it. That's in individual drills and team.

— Adam Jahns (@adamjahns) July 27, 2023
Five Things
Fields has vowed to throw for 4,000 yards this season, but that's a lot of bravado for a quarterback who eclipsed 200 passing yards just twice in 2022. The third-year signal-caller believes he is going to lead the Bears to the playoffs, too. An upgraded offensive line that includes top draft pick Darnell Wright and free agent Nate Davis, plus a weapon like Moore will give anybody a big confidence boost, but are those realistic projections? The Bears won three games last season, so doubling that win total would be considered a success at this stage of the team's rebuild. Fields, like most Bears fans, is far more optimistic. Chicago may need 10 wins to take the NFC North and nine should get them a Wild Card berth. If Fields can throw for 3,000 yards, that's a possibility. But having a top-tier offense won't matter unless the team's defensive unit can stop opponents from scoring at will.
Sanborn will fight off Sewell to claim the starting gig on the strong side, but Sewell provides very good depth. That said, the linebacking corps is pretty thin after the top four. Rasheem Green, DeMarquis Gates, and Dylan Cole don't inspire much confidence, so look for the Bears to scour the waiver wire in coming weeks for reinforcements.
Jaquan Brisker is feeling feisty and confident, and that's a good thing for Chicago's defense. Brisker, who led the team in sacks (3) last year, will look to build on his success and become a dominant defensive force. Despite his impressive performance, the second-year safety has room for improvement, particularly in identifying running lanes. It will be intriguing to see how defensive coordinator Alan Williams maximizes Brisker's potential. Overall, the Bears' safeties, a group that includes Eddie Jackson and Hicks, have the potential to make a significant impact this season. That said, depth is also an issue with this position.
Don't be surprised if rookie cornerback Tyrique Stevenson gets the starting nod over second-year incumbent Kyler Gordon. Slot corner is a position where even the best get exposed regularly, and Gordon was much more dominant in a specialized role last season. Gordon admitted he had his fair share of struggles in 2022. He did have three interceptions last year, but he'll work primarily as a nickel this season.
The Bears are much younger at running back now that David Montgomery has moved to Detroit. Chicago should still boast an impressive running attack with Fields, Khalil Herbert, and D'Onta Foreman, but they may have found their best option in this year's draft. Scout John Syty believes that rookie running back Roschon Johnson can be a "pillar of Chicago's offense" alongside Fields. "He's someone we really feel compelled can become a pillar of this organization for a really long time," Syty said at Halas Hall in April. "I feel really strongly about this guy. I'm excited for you guys to meet him. There's a level of it factor to this kid the second he walks into the room that all you guys are going to feel. I'm a little bit emotional about this kid."
Camp Quotes
"[We just want Fields to] improve. That's the beautiful thing about football: You're relying on other people around you too. So really controlling what he can control, looking at himself in the mirror, self-assessment, improving those weaknesses, and really attacking that in training camp every single day. What he did with his legs was outstanding, but in the passing game, look at the different scenarios, situations, two-minute [offense], and continue to improve that." – Poles
"Last year we tried to keep it pretty direct. Now we're using our brains a little bit more, so we're trying to get a little crazier. We're trying to have a little bit more fun with things. And then the coolest part—the most important part—is that these guys are starting to take ownership of it, so it's theirs. It's not what I just said in the room and they're robots. They're out there putting their flavor on it, which is the most important thing when you want to have success." – Getsy
"I wouldn't say overwhelming, but it definitely was a thing during training camp because I was playing nickel, (and) corner, and I'd be with the ones, twos, and threes. I was feeling it all in my legs. It was a lot. But I still appreciated it because I needed those reps and experiences. I understand why I was out there a lot and stuff like that. That year is over and I learned what I needed to learn from it. It's just going to get better and better. I'm not going to lie, I do miss corner.  love corner. But yeah, it definitely is nice to focus on nickel and take in as much as I can there and perfect that spot." – Gordon
"You see [Roschon Johnson] play football, he is as violent as they come. He can almost be a linebacker. The way he covers some kicks are outstanding. I think he can help us in that area for sure. And he's a good running back as well. What he's shown me since he's arrived is basically, he validated what we already thought and already knew… he's just confirmed that was a really good selection." – Special Teams Coordinator Richard Hightower