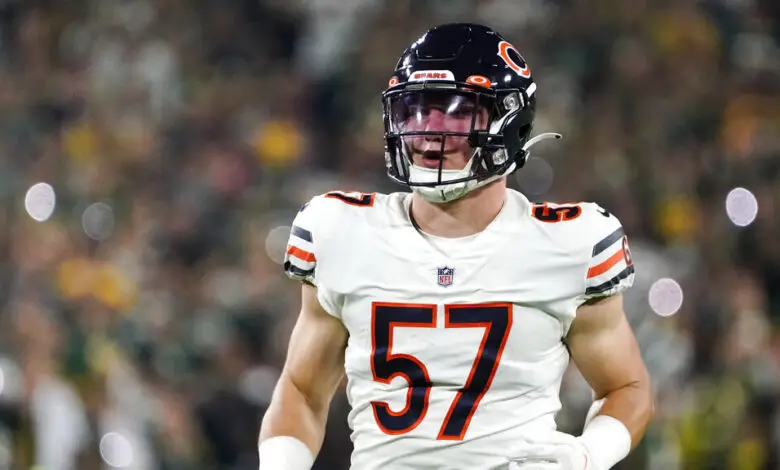 Jack Sanborn: Close to Being 'Full Go'
Jack Sanborn was Chicago's best linebacker last season, getting most of his playing time after the Bears traded Pro Bowler Roquan Smith to the Ravens. His season ended early due to a foot injury, and during the offseason, the Bears signed Tremaine Edmunds and T.J. Edwards and drafted Noah Sewell. Matt Eberflus is taking it slow with players coming off of injury, so Sanborn has been limited during the first two days of camp.
The second-year linebacker has therefore been practicing in individual drills only, but he doesn't see that as a negative. Sanborn thinks he'll be ready to practice full-time any day now.
"I'm going to trust the training staff on that," Sanborn said Thursday. "Right now we're just making sure we're ok, doing a little ramp-up period. Whenever they think that I'm full go, yeah I'll be out there."
LB hands drills. Jack Sanborn hasn't let the ball hit the ground yet. #DaBears pic.twitter.com/KiloPHqpZi

— Ben Devine (@Chicago_NFL) July 27, 2023
Sanborn sees himself as the starting strongside linebacker despite the influx of competition. He played in the middle in 2022. He's 100% confident in his assignments despite the position change. Edmunds, Chicago's marquee signing this year, will handle duties in the middle, and Edwards will start on the weak side.
"Yeah, I expect to be out there and I think that's going to be a good time," Sanborn said. I think right now, especially this early in camp, it's all about everyone getting down what they're supposed to do and [continuing] to just get better and understand the assignment. Understand the plays."
Sanborn, from Lake Zurich, was the defense's best success story in a wretched season. The Bears finished 3-14 and allowed just over 27 points per game. Sanborn was signed as an undrafted free agent out of Wisconsin, and he made the roster after a convincing preseason. He played every game, including six starts after the team traded Smith, before the injury. He is also a fan favorite.
By all rights, Sanborn should have been drafted. He had a pre-draft score of 51 and was ranked No. 216 on ESPN's 2022 draft board, making him a legitimate sixth or seventh-round option. Nobody called his name, and signing with the Bears was a no-brainer. Sanborn has been a fan his whole life.
The UDFA totaled 64 tackles in his six starts, including 50 categorized as solo. That's an outstanding ratio and a full-season pace of 180/150. His breakout game came against the Lions in November when he registered 12 tackles and two sacks. He also had a huge interception that was nullified by a penalty on Jaylon Johnson. The Bears lost that game 31-30 after jumping to a 24-10 lead.
Remember when nobody drafted Jack Sanborn?#Badgers pic.twitter.com/ISEOPzNNpy

— Evan Flood (@Evan_Flood) November 13, 2022
Still, Sanborn isn't guaranteed anything. The coaching staff loves the hard-hitting Sewell, who flashed speed, instincts, and playmaking ability during minicamps and OTAs. The rookie has taken all the strongside reps while Sanborn recovers, though the Wisconsin product is handling it like a seasoned veteran. He's not going to just hand his position over to Sewell or anybody else.
"I'm in a good mental space," he said. "I like where I'm at. I'm just going to continue to be me, continue to go out there and play the best ball I know that I can play.