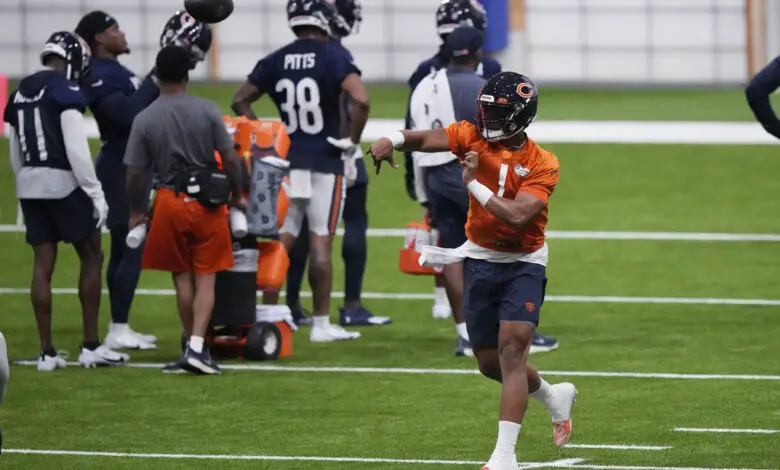 Camp Notes: Camp Officially Open, Fields 'Throwing Darts,' Claypool Ready to Battle, McMichael Hanging Tough in Fight Against ALS
The big news of the day is that tight end Cole Kmet inked a four-year, $50 million contract extension. There's no better way to start training camp with good vibes than having a hometown kid being recognized as an integral part of his favorite childhood team.
On personal note, I apologize for my two-month hiatus. Expect regular columns going forward. This is one of the more exciting times in recent team history. Here are your training camp bullets for Wednesday, July 26.
https://twitter.com/AlexShapiroNBCS/status/1684241467290656770
Back like we never left 🐻⬇️ pic.twitter.com/oHccGsqv7f

— Chicago Bears (@ChicagoBears) July 27, 2023
Five Things
I find it unfathomable that Fields still has his haters. He accounted for 3,385 yards of total offense in 2022, but his doubters point to Chicago's 3-14 record. The Bears tanked after beating the Patriots, in case you're unaware. Still, Fields almost singlehandedly won games that should have been blowout losses. The Bears averaged 29.6 PPG in the five tilts before an injury in Atlanta sidelined him. Replacing Byron Pringle with Moore gives Fields the home run-hitting pass catcher he's desperately needed. Moore isn't a guy that will give defenses fits, but with additional (and better) options in the passing game, the Bears will be tough to defend.
Claypool is getting annihilated on social media, but he isn't deserving of that depth of wrath. That said, spending one day on the PUP List didn't win him any new fans. This is a big year for Claypool, the first contract season of his life and his chance to reward Bears Poles, who showed enough confidence in the receiver last fall to trade away a top-32 pick for his services. He deserves a chance to make good, because he didn't get much of a chance to work with Fields last season. Eberflus and Poles challenged Claypool to become steadier, both in his approach to the game and with the way he handles the stressors NFL life provides. Let's judge the trade after this season. This type of drama is a big relief after pouting sessions by Robert Quinn, Roquan Smith and Teven Jenkins last July.
The Bears have a number of players in make-or-break years. In addition to receivers Claypool, Jones and Mooney, Gipson, Jaylon Johnson, and Eddie Jackson need to prove they're worthy of staying in Chicago.
Kmet, 24, was Chicago's top pass-catcher last season. The 2020 second-round pick caught 50 passes for 544 yards and a career-high seven touchdowns in 2022. He earned every dollar the Bears are paying him over the next four years.
It may only take 9-10 wins to take the NFC North this year. Are the Bears that good? Probably not, but they'll hang in there with each of their 2023 opponents. Doubling their win total from last year would be a tremendous step forward, and they've got two first round draft picks next April, so be patient.
"You've got to protect sideline to sideline because he's ready to break at any point" – @fred_warner@JustnFields makes his #NFLTop100 debut in the 86 spot! pic.twitter.com/Lb835Onrfj

— NFL Films (@NFLFilms) July 26, 2023
Camp Quotes
"We're extremely excited to keep Cole [Kmet] in Chicago. We consider him a core part of our group we want to move forward with and he exhibits everything we think a Chicago Bear should be, both on and off the field. We would also like to thank Kyle McCarthy and Brian Murphy for helping keep him in Chicago." – Poles
"Maybe people weren't happy with how I dealt with the offseason, but that's the only perception that was given to them and not the reality that's true. I remember almost blowing my knee out against the Packers and being done for the game and also kind of pleading to be put back in, putting the knee brace back on, and went back in and tried to help my team win. So, if there's any questions on how much I'm willing to do to help this team win, there shouldn't be. You know? I think that I'm doing everything I can to be as healthy as possible but knowing in the game everyone gets injured." – Claypool
"If I need to be on the line and we run the ball 40 times, I can be that guy. If we need to drop back 40 times to win a game, I can also be that dude that is able to split out and do things as well." – Kmet
"I'm not a risk, but I'm that guy you can count on. You don't have to worry about me doing my job."I've been doing some things in the offseason and summer already with one-on-ones and catches from routes and all that, so I'm comfortable with doing a lot of things. It wasn't my first actual competition. I've been doing it for a while. – Mooney