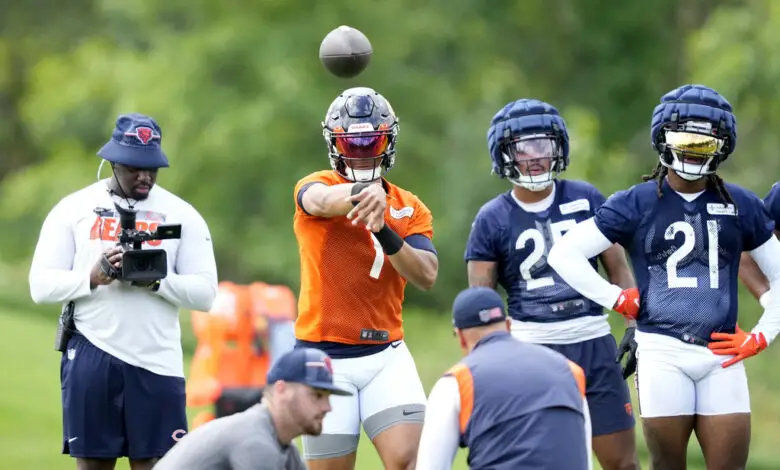 Camp Notes: Defense Finally Outplays Offense, Pads Come On Today, Chicago Closing Gap in Quest for New Stadium
The combination of Justin Fields and D.J. Moore continues to be the talk of camp, but the defense finally outplayed the offense on Monday. Tyler Scott and Chase Claypool have been the biggest (and nicest) surprises one week in. The Bears go to full pads tomorrow, so expect Matt Eberflus and his staff to up the intensity. Here are your training camp bullets for Monday, July 31.
By the way, today is MLB's trade deadline. If you're a Cubs fan, we've got you covered with all the rumors and all the transactions over at Cubs Insider.
Top 3 takeaways from #Bears training camp Monday:

1- Chase Claypool got a bunch of targets, had his best day catching the football.

2- Tyler Scott continues to impress with his noticeable speed.

3- Demarcus Walker has a big voice that is constantly running.

Pads tomorrow.

— Mark Carman (@thecarm) July 31, 2023
Five Things
Walker is the leader Chicago's defense has desperately needed since Khalil Mack was traded. Robert Quinn led by example, and Roquan Smith mostly deferred, but Walker has been a vocal presence that nobody can miss. Walker instills hustle and intensity and holds his teams responsible for producing. He's certainly the prototypical player defined by the HITS philosophy of Coach Eberflus. There's no dog in Walker, and he's going to endear himself to Bears fans immediately.
Claypool can be the difference between an average and good-to-great season. He'll add tremendous depth to the receiver's group if he can play at the same level he did during his rookie and sophomore seasons. He's playing for pride and a new contract, and that's exactly the type of chip on his shoulder that Poles likes to see in his players. Claypool is hungry, and if he can continue playing with that hunger, the Bears have a real shot at winning a mediocre NFC  North.
Scott is the surprise of camp so far, but Trahan is the player everybody is rooting for. If the UDFA defensive back makes the team, Poles will have gone two-for-two in post-draft signees. Linebacker Jack Sanborn was undrafted last year and he's one of Chicago's defensive leaders.
Jenkins doesn't get enough credit for his versatility, He's now played three positions on the offensive line in three years, and he's found his niche at guard. After a concerning absence during last year's camp, he's quietly become one of the leaders on offense by simply being great at wherever he's asked to play. I would have thought he would have had a short career in Chicago, but he'll be in talks for an extension after this year, and he's deserving of the opportunity to stick around.
Don't look now, but the city of Chicago may be the leader among contenders for a new stadium. Negotiations with Arlington Heights and surrounding school districts have hit a snag. The Bears want "property tax certainty," and those school districts don't want to give it to them. The property that was once a horse racing track is still considered the leader, but the bid by Mayor Johnson to keep them in Chicago is a lot closer than most fans think. The stadium decision will depend on money, ease of access for most fans, and how the facility itself increases the value of the franchise. Forbes says the Bears are worth $5.8 billion, and Johnson believes a compromise is available that would keep the Bears in Soldier Field.
Can Kevin Warren's leadership infuse new energy into Halas Hall? Can he aid Ryan Poles in producing a sustained run of success? Will the Bears head into the 2030s playing in a world-class stadium?

The goals. The vision. The push.

🗞 📖 💡 https://t.co/iZ24F9OQii

— Dan Wiederer (@danwiederer) July 23, 2023
Camp Quotes
"We're excited about the season. We've improved our roster. We've improved continuity and we're excited about that. We're excited about raising the level and raising the expectations. I think great teams have high expectations and they go chase that." – Poles
"Mooney, he's a guy that I love, because of his mindset. He is his own man and just like, 'Listen, do you, man. Just be you. Don't be a robot. If you see something drawn up on paper, you've got to get it done. It's football. They brought you here for a reason, and you've got to do things that separate you from the rest.' I love that about him." – Scott
"The biggest thing is having another year in this offense. Having to move from right guard to left guard, [Jenkins] has done a good job. He's in a good spot, and we're just gonna continue to grow and get better." – Whitehair
"The guys have nicknamed [Gordon] 'Spider-Man' because he is so quick, he is so agile, he is instinctive. He's got Spidey senses. When he makes a play and you go, 'Wow, how did he make that,' ding-ding-ding the Spidey senses are going off. All those things—the quickness, the instincts—they've been showing up in a big way." – Defensive coordinator Alan Williams
"[Smith has] been really solid. He's learning the position but he's got a lot of good speed…a lot of good long speed to him. Good size, too. He's smart, knows what to do, and how to do it. We're going to create competition at those spots and that's certainly one of them that we are doing that. It's good to see him in there. He did a nice job." – Eberflus