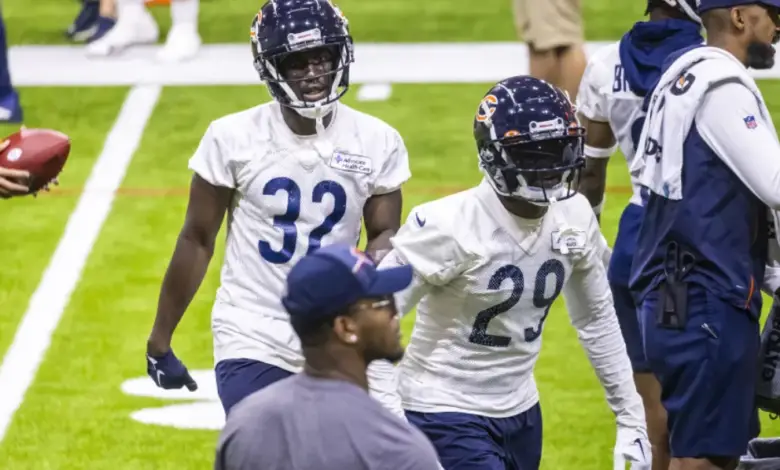 Rookies Smith and Stevenson Battling for Starting Gig at Cornerback
Cornerback Battle Heating Up at Halas Hall
Terrell Smith didn't draw much fanfare as a fifth-round pick out of Minnesota last April. Still, he was a sneaky-good pick by Ryan Poles, and here's what we wrote about Smith on draft day:
"Smith was one of the players who stood out in this year's East-West Shrine Game. According to ESPN, Smith rebounded well during the week after some struggles to begin the first day of practice. The 6-foot, 207-pounder was one of the few cornerbacks able to make consistent plays on the ball, routinely in position. He crowded throwing windows and was also able to get his head around to impact plays on many occasions. As a former track athlete, Smith's fluidity and speed flashed frequently during the one-on-one portions of practice against receivers. He had two interceptions in 2022."
Smith carries all the expectations of a middle-round pick that was the second draftee at his position. Tyrique Stevenson drew so much attention and so much praise, there wasn't much left for Smith. But when you scroll through social media and research articles, it's Smith who is getting all of the ink. He turned heads at the rookie minicamp. Now that camp is here, he's running with the ones across from Jaylon Johnson and has an early leg up on Stevenson.
Stevenson, who was chosen in the second round, had been working with the ones in that spot. Now it's turning into more of a split, however, the Bears are adamant the switch in roles means nothing.
"It's a rep plan, not a game plan," said defensive coordinator Alan Williams. "The lineups will change daily. They'll change by period."
So Smith isn't being handed the job, but he sure looks like he wants it more. Matt Eberflus has been very impressed with the rookie.
"[Smith has] been really solid," said Eberflus. "He's learning the position but he's got a lot of good speed…a lot of good long speed to him. Good size, too. He's smart, knows what to do, and how to do it. We're going to create competition at those spots and that's certainly one of them that we are doing that. It's good to see him in there. He did a nice job."
You're probably wondering why Kyler Gordon is not part of the competition. After all, he was Chicago's top draft pick last year, and the first pick that Poles ever made. Gordon, who has been nicknamed Spider-Man by his teammates, will work strictly in nickel packages.
"I do believe that just with everything, less is more," Williams said. "When you reduce the number of things that he has to do in terms of technique assignments, they can't help but get better. I don't know if you remember last year, but he didn't get into that [nickel] spot until this time last year. We didn't rep him there in OTAs. So he's got all those reps banked from the season underneath his belt on top of a little bit less on his plate in terms of being outside. So I would say, yes, it has helped him on top of one more year in the system."
How did Gordon earn his nickname? Williams had an answer for that, too.
"The guys have nicknamed him 'Spider-Man' because he is so quick, he is so agile, he is instinctive. He's got Spidey senses. When he makes a play and you go, 'Wow, how did he make that,' ding-ding-ding the Spidey senses are going off. All those things—the quickness, the instincts—they've been showing up in a big way."
Gordon's not going anywhere and can be a starting corner if he's needed there. In the meantime, Smith and Stevenson will be butting heads all summer. That should make for an interesting and fun battle.