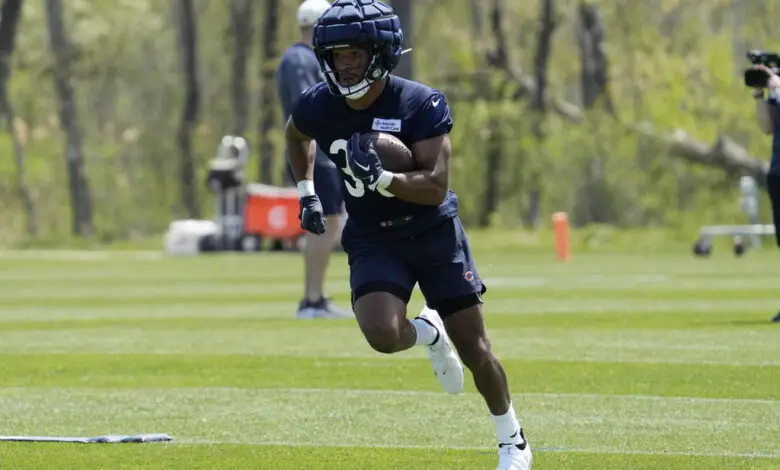 Watch: Meet the Rookies – Running Back Roschon Johnson
The path to the NFL of rookie running back Roschon Johnson on three things. Faith, hard work, and determination.
Chicago's running backs room is as competitive as it's been in about five years. Khalil Herbert is the incumbent, and D'Onta Foreman was brought in to replace David Montgomery. The Bears drafted Johnson in the 4th round after trading down 12 spots to get an extra pick. The team also signed Travis Homer to a two-year deal. Sophomore Trestan Ebner is fighting for a roster spot, too.
Johnson is an electric runner who backed up Bijan Robinson (drafted No. 8 overall by the Falcons) for the Longhorns. He's talented enough to be a Day One starter and gives Chicago the three-down back they lost when Montgomery signed with Detroit. The 22-year-old is a powerful runner who breaks a lot of tackles and rarely fumbles. Per Pro Football Focus, Johnson led all running backs in the country with a 45 percent missed tackle rate over the last two seasons.
Johnson also has experience at quarterback, which the rookie believes gives him a leg up on the competition.
"Ultimately, from a character standpoint, I feel like you're going to get a leader at the position who has played quarterback," Johnson said. "So, it's kind of like that element of leadership that comes from a quarterback but at the running back spot that you normally don't get from other guys. Running backs aren't necessarily trained to look at defenses like that."
Here's what ESPN said about Johnson during the draft:
Johnson is a patient and efficient between-the-tackles runner who powers through arm tackles and pushes the pile. He's a reliable safety valve who runs hard after the catch. He's a willing blocker with the strength and toughness to anchor in pass pro. Johnson has the potential to develop into a core special teams player.
Johnson shows a willingness to handle a multitude of roles, whether catching passing out of the backfield, setting the tone in pass protection, or as a four-phase special teamer. He creates a lot of yards by breaking tackles. He averaged 3.96 yards after contact per rush on 93 carries last season.
NFL Comp: Montgomery
It remains to be seen how things will stack up in Chicago's backfield, but Johnson should get plenty of chances to show he can contribute.