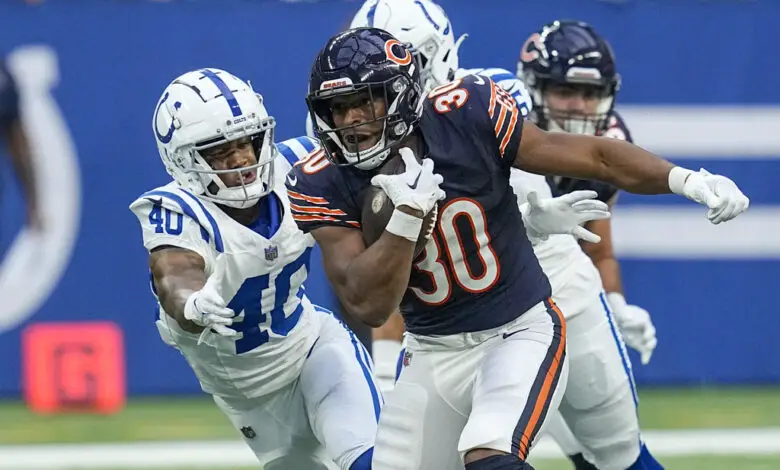 Roschon Johnson is Good at Football
Sorry to cop something that is unforgivably Obvious Shirts-like, but Roschon Johnson is damn good at football. Tyson Bagent was the star in a starters-challenged exhibition loss to the Colts, but Johnson may have been more impressive. He carried the ball seven times for 32 yards (4.6 YPC) and he did so against an Indianapolis defense that consistently stacked eight or nine in the box.
Every Roschon Johnson touch from last night.

The #Bears may have found a PLAYER 😳 pic.twitter.com/gLQWJ7wxyK

— NFL Notifications (@NFLNotify) August 20, 2023
The fourth-round draft pick also had one reception for 11 yards.
He entered the game on the Bears' third possession and, along with rookie Bagent, gave the team a lift after two punts on the opening possessions with P.J. Walker at quarterback. Johnson is listed behind D'Onta Foreman on Chicago's depth chart, but the rookie has outperformed the veteran in two preseason games. Khalil Herbert sat out with the rest of the starters on Saturday night. That makes him the clear-cut favorite to start.
"Play by play, it's coming along," Johnson said. "I don't think I'm behind. But at the same time, I've got a lot to prove. It's trending in the right direction. Positive signs. I've still got to take it a day at a time and keep chipping away."
Saturday's contest was a showcase for rookies and bubble players hoping to provide depth to a Bears team that is much stronger this season. Johnson, however, is one of the rookies expected to be a big contributor. That means the loss to the Colts was his best chance so far to tune up for the regular season. Fellow rookies Gervon Dexter, Zacch Pickens, Tyrique Stevenson, Terrell Smith, and Noah Sewell also saw significant playing time.
Johnson was the star, however, apologies to Bagent. He's a violent runner with solid elusiveness and soft hands who also blocks extremely well in pass protection. He'd have gone much higher in the draft had he not played behind Bijan Robinson at Texas. He won't surpass Herbert on the depth chart, but he is well-positioned to be RB1 in 2024. Johnson will get a full year of development time playing behind Herbert and Foreman. He'll contribute when asked, and fans (and teammates) are going to get excited each time his number is called.
"He's physical," said tight end Cole Kmet. "I was watching his pass pro stuff and he'll put his helmet in there. That's cool to see. You definitely gain some respect for those rookies that put their facemask in there and are willing to hit some guys, especially…he's going against D-ends and linebackers who are hitting pretty hard."
The rookie will make a substantial impact on special teams, too, primarily on kickoff and return duty.
Johnson has been an impactful presence in practice and on gamedays. He rushed for a team-high 44 yards on 12 carries in Chicago's win over the Titans two weeks ago, including a run of 24 yards.
"I'm a guy who likes to use his body as a weapon and kind of play off of that," Johnson said Wednesday night after the first of two joint practices with the Colts. "That's definitely a tool in my toolbox that I try to use every day."
That quote sounds a lot like something Walter Payton would say when he played for the Bears.
Johnson was a power back at Texas, where he played in 47 games over four seasons, rushing for 2,190 yards and 23 touchdowns on 392 carries while catching 56 passes for 420 yards and another score. He ran for 554 yards and five TDs on 93 carries as a senior and had 14 receptions for 128 yards and an additional TD. Johnson learned his pass protection techniques at Texas from coaches Tashard Choice and Stan Drayton. Drayton served as the Bears running backs coach in 2015-16.
"They either coached or played in the league, so they kind of knew what to expect, knew how to coach us based off of that," Johnson said. "I took the things that I learned from them and translated them over here to the league.
"It's fundamentally the same thing. You're going against different athletes and a different caliber of players. It's different in that aspect, but ultimately the technique and the fundamentals that I learned at Texas definitely translate here."
Head coach Matt Eberflus loves what he's seen of Johnson so far.
"Just the running style," Eberflus said Wednesday. "He's a downhill guy that we're excited about. He's got good vision. And since he's gotten in there, we really love the style. We're just gonna keep letting [him] compete, and we'll see where it goes."