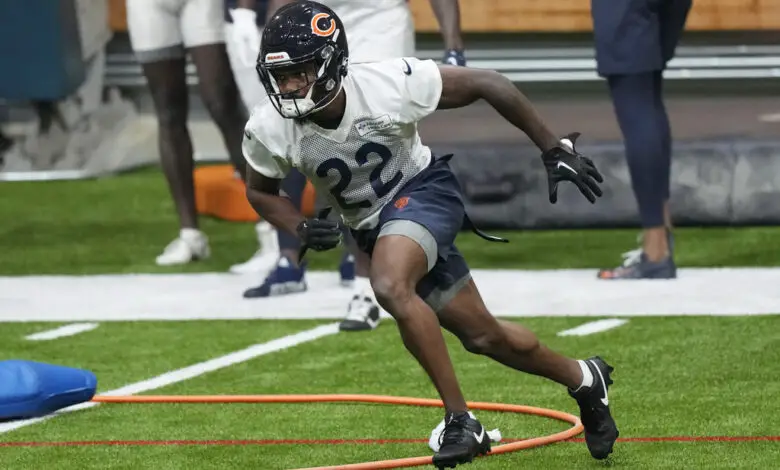 Six Cut Candidates as Bears Inch Toward Cut Day
When the Bears trim their roster from 90 to 53 players, it will come in one fell swoop. That's because the 2023 NFL preseason will feature just one roster cut deadline, August 29. That's a departure from the approach that the league has used in recent seasons to shorten its benches.
The NFL used to have multiple cut days interspersed throughout the preseason. For a while, teams would go from 90 players to 75 players after the first two preseason games and then trim another 15 after the next two. In more recent years, teams were asked to trim five players from the roster after preseason Week 1 and another five after Week 2 before the final cutdown. The rule change means as many as 1,184 players will be made available in one day. The Bears are No. 1 in the waiver wire claim order because they finished with the league's worst record in 2022. They should be able to find a few decent players before opening the season on September 10 against the Packers.
Head coach Matt Eberflus, his staff, and the front office will have some work to do on the home front, too. They'll need to decide which 37 (or more) players won't be with the team on Opening Day, and they'll need to fill the practice squad. Some cuts will be tougher than others, and, the Bears will make players available who will help other teams.
Breaking it down by position groups, the team is likely to fill those rooms with a specific number of players:
That's 52 slots, with the final spot reserved for someone who stands out on special teams, perhaps an extra linebacker, or it could mean one of the following six sneaks onto the roster.
Cut Number One: Trestan Ebner
Herbert entered camp as the starter but Luke Getsy will go with a committee at the position. That's how Green Bay ran their offense when he was an assistant there, and he's got a three-headed monster in Herbert, Foreman, and Johnson. Travis Homer gets the nod over Ebner because he's better on special teams.
Cut Number 2: Velus Jones
I loved the potential when Ryan Poles drafted Jones, but he was prone to mistakes, and Eberflus hates turnovers in the same way that most middle-aged men hate dieting and exercise. Pettis replaced Jones as the Bears' punt returner last season, and Jones became expendable when the Bears drafted Scott.
The rookie could, in fact, play his way into the top four by the end of the season. He's fast, has good hands, and has a tremendous football I.Q.
Jones was a reach last year, and though Poles won't want to admit that, I don't think the second-year receiver will make the team. Jones has had a good camp, but is it enough to remove the bad taste from his rookie season? We'll see.
Cut Number 3: Trevis Gipson
This one comes with a caveat, and that's that the front office needs to find somebody they like better on the waiver wire. Gipson was at the bottom of the depth chart, and though he had a strong game against the Titans on Saturday, he was playing against second and third-teamers. Still, the coaching staff vaulted him up to No. 2 this week at left defensive end. The addition of Mykal Walker probably means the Bears want to carry six linebackers, so that works against Gipson, too.
It's going to come down to Gipson, Rasheem Green, Terrell Lewis, and Dominique Robinson, and I believe Poles prefers Lewis, Green, and Robinson. If the Bears do keep nine defensive linemen, Gipson, who is better suited to play in a 3-4 defense, should get a roster spot, unless, as I mentioned, Poles grabs an edge rusher on waivers.
Cut Number 4: Alex Leatherwood
We want to root for Leatherwood because he's a former first-round pick and still has upside potential. And let's face it, the Bears lack offensive line depth. But he was a bad right tackle, and he's not any good at left guard, either. The Bears brought in Logan Stenberg to provide depth, and he's a much better blocker. This spot will come down to Leatherwood, Stenberg, and Ja'Tyre Carter, so Leatherwood is probably toast.
Cut Number 5: Kindle Vildor
Poles put a target on Vildor's back when he drafted Stevenson and Smith. It's going to take an injury to one of the top six cornerbacks for Vildor to make the roster, and even then, Poles is more likely to pick someone else up instead.
Cut Number 6: Larry Borom
This one also comes with the caveat that Poles finds a better player on the waiver wire. Borom should be safe because the Bears lack depth at guard and Davis and Jenkins haven't been 100% healthy. I just have a feeling that Poles would prefer to find a replacement for the third-year veteran.