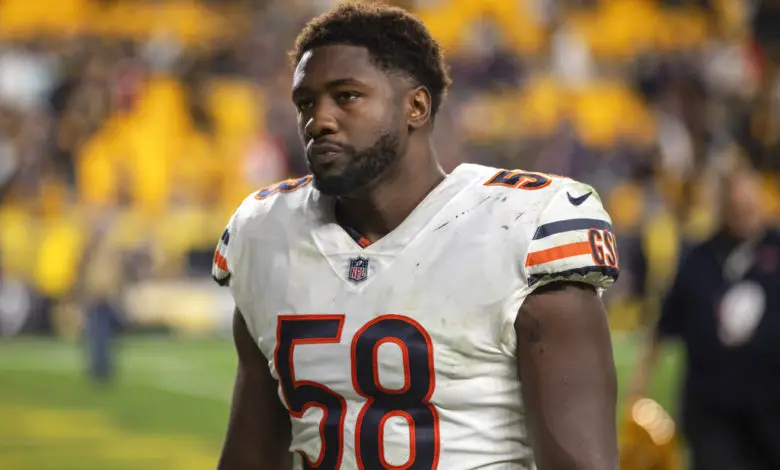 Camp Notes: Brisker Signs, Smith Holding Out, No Word on Quinn, Raise a Glass for Walter Payton
The Bears nearly had a holdout in rookie safety Jaquan Brisker, and now GM Ryan Poles has his hands full with a disgruntled Roquan Smith. Here are your training camp bullets for Tuesday morning.
Issues with Smith's contract have always been on the periphery, but the veteran linebacker seemed positive that he and the team would eventually reach a deal on an extension. Smith doesn't have an agent, but he's taken a firm stance. The 25-year-old won't be participating in training camp when veterans report on Tuesday, NFL Network Insider Ian Rapoport reported Monday. Smith has yet to receive an offer "he would remotely consider," so he will continue to wait for a more serious proposal before he considers taking the field.
#Bears All-Pro LB Roquan Smith will not be participating in training camp when veteran report tomorrow, sources say, because of his contract situation. Smith has not yet received an offer he would remotely consider, thus he'll wait.

— Ian Rapoport (@RapSheet) July 25, 2022
Heading into #BearsCamp with this energy@Hyundai | #1920FootballDr

— Chicago Bears (@ChicagoBears) July 26, 2022
Mayor Lori Lightfoot announced three different plans with the common goal of keeping the Bears in Chicago. The three proposals consist of a domed option, an open-aired stadium with the option of adding a dome at a later date, and an option to modify the stadium to better suit soccer competitions while improving accommodations for concerts and other events.
In a response from the team's PR staff, the Bears organization said "The only potential project the Chicago Bears are exploring for a new stadium development is Arlington Park. As part of our mutual agreement with the seller of that property, we are not pursuing alternative stadium deals or sites, including renovations to Soldier Field."
Five Things
Fields has flashed brilliance this offseason and has earned high praise from his coaches and peers. Fans saw glimpses of the quarterback's "it" factor in games against the 49ers, Steelers, and when they played the Packers at Lambeau Field in January.
Despite what I wrote earlier about the valuation of running backs, expect the Bears to have a run-heavy offensive attack. Offensive coordinator Luke Getsy has hinted at it all offseason, but the Bears need to establish a strong running game to help their passing attack. Expect Montgomery to be a workhorse this season, and Khalil Herbert should get his share of touches, too. Matt Nagy repeatedly failed at getting Montgomery enough chances to run the football. I guess I could have just ended that sentence at "repeatedly failed."
The Cover-2 is back, and somewhere Lovie Smith is quietly saying that he was right all along. It's still difficult to fathom that Smith was fired after leading the Bears to a 10-6 record in 2012. I know they didn't make the playoffs that season, but the franchise has been a veritable shitshow since. I was never a fan of the 3-4, so I embrace the return to smashmouth, ball-hawking defense. Hopefully Brisker and Kyler Gordon have a little Peanut Tillman in them.
Bears fans celebrated the birth of Hall of Fame running back Walter Payton on Monday, and he would have turned 68 if he was still alive.
By NFL rule, the Bears will not be able to go to full pads until August 1.
Camp Quotes
"Soldier Field remains an incredible asset for city residents and visitors. These proposed renovations allow Soldier Field to retain its role as an economic engine for Chicago for years to come, allowing us to keep bringing sports, music, & other events to our world-class city." – Lightfoot
"Though we participated in the mayor's working group to reimagine the museum campus, Friends of the Parks is just seeing the design proposals and hearing about supposedly well-vetted engineering specs for a potential dome on Soldier Field. We previously had let the mayor's office know that we could not come out in support of a dome, only in support of a feasibility study. Our position remains the same as it did upon the release of the "Where Worlds Meet" report: we expect that a real study of the feasibility of a dome on Soldier Field will lead to the conclusion that it is not feasible, whether because of cost, public pushback for a variety of reasons, and/or legal limitations to building on the lakefront." – Statement from Friends of the Park