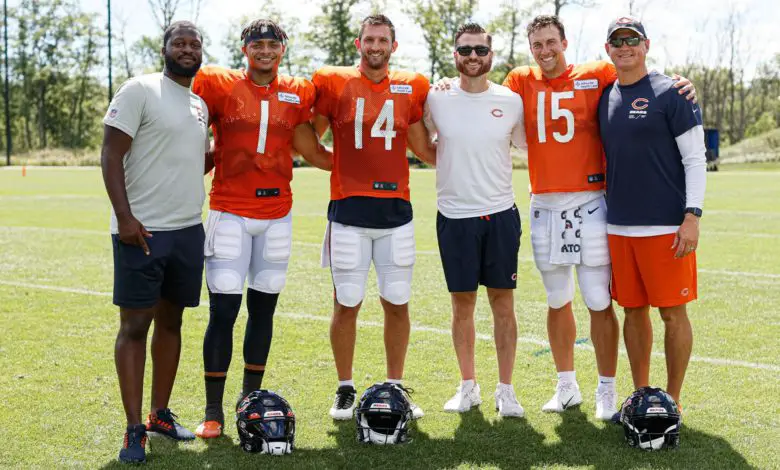 Camp Notes: Bears Remove Smith from PUP List, Quinn Praises Rookie Tackle, Fields Has Best Practice of Camp
Bears GM Ryan Poles is trying to apply a little pressure on Roquan Smith to force the linebacker back to the practice field. The daily battle between Robert Quinn and Braxton Jones resulted in some nice words about the rookie from the veteran defensive end. Head coach Matt Eberflus told the press how long his starters will play in Saturday's preseason opener. Here are your Camp Notes for Thursday morning.
The Bears are escalating their game of chicken with Smith. One day after Smith officially asked to be traded because of what the linebacker termed "negotiating in bad faith," GM Ryan Poles removed him from the Physically Unable to Perform (PUP) list. The transaction is significant because the Bears now have a right to fine Smith for missing practices. NFL teams are mandated by the collective bargaining agreement to pay players their full salary while on the PUP list. Poles is allowed to fine Smith $40,000 per day if he skips practice.
Quinn met with the media to discuss the potential of rookie tackle Braxton Jones, among other topics.
In individual drills, Quinn has gotten the better of Jones on most occasions. During Sunday's practice, he drove by Jones before the rookie even had a chance to slide his feet. But during Wednesday's session, Jones stonewalled Quinn. "Athleticism," Quinn said Wednesday when asked where he sees Jones' upside. "That's just one by itself. You can't really coach that. So to have that ability as a young rookie, it can only go up from here. Take his coaching points and use his God-given talents and somehow mix them together, I think there's a lot of upside to that."
Jones is listed as the starting left tackle on Chicago's most recent depth chart.
Eberflus confirmed Harry's surgery this morning. The 24-year-old left Saturday's practice early after sustaining an ankle sprain. This setback is a big blow to fourth-year wide receiver, who is trying to establish himself with the Bears' offense. Harry had a similar ankle injury in his rookie season that cost him the first nine weeks of the season.
Harry posted an Instagram story Thursday morning of him preparing for surgery.
Wide receiver Isaiah Coulter stood out through the duration of Wednesday's practice, connecting with Fields earlier in a team period for a deep catch over Jaylon Johnson. With a handful of receivers out of practice this week, Coulter is working to get every opportunity possible. He also hauled in a bomb from Justin Fields during a two-minute drill, making the grab between defenders Eddie Jackson and Lamarr Jackson. Darnell Mooney said the play was intended for him but the receivers lined up in the wrong formation. After the play, Mooney told Coulter he "was going to be on his ass if he didn't catch it."
Fields really delivered Wednesday according to Nicholas Moreano of CHGO. Moreano said the quarterback "made multiple big throws despite mostly throwing to the reserves," carving up Chicago's defense with deep throws over the middle and along the sidelines.
Moreano also mentioned that Kevin Shaa made the biggest catch of the day on a touchdown throw from Trevor Siemian. Shaa beat the defense over the top, and Siemian placed the ball perfectly as Shaa was able to catch it in stride, scoring from over 50 yards out.
Eberflus later added that wide receiver David Moore "will be out for a bit" due to a lower leg injury.
Special teams players don't get much preseason press, but leave it to Cairo Santos to find his way into the headlines. The placekicker noticed the turf at Soldier Field is already in poor condition. In fact, he's so accustomed to playing conditions in Chicago that he deliberately sought out a lousy field for practice near his Florida home. Santos found a soccer field near his home with similar inconsistencies. "So in my neighborhood, there's a soccer field, and the grass is Bermuda grass," Santos said. "It's real long. I was like, 'OK. This is more like it.' The ball flies differently. It's not super-even all the time. … It's important to put yourself in that situation."
Soldier Field grass in midseason form— pic.twitter.com/do8bSa10bI

— Jason Lieser (@JasonLieser) August 9, 2022
Coach Eberflus said his starters will probably go 15-20 plays in Saturday's games with the Chiefs.
Because they're the team's only players at their respective positions, Santos, rookie punter Trenton Gill, and long-snapper Patrick Scales figure to go wire-to-wire. Santos said the transition from Pat O'Donnell to Gill as his holder has been seamless.
Five Things
Taking Smith off the PUP list is risky business if the Bears decide to start fining the linebacker for practices missed going forward. On the one hand, it could force Smith back on the field. On the other, Smith could refuse to negotiate and continue holding out. Fans of the 1985-86 Bears might remember that Todd Bell and Al Harris missed the entire Super Bowl season due to contract disputes. Smith doesn't have an agent advising him, so Poles might be hoping to force his best defensive player to accept the team's extension offer. ESPN's Adam Schefter appeared on ESPN 1000 in Chicago on Wednesday and seemed to imply that Smith is turning down a fair offer. "My view from the outside is that the Bears have made a number of, what sounds like to me, compelling offers," Schefter said on "The Waddle and Silvy Show." "I could be proven otherwise, but I've chatted about some offers with some other people connected to the Bears, and I've run those numbers past other teams and they're like, 'wow.' In their mind, they feel like it was fair. Obviously, Roquan doesn't. And that's his perspective."
Smith is probably more valuable to the Bears as a trade piece at this point of their rebuild. If Chicago decides to trade him, teams looking for linebackers include the Broncos, Ravens, and Falcons. The Chargers would love to re-team Smith with Khalil Mack, so count Los Angeles as a potential destination. That said, trades this late into the offseason usually require some deft salary cap maneuvering, especially if the acquiring team meets the player's asking price. I doubt Poles would be looking to take on any salary offset, otherwise, he'd just sign Smith.
Mooney jokingly popped off a little about the number of injured Bears. "I forgot who was saying something, but they were like, 'It's a bunch of guys over there,'" Mooney said about the number of players riding exercise bikes. "I looked back and was like, 'Yeah, that's the whole football team over there.'"
David Montgomery did not practice Wednesday, though it does not appear to be anything serious. Khalil Herbert and Trestan Ebner rotated in the backfield with the starters. Herbert had a couple of chunk plays thanks to his patience and vision, allowing the lanes to open up – all while continuing to gain yards upfield. Herbert is probably a better fit for Luke Getsy's offense than Montgomery. That's something I mentioned earlier this spring. That's not a knock on the four-year veteran. Montgomery is a great back. The two players have different styles. That's all it is.
Eberflus said that Montgomery and tight end Cole Kmet are dealing with minor injuries. The pair are listed as "day-to-day." I know Mooney was just kidding around but the number of total injuries is a bit alarming.
Camp Quotes
"Smith was cleared by our medical staff as healthy, and he did not practice. The reason why for that, you'll have to ask him." – Eberflus
"It's been a little battle … I'm always trying to work my craft and hopefully it's helped Braxton become better as a player, too. We're just trying to push each other to become the best football players we can be." – Quinn