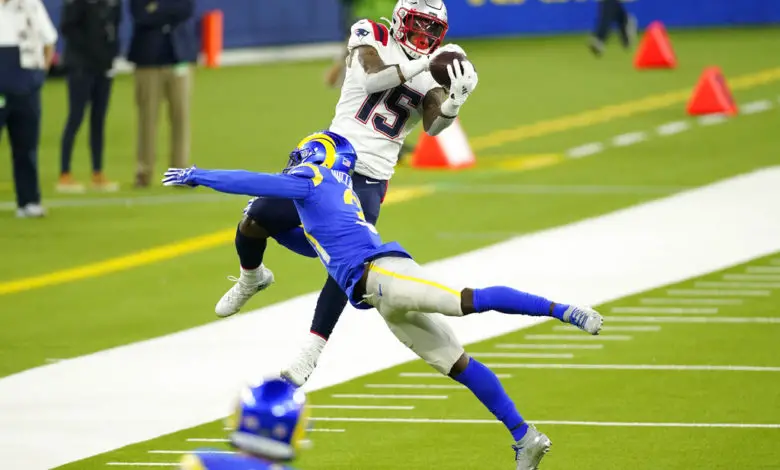 Camp Notes: Bears Hold First Practice, Quinn Meets With Media, Harry Wants to Dominate NFL
The Bears conducted their first practice of the season, and it turns out that Robert Quinn wants to remain in Chicago. Who could have possibly seen that coming? Here are your training camp bullets for Thursday morning.
The first training camp practice of the Matt Eberflus era kicked off Wednesday with a simple, ramp-up practice. The Bears spent 80 minutes doing one-on-one drills in the red zone, some situational team drills, and light individual work.
Quinn met with the media on Wednesday afternoon and must have said about a dozen times that he is happy in Chicago and wants to stay with the Bears. The trade rumors always seemed to be without merit, but when the veteran edge rusher skipped last month's minicamp, eyebrows raised. Quinn says he is happy in Chicago, doesn't mind that the team is rebuilding, and intends to play hard every day. "I've been traded twice," Quinn said Wednesday. "You get tired of moving. I thought I did a good job last year, but I guess I'll just continue to try to reprove myself."
The Bears placed Roquan Smith and Sam Kamara on the PUP list. Dane Cruikshank, Michael Joseph, and Tajae Sharpe all went on the NFI list.
Chicago Bears linebacker Roquan Smith attended training camp today but was on a stationary bike during practice.

(Picture via @briancassella) pic.twitter.com/5cFs3UX2j4

— Daniel Greenberg (@ChiSportUpdates) July 27, 2022
Smith is on the PUP List though there has been no indication that he has an injury. Eberflus kept it coy when discussing his fifth-year linebacker. According to the head coach, Smith underwent a physical upon arriving at Halas Hall but did not participate in the team's conditioning test. Eberflus reiterated that Smith does indeed have an injury. "Yeah, of course," the coach said. "He's on PUP. So that's where he is at."
It was a nice gesture by Poles and Eberflus to declare Smith physically unable to perform. Smith won't be fined while he sits out the team's practices.
Safety Eddie Jackson was among the players who returned punts on Day 1 of training camp. Special teams work aside, Jackson knows he has a real opportunity to revitalize his career thanks to the switch to the Cover-2.
Velus Jones Jr. beat Kyler Gordon one-on-one in the red zone with a slick, out-breaking move that allowed the rookie receiver to break wide open for a touchdown. Cole Kmet also made a touchdown snag in red zone drills, while Jaquan Brisker notched an interception.
Rookie vs Rookie!

Velus Jones Jr. broke Kyler Gordon's ankles with an inside move, and broke out for a wide open touchdown during the 1v1 red zone drill.

Jones' demonstrating good ability to change direction on a dime and make the CB bite on the initial move.

— CHGO Bears (@CHGO_Bears) July 27, 2022
Undrafted free agent Jack Sanborn played with the first team as the SAM linebacker and came away with an interception on a ball thrown by Justin Fields.
A lot of Bears fans have been quick to chastise Poles for the Riley Reiff signing. Reiff played for the Bengals last year, and the team's biggest weakness was its offensive line. In fact, Joe Burrow was injured in the Super Bowl when a lineman missed a block. Just three days ago, the Bears had nobody to play right guard and a rookie running with the ones. Reiff brings elite discipline and veteran leadership to a line that lacked that in 2021. He's not a flashy signing, but he's right for the Bears.
The offensive line before Reiff and Michael Schofield joined the team this week was a complete disaster. Larry Borom seems to be a ready fit as a starting tackle. Yet, Teven Jenkins, Braxton Jones, and Sam Mustipher are all major question marks. "They need a guy like Reiff," one personnel director said via text message to Brad Biggs of the Chicago Tribune. "He's a hard ass and will be good in the locker room."
Schofield said playing for the Bears is a "dream come true." The Orland Park native grew up wanting to be a receiver in the mold of Marty Booker and said he'll never forget the opening kickoff return by Devin Hester in Super Bowl XLI.
The first-team offensive line on Wednesday was the same as at mandatory minicamp: Jones, Cody Whitehair, Lucas Patrick, Mustipher, and Borom. Jenkins got some work in as an extra eligible blocker, and Eberflus said the second-year lineman, among others, could compete for the swing tackle position. Jenkins did not work at guard in Wednesday's drills.
Reiff and Schofield participated in individual drills but not in the team portion as they work to get up to speed.
N'Keal Harry said he wants to dominate the NFL after getting a fresh start with the Bears. Talk is usually cheap, but Harry has a real conviction. "I got a chip on my shoulder," Harry said. "I'm looking to come in and do anything I can to help this team win. I feel like I fit very well within the offense, so, you know, I'm ready to go, man."
Harry was so thrilled to be traded to Chicago that he jumped out of bed when he heard the news. "I was actually asleep and my manager was at my house and he came downstairs," Harry said. "[He] told me I just got traded. When he told me [it was] to the Bears, I was excited. I jumped out of bed. I was just excited, man."
Harry isn't focused on proving the Patriots wrong. His attention is focused solely on becoming the big-bodied receiver the Bears are missing since Allen Robinson left via free agency.
Poles and Fields both like that Harry has something to prove to his teammates and to the league.
Five Things
I wouldn't go so far as to say that Quinn's meeting with the media was revelatory, but he was pretty adamant – and said so several times – that he wants to remain a Bear. According to reports on Wednesday's practice he was as quick as he's ever been, so he obviously stayed in shape. The coaching staff didn't seem too concerned that he missed the mandatory minicamp and Quinn had no objections to the fines he had to pay for being an absentee. Chicago's defensive front seven is dramatically better with Quinn than without. He's a legitimate candidate for regression, but you could say that about any player that just set the team's single-season record for sacks as a 32-year-old.
Give Poles credit for the way he has handled Smith's situation. He has also refused to negotiate Smith's extension in the press. That's key because the player does not work with an official agent, and in those situations, negotiations tend to carry a more personal feel. We've all sat in reviews at our jobs and they're usually excruciating. We don't have a negotiator working on our behalf or to buffer things that may sound harsh or caustic. That's what Smith is up against, and Poles has been careful to tread lightly. He's been there as a player, obviously.
Harry reportedly asked for a trade last summer, but the Patriots didn't grant that request until earlier this month. I wasn't totally enamored with the deal until I heard that. I've researched and I cannot find any instances where Harry sounded disgruntled or entitled. He hasn't had the best career, and he was unhappy in New England, and those are usually two big, red flags. But he kept quiet, so the paradigm shifts dramatically I think. This really is a new lease on NFL life for the young man, and I expect he is going to do everything in his power to take full advantage of the opportunity. If he succeeds, his acquisition will be a veritable heist.
Eberflus continues to shuffle guys around and that's the byproduct of poor 2021 play and a lot of roster churn since that season ended. More than 20 players from last year's team that finished 6-11 are gone, including linebacker Khalil Mack. But it is the offensive line that has become the onfield laboratory for Eberflus. The skillsets among that group are so close that the gap from starter to late-August cut is spectacularly thin. The Bears allowed an NFL-high 58 sacks last season. Eberflus has the right to tinker and he should.
Let's face it, Poles and Eberflus essentially bought a gap year for the O-Line. I realize that's an inadvertent pun, but it's obvious the front office is counting on the development of Jones, Zachary Thomas, Doug Kramer, and Ja'Tyre Carter as the future of this football team. Depth and veteran leadership will help the rookies progress at a friendlier pace. Still, I think Poles would love to see any of the rookies knock a veteran off of the 53-man roster. He's probably rooting for that.
Camp Quotes
"It's all hands on deck, right? So, we're looking at all those guys back there, if it's Velus or Byron Pringle or whoever it is back there returning those kicks or punts. That's going to be an important piece. We want explosive athletes out on the field and the more we can do that … Eddie [Jackson] is certainly that. He's going to be competing for those things. Is it for the second spot or the third spot? I don't know. But he can certainly do it." – Eberflus
"No matter who's the head coach or who's in the locker room, I'm walking in. All I control is myself. You can't play this game if you're not happy to be here because it's one of the roughest games out there. Every day you've got to buy in to be able to give the best of yourself. That's all I'm trying to do every time I step into the building. I'm just trying to bring the best version of myself." – Quinn
"My feelings for Roquan don't change at all. I love the player and the person and that won't change. I'm not gonna get into the thoughts on what I would prefer and all of that, I just kind of deal with what's on the table right now." – Poles
"Yeah, we're certainly looking at a bunch of guys at that spot but that's going to be a competition for that swing tackle spot. And then who else can play inside? Who can flex inside at the guard and center positions? So that's going to be something that's ongoing. We're going to look at that the entire training camp." – Eberflus