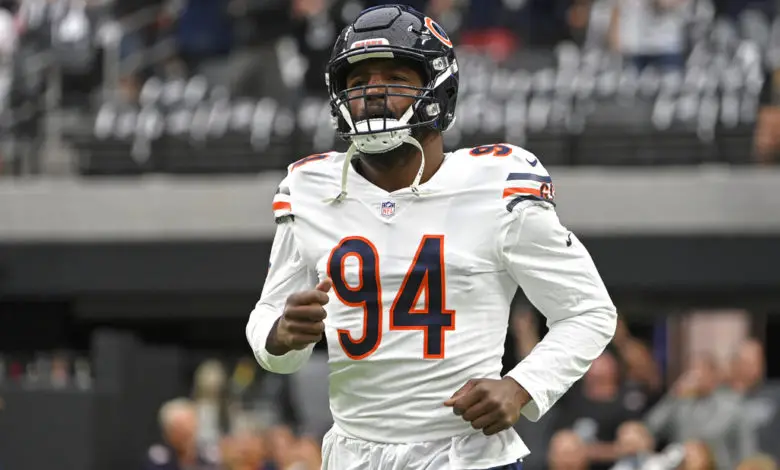 Regression Candidate: Robert Quinn
The Bears didn't have many feel-good stories in 2021 but EDGE Robert Quinn gave us all something to cheer about when he broke the franchise single-season record for sacks. Quinn got to opposing quarterbacks 18.5 times last season, passing Richard Dent, who registered 17.5 in 1984. As a result, the 11-year-veteran was named Chicago's Defensive Player of the Year, and deservedly so. He recently turned 32, and age alone makes Quinn a regression candidate, though other factors are involved, too.
18 SACKS for Robert Quinn!

He now leads the NFL in sacks and has set a new single-season franchise record for the @ChicagoBears. #DaBears

📺: #NYGvsCHI on CBS
📱: NFL app pic.twitter.com/QSdKkRCLgx

— NFL (@NFL) January 2, 2022
Before we dig into Quinn's future, let's take a look at his past.
The Bears signed the veteran pass rusher to a five-year $70 million deal in 2020. His first year in Chicago was an utter disappointment. He registered 20 total tackles and two sacks in 15 games. Those were the lowest full-season totals of his career. In fact, you wouldn't be wrong if you said Quinn has had an inconsistent career. He's had five seasons where he registered double-digit sacks and four campaigns in which he totaled five or less, though he did play through injuries in two of those seasons.
Quinn didn't help his case by skipping OTA practices and Chicago's mandatory minicamp, but that's picking at the low-hanging fruit. That lack of commitment won't sit well with new head coach Matt Eberflus, but the Bears lack defensive depth so Quinn shouldn't be in any danger of losing playing time. Eberflus will make him earn snaps, however, but that shouldn't be too tough considering Quinn's pedigree.
Quinn's 4.7% sack rate in 2021 was second in the NFL behind T.J. Watt of the Steelers. Per Pro Football Focus, "sack rate is one of the most unstable metrics for defensive ends, and it becomes even more so when stable metrics — such as pass-rush grade and pass-rush win rate — aren't on par to back it up. Quinn's 15.4% win rate (meaning he beat his man in two seconds or less 15.4% of the time) and 34 total pressures per Pro Football Reference advanced metrics were both outside of the top-25 for his position in 2021. That makes Quinn a significant regression candidate and a prime example of an edge rusher who is riddled with red flags going forward."
It's worth noting that Quinn's 54% sacks-per-pressure rate seems unsustainable. Watt was the league's Defensive Player of the Year and registered a rate of about 43%. Myles Garrett got to the quarterback in just under 31% of his pressures. That's a significant difference, especially when you look at Quinn's career rate of 34.1% since the league started tracking advanced defensive metrics in 2018. It feels like that variance gap is just a little too wide. Using career norms, Quinn should have finished with about 11-12 sacks in 2021. That's more on par with Cameron Jordan of the Saints than Watts and Garrett.
Quinn was also the only player among the league's top 10 leaders in sacks to hurry opposing quarterbacks less than 10 times. Garrett and Micah Parsons averaged one hurry per game, and Watt and Nick Bosa were just under. Quinn registered eight hurries in 16 games. He also had the second-highest missed tackle rate among his peers. His 10.9% MTKL rate was three times worse than Garrett, who led that group with a 3.8% rate.
When you start looking at the advanced metrics, it almost seems a little fluky that Quinn had so many sacks. Those who are upset that Chicago's DPOY didn't make the Madden '23 list of top edge rushers need to focus on every statistic except the 18.5 sacks.
There's no question it takes a special player to dump a quarterback on his backside that often. It's also fair to argue that Quinn can do it again, though his inconsistent history suggests that's unlikely. That, combined with statistical analysis, is a pretty good indicator that regression is indeed likely.