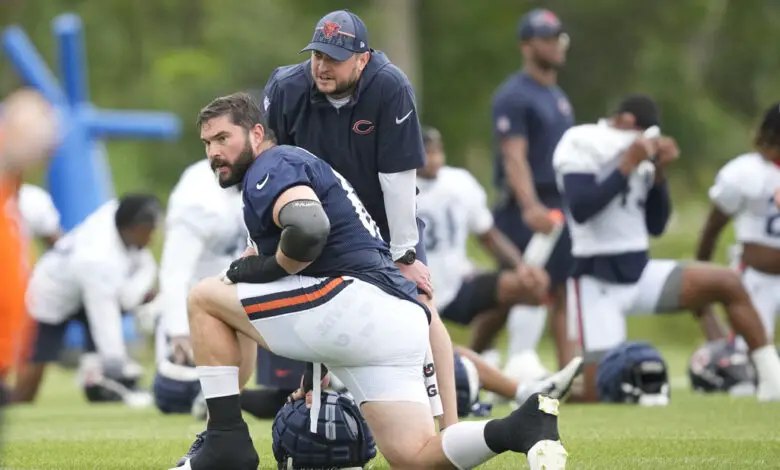 Camp Notes: Bears Finally Add Edge Rusher, Lack of O-Line Depth Hurting Bears, Getsy Challenges Offense
The Bears' lack of depth on the offensive line reared its ugly head this week. Nate Davis has missed practice all week, and now Teven Jenkins is hurt, too. With Cody Whitehair struggling at center, the defense has been beating up on the offense ever since the team went to full pads on Wednesday. A new addition to the defensive line isn't going to make things any easier for a battered offensive line. Here are your training camp bullets for Thursday, August 3.
Pads are poppin' 💥 pic.twitter.com/uCAtytHHO3

— Chicago Bears (@ChicagoBears) August 3, 2023
The Bears signed the best edge rusher available when they inked Yannick Ngakoue to a one-year deal worth $10.5 million, with 10 million guaranteed.
Bears fans on social media were ecstatic that the team signed a proven edge rusher.
Ngakoue instantly becomes Chicago's most proven edge rusher and should boost a defense that was last in the NFL with only 20 sacks in 2022.
The team was set to start the season with DeMarcus Walker and Trevis Gipson at defensive end, but Ngakoue is better than either of them. The 28-year-old journeyman accumulated 9.5 sacks in 2022 — his third-most in his career.
GM Ryan Poles has hinted that defensive end help was coming as soon as the draft ended back in May. The wait to ink the seven-year veteran may have been worth it. Ngakoue has 65 career sacks and has registered at least eight in every season since he entered the NFL as a third-round pick by the Jaguars in 2016.
One area of Ngakoue's game that needs improvement — and could be why he has played on five different teams since being drafted with the 69th overall pick in 2016 — is his inability to stop the run. According to Pro Football Focus, Ngakoue has an average run defense grade of 45.7 out of 100 — with his worst coming in 2021 (28.2).
Davis has missed about a week of practice with an undisclosed injury, and Jenkins joined him on the sideline on Wednesday. A dearth of guards means that Ja'Tyre Carter and Dieter Eiselen are running with the ones, for now. The cumulative effect is that Whitehair is being punished by a very deep group of defensive tackles.
Jenkins admitted he is "feeling more comfortable" at left guard before he got hurt.
Head coach Matt Eberflus refuses to provide injury details, which is allowed by the NFL during training camps.
Justin Fields is urging the offense to match the intensity of the defense.
Luke Getsy wants the offense to put its money where its mouth is.
Rookie Tyrique Stevenson is undeterred in his battle to start at cornerback opposite Jaylon Johnson.
Stevenson is battling fellow rookie Terrell Smith for the starting gig.
Fellow rookies Darnell Wright and Tyler Scott have also been impressive so far.
Gervon Dexter is further along than Zacch Pickens thus far, but both figure to play — a lot.
Linebacker Tremaine Edmunds has been a monster since the team went to full pads. When the 6-5, 250-pound middle linebacker is on the practice field, it seems like there's a redwood tree in the middle of Chicago's defense.
Tim Grover, who famously trained Michael Jordan and other prominent athletes, met with the Bears after Tuesday's practice. Darnell Mooney was part of a group of four players who huddled with Grover, who challenged them to be "legendary."
Mayor Brandon Johnson said Wednesday he has not yet offered a specific Chicago site for building a new stadium for the Bears. He added that he won't be rushed into offering an alternative to Soldier Field.
He had the Bears' biggest free agent contract of the offseason & has already made a big impact thanks to his size in the middle of the field.
.
More on Tremaine Edmunds' impact on the Bears on "The 9-Yard Line" on #WGNNewsNow from @WGNNews here:https://t.co/xYsFoBLZ2e pic.twitter.com/Jv4IxziLya

— Larry Hawley (@HawleySports) August 2, 2023
Five Things
Veteran safety Eddie Jackson has been with the Bears since he was selected as a fourth-round pick in the 2017 NFL Draft. He's considered a key figure and influential presence at Halas Hall. Jackson is tired of playing for a perennial loser. "I'm tired of the same old standard that the Bears have," he said. "The same results in and out every year. We want to make it to the playoffs and eventually win a Super Bowl." Chicago is in the second year of its rebuild. The team is much improved, but patience is still key.
The Bears are in deep trouble if Jenkins and/or Davis miss any part of the regular season. Expect Poles to look for depth pieces as teams start to waive players. There's bound to be offensive line help available with over one thousand players getting pink slips in the next five weeks.
The offensive was way ahead of the defense until the pads came on, but the inverse is true now. It's okay to be worried about Fields and company, but the Bears lost the bulk of their games last season because opponents could score at will. That's not going to happen this year. Chicago needed a big improvement from its starting 11 to close the gap on its division rivals. Poles did a great job of overhauling that unit. The Bears have arguably the best linebackers and defensive backs in the division, if not the entire NFC.
This year's rookie class is better than last year's. ESPN ranked all 32 rookie draft classes following the 2022 season, and it's not a surprise to see the Bears land inside the top 10 at No. 8 overall.
When everything is said and done I believe the Bears will end up in Arlington Heights, but I prefer they stay in Chicago.
Former NFL QB Tim Hasselbeck puts it perfectly in talking about Justin Fields.

He will make a big jump in part bc it's his 2nd year in the system. In part bc of better weapons and in part bc he's a better passer. #DaBears #Bears #ChicagoBears pic.twitter.com/aXK3hzVuqI

— Clay Harbor (@clayharbs82) August 3, 2023
Camp Quotes
"I think it starts, one, with the quarterback. He has to come into the huddle and bring confidence to the huddle. Understand that, just with him, Justin is a calm guy. He also has to understand that he is our leader and our guy. We go as far as he goes. He has to come in with that juice. And he does. He does come in, sometimes he's just so locked in and so dialed into what he's doing. But sometimes I'll come up to him and just hit him in the back of the head or jump up to him and try to get him not so locked in so he understands, hey, we are looking at you to see how far we can go. This is his team. He understands he has to bring the juice every day." – Mooney
"Justin [Fields] said it best the other day. We have a scheme that should take advantage of somebody in the middle of the field, but [Edmunds] is like seven feet tall, and [with his] wingspan, it's not happening." – Getsy
"I mean, goodness gracious. We had one play today where if it was any other linebacker in the country, I mean [the receiver] would have been open. [Edmunds] is so huge. He definitely covers ground well too. It's been great for us as an offense to have him out there, to challenge us every day." – Fields
"We're excited about the season. We've improved our roster and we've improved continuity and we're excited about that. We're also excited about raising the level and raising the expectations. I think great teams have high expectations and they go chase that." – Poles