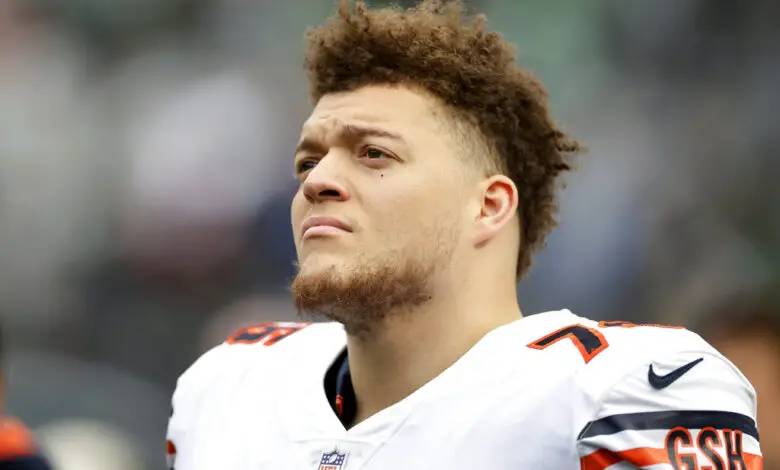 Lack of O-Line Depth Hurting Bears
If we've learned one thing about training camp in the Matt Eberflus era, it's that practices take their toll on offensive linemen. Lucas Patrick missed all of the 2022 camp with a finger injury. This year, Nate Davis made it through all of four practices before being sidelined. Now Teven Jenkins is injured, and, suddenly the Bears have a big hole at guard.
Last week, Eberflus said there was nothing wrong with Davis, and he just wanted to look at other combinations to prepare for a potential injury during the season. That's the standard quote in situations like this. After an off day Sunday, the Bears returned to practice Monday, but Davis did not participate. This week, he has not participated in practice, leaving Patrick to take the first-team right guard reps. The Bears do not have to disclose Davis' injury but maintain it's nothing serious.
Teven Jenkins walking to the locker room with Bears trainer Andre Tucker. Alex Leatherwood taking his spot at left guard.

— Kevin Fishbain (@kfishbain) August 2, 2023
The Bears went to full pads on Tuesday, and Patrick and rookie Darnell Wright struggled mightily against Trevis Gipson. The interior lineman dominated Patrick, too. Amid that beatdown, Jenkins left practice early with an assist from an athletic trainer. That pushed Ja'Tyre Carter into the first unit. It's no wonder the defense outplayed the offense on consecutive days.
The Bears just signed Yannick Ngakoue to a one-year deal. so things won't be any easier for the O-Line once the edge rusher is ready to suit up. It's only practice, but the hit to the line demonstrates how quickly a season can fall apart at the seams when multiple starters go down. Chicago lacks depth in most positions. That's normal in year two of a rebuild but doesn't make the absence of regulars any less catastrophic.
Few teams can survive losing multiple players at one position. The offensive line is a little more glaring because it puts Justin Fields in the spotlight for all the wrong reasons. That means injuries to Davis and Jenkins are much more magnified.
The Bears have nine days until the preseason opener. They'll be fine if the injuries to both guards are minor. If the absences extend into late preseason, Chicago may have a tough time against the Packers on September 10. The calendar moves pretty quickly while you're waiting for players to heal. The lack of practice time and game reps doesn't help either.
Jenkins recently admitted he's feeling much more comfortable at left guard. Lost time is detrimental to his progress in a new position.
It's going good, actually," Jenkins said of the move to left guard. "I'm feeling more comfortable there. My pass [protection] is coming along. The only thing I need to fix with that right now is being able to move my right leg with me, underneath me so I can get out and protect my edge more. I know what I need to do. It's just how fast can I do it right now."
Braxton Jones is the only returning lineman playing the same position he did last year. The Bears need Davis and Jenkins to be healthy. Jenkins' first two NFL seasons were affected by various back and neck injuries. He missed the first 12 weeks of his rookie year and three games in 2022. Davis missed time during the last two seasons due to a concussion and knee/ankle injuries.
I'd be lying if I said I wasn't internally screaming:

Teven Jenkins injured
Cody Whitehair getting blown up
Nate Davis injured

Theres time, I know.
But uh… I said that last year too 😩

— DeeksView (@DeeksViewOG) August 2, 2023
Jenkins has been doing Pilates to strengthen his back and core.
"My pilates instructor, she educated me on that with the mind-body connection that we went through," Jenkins said. "Just being able to understand why you can't do certain movements right now because those muscles are weak and some are strong. Like big muscles – you have three muscles in your core. Six-pack, V, whatever. Then the smaller muscles get neglected because most people want to have a six-pack, get shredded, and all that. They want to work the big muscles, not the small ones that actually keep your core strong."
It's not time to panic, but worrying is certainly warranted.