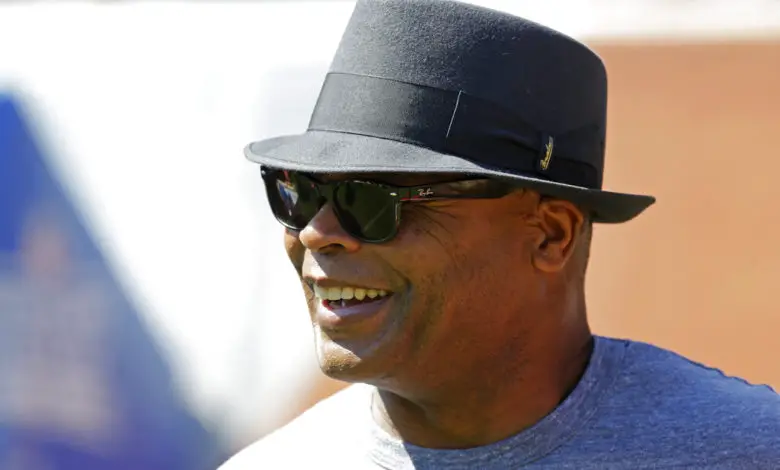 First & Long: Bears Show Little Love to Singletary, Poles Recruited Chukwuma Okorafor, Multiple Teams Courting Colin Kaepernick
Admittedly, most NFL fans tire easily when Bears Nation brings up the 1985 team, perhaps the most complete squad to ever win the Super Bowl. That team was led by Jim McMahon, Walter Payton, Mike Ditka, and a ferocious defense masterminded by Buddy Ryan that included Hall of Famers Richard Dent, Dan Hampton, and Mike Singletary. These days, Samurai Mike says he's somewhat estranged from the NFL's charter franchise.
"I don't particularly have a great relationship with the Bears," Singletary said on the Parkins & Spiegel Show earlier this week. "You know, I talk to [president] Ted Phillips every blue moon. Ted and I know each other more so than anybody else in the building because I negotiated my contracts with Ted. We definitely go way back, but other than that, that's really about it."
In the 30 years that Phillips and the McCaskeys have been running the organization, the Bears have lost a lot of the edge that made them championship contenders in almost every decade during the first 75 years of the NFL. Singletary had hoped to be interviewed for the head coach opening that went to Matt Eberflus, but nobody from Halas Hall contacted him.
According to Dan Pompei of The Athletic, Singletary said he called Phillips ($) when no one reached out. "You know why I'm calling. I'm ready to lead this team to a championship," Singletary said. The anchor and captain of Ryan's 46 defense was one of the NFL's most decorated players but struggled as head coach of the 49ers. Singletary was 18-22 from 2008 through 201 before he was fired and replaced by Jim Harbaugh, who took San Francisco to the NFC Championship twice in four seasons.
Singletary, who's now 63, is one of the greatest linebackers in NFL history. In a 12-year career that was spent entirely in Chicago, he earned Pro Bowl honors 10 times and All-Pro honors eight times, including seven times on the first team. He was also named the NFL Defensive Player of the Year in 1985 and '88.
Mike Singletary was mic'd up for his last game vs. Green Bay.

This rivalry means everything.
50 days until both sides meet again. (via @nflfilms + @nflthrowback) #NFL100 @CoachMSing pic.twitter.com/Xbmu7bVaCZ

— NFL (@NFL) July 17, 2019
"I was there once and did the best that I could when I was there and was part of something really special. But you move on. I don't think there's anything more to it than that."
When Poles and Eberflus first joined the organization, each made an effort to recognize and communicate with many former Bears players to bridge the gap from past to present. It might be a good time to reach out to Singletary, who was beloved by Ryan and nearly every single Bears fan.
Bears News & Notes
There's a Flag…On the Play
Seriously? The Vikings are trying to hit below the belt with regard to Fields?
POV: Justin Fields every down in 2022 with the 32nd Ranked OL pic.twitter.com/0vnGrhpAh1

— abdul #RR ⊗ 🌑™️ (@ChiBearsAbdul) March 23, 2022
Northern Exposure
Former Packers WR Davante Adams said his trade to the Raiders was "meant to be."
Mel Kiper has the Vikings selecting CB Trent McDuffie with their first-round pick in his latest mock draft.
Kiper also predicted another historically stupid move by the Lions with the No. 2 overall selection.
NFL News & Notes
The Dolphins have acquired all-pro wide receiver Tyreek Hill from the Chiefs in exchange for five draft picks. Miami then signed Hill to a $120 million extension.
The Dolphins will receive the following from Kansas City: a 2022 first-round pick (No. 29), second-round pick (No. 50) and fourth-round pick, plus fourth- and sixth-round picks in the 2023 draft.
We took a stab at our first comprehensive three-round mock NFL draft.
Colin Kaepernick worked out with a couple of NFL players last week, including Justin Fields.
Kaepernick's trainer said a number of NFL teams have contacted the former 49er about returning to the league as a starter or backup.
CK-1 said he is hoping to get a chance to work out for the Seahawks.
Defensive back Quandre Diggs said as many as 15 teams contacted him during free agency, but he elected to stay in Seattle when the Seahawks front office convinced him they were not in a rebuilding mode.
According to NFL insider Jordan Schultz, the Chiefs are interested in Jaguars wideout Laviska Shenault as a potential replacement for Hill. The 23-year-old is entering his third NFL season in 2022.
Three Yards and a Cloud of Dust
Since entering the league in 2016, Hill has 21 TDs of 50+ yards, 8 more than any other player.
Pittsburgh DB Joe Haden has 155 passes defended in his career, the most among active players.
Only three quarterbacks have had 20 or more 300-yard passing games since 2019: Tom Brady, Patrick Mahomes, and Matt Ryan.
From the Podium
"When I was with the Bears, basically my relationship was with the coaches, particularly Buddy Ryan and coach (Mike) Ditka and really Dave McGinnis after Buddy left. And pretty much that's it, I didn't have a lot of relationships when I was with the Bears. I really loved the time I was there. I had a tremendous amount of teammates that were there, it was golden. I still love all the guys, and I love the organization. But life goes on, and you just kind of go in different directions and move on." – Singletary
"Calling the alumni, that was pretty special. You look at your phone and you've got Dick Butkus…he texted me back. Then you have Julius Peppers, [Brian] Urlacher, [Lance] Briggs, it's truly amazing. Tillman – Peanut Tillman! Hopefully, he's coming to spring practice to talk to the team. I talked him into that, so we'll see." – Eberflus
Running Out the Clock
Super Bowl Shuffle by the Chicago Bears Shufflin' Crew – Had to.