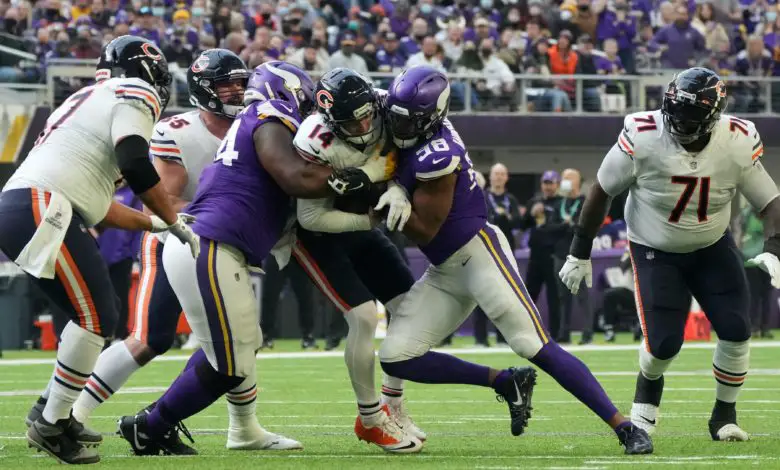 Chicago Bears Score and Recap (Week 18): Vikings 31, Bears 17 – Bears Miss Early Opportunities Fall Apart Late in the Season Finale
The Bears looked like they might be on their way to a three-game winning streak to end the 2021 season. Alas, as has often been the case for Chicago, sloppy play and a late defensive collapse led to another disappointing defeat in Minneapolis.
Andy Dalton had the Bears moving the ball early in the game, but, they were forced into a trio of field goals and two other times were stopped on fourth down. Still, a Damien Williams touchdown reception put Chicago up 14-0 in the second quarter.
Vikings quarterback Kirk Cousins, back from Covid protocol, seemed to wake up after the half. A long touchdown pass to Ihmir Smith-Marsette cut the road team's lead down to four. The Bears added field goal number three to increase the lead back to seven.
Justin Jefferson continued his monster season with the game tying touchdown from Cousins to begin the final quarter. While Chicago's offense ground to a halt, Minnesota kicked it into high gear. K.J. Osborne was able to haul in the go-ahead TD for a 24-17 advantage.
Any comeback hopes the Bears may have had went up in smoke when another failed fourth down throw was intercepted by Patrick Peterson. The former Cardinal star returned the pick for another touchdown. With that, Chicago's season mercifully came to an end with a 31-17 defeat. (Box score)
Why the Bears Lost
For once, Matt Nagy was aggressive with his coaching decisions going for numerous fourth downs. Instead of leaning on star running back David Montgomery, though the Bears head coach decided to try passing for five of the six attempts. The results were a disastrous 1-6 and a loss.
Key Moment
The Vikings showed up to play in the fourth quarter putting up 21 points and the Bears were unable to even score.
Stats That Matter
Dalton put up over 300 yards passing, however, he did not come through in the big moments with two interceptions.
It was another huge game by Darnell Mooney who had 126 yards receiving and went over 1000 for the season. Really impressive by Mooney who is the de facto number one wide receiver entering 2022.
Montgomery had 72 yards on 20 carries and again felt underused in this game.
Bottom Line
The season is finally over and reports are already stating that Matt Nagy has been fired and a front office shake up is on the way. The Bears have a lot of work to do this off-season to try and get back into playoff contention. With no number one pick that work is even more difficult, but it's time to see if they can do it.
Next Up
The season is over, there's nothing more, no more games until next season. Seriously: