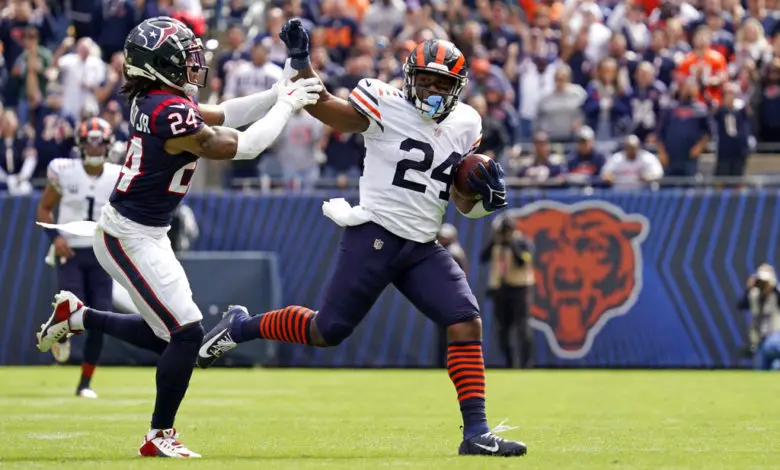 Chicago Bears Score and Recap (Week 3): Bears 23, Texans 20 – Herbert and Smith Lead Bears to Victory
The Bears and the Texans met on a cool and cloudy Sunday at Soldier Field in what turned out to be a very hard-fought game. Chicago was able to pounce on a key mistake late to pull out a win
Justin Fields had a 29-yard scramble to set up a Bears field goal on the opening drive of the game. Equanimeous St. Brown took a reverse for 40 yards to set up a Khalil Herbert touchdown. Unfortunately, Herbert scored that touchdown because David Montgomery was injured earlier in the drive with an ankle/knee issue and did not return.
Houston answered back immediately with a 4-yard touchdown pass from Davis Mills to Jordan Akins. Eddie Jackson intercepted Mills in the end zone in the second quarter to keep Chicago ahead. Eventually the Texans converted a short field into a Dameon Pierce TD and took a 14-10 lead.
Fields struggled throughout the game but a long completion to Cole Kmet set up a 50 yard Cairo Santos field goal before the half. Lovie Smith's team got their own field goal to start the second half.
Khalil Herbert broke off a huge 52-yard run and then finished off the drive with a 1 yard touchdown run to give the Bears a 20-17 third quarter edge. A long Houston drive ended with the game-tying field goal as the fourth quarter began.
Neither offense could produce anything in the final quarter and it appeared the game was heading for overtime. With under two minutes left in the game Davis Mills made a huge game breaking mistake. Roquan Smith, who had a very good game, intercepted a pass from the young quarterback and returned it deep into Texans territory.
Santos came on and made a 30-yard field goal as time expired to give the Bears a 23-20 victory. (Box score)
Why the Bears Won
Herbert had a huge game on the ground and the Bears defense was able to win it In the final minutes.
Key Moment
Smith made a brilliant play to jump on an out route from the Texans quarterback and returned it into range for an easy chip-shot field goal.
Stats That Matter
Khalil Herbert ran for 157 yards and was the best player on the field for the Bears.
Roquan Smith had 16 tackles in addition to his interception and he was all over the field.
Justin Fields had another really troubling passing performance throwing for just 106 yards and tossing two interceptions.
Bottom Line
The Montgomery injury could be huge, but if Herbert continues to play like he did Sunday it might not be the end of the world. Chicago's real issue is Fields, the young quarterback has had a very difficult first three contests in 2022. It is very hard to win in the modern NFL when your quarterback is completing less than 10 passes a game.
Next Up
The Bears head to New Jersey to take on the New York Giants Sunday, October 2 at 12pm CT on FOX.