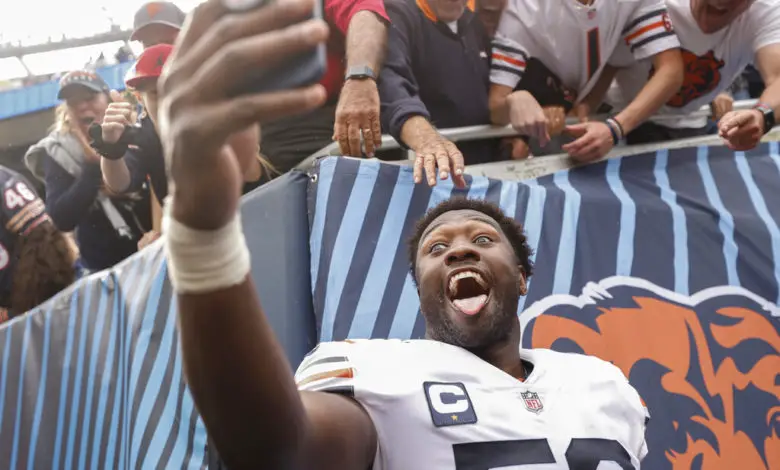 First & Long: Bears Grab Ugly Win, Roquan Smith Has Breakout Game, Bear-Raid Siren Retired, O.J. Wants Trubisky Benched
I have to borrow a phrase that we've written scores of times over at Cubs Insider since Theo Epstein and Jed Hoyer arrived in Chicago, and that's that "development isn't always linear." Justin Fields is the very definition of that axiom after a third consecutive game in which he registered single-digit pass completions. That said, it's a lot easier to bury a couple of bad games in a 162-game schedule than one where teams play just once each week.
Fields owned up to his poor performance, which was refreshing last week but sounds a bit like overkill after Sunday's 23-20 win over the Texans.
"I didn't play as well as I wanted to," Fields said in the understatement of the year. "Like I always say, I have higher expectations than everyone else. I just have to play better for my teammates. I'm just proud of the defense, how they played. I'm proud of everybody on the team. Of course, wanted to play better, but it's just everybody in the locker room fighting for each other."
Fans may be bailing on Fields, including me, but his teammates and coaches have not. The second-year quarterback threw two horrible interceptions, and the Bears would have lost if not for the play of Khalil Herbert and Roquan Smith. Herbert had 157 yards on 20 carries, and Smith had 16 tackles, two TFLs, and a key interception late in the 4th quarter that set up a game-winning field goal by Cairo Santos as time expired. Give each a game ball, including Santos.
Laurence Holmes of 670 The Score summed things up pretty succinctly, with "interesting win" being the key phrase.
Here's my initial reaction to an interesting #Bears win… pic.twitter.com/ZYbDW87OHJ

— Laurence Holmes (@LaurenceWHolmes) September 25, 2022
If you're looking for positives, the Bears have a dominating running game, a knack for making big plays when needed, and after Sunday's games, they're tied with the Packers and Vikings for first place in the NFC North. For a team many predicted to win no more than three games, Chicago is one win away from proving some of their doubters wrong.
But, it hasn't been the prettiest 2-1 start to a season, has it? Don't ask Matt Eberflus because any win is a cause for celebration.
"I'm excited about the victory," the head coach said. "That was a hard-fought battle to the very end. What I told the guys at halftime, I just said, 'hey, guys, we're built for this; we have mental and physical stamina. We are built for the second half.' And the guys did a great job of executing what they needed to in the second half of this game. Coming up with obviously the big interception at the end to seal the deal, and then the kick by Cairo to get the win. That's the biggest takeaway for us, is just being resilient."
The Bears finished the game with 281 yards, the most for the organization since 1984. That's when Walter Payton led the team to the NFC Championship Game despite a carousel of quarterbacks that included Jim McMahon, Steve Fuller, Rusty Lisch, Bob Avellini, and Greg Landry. However, the 2022 Bears don't have the defense that led Chicago a generation ago.
Smith could have played on that team. Herbert, too. But if these Bears are going to win, Fields needs to start looking a lot more like McMahon and a lot less like Lisch.
Bears News & Notes
There's a Flag…On the Play
I wish everyone would stop calling it the "butt punt."
The Butt Punt.

Wow.

— NFL Stats (@NFL_Stats) September 25, 2022
Scout Team
Film Room
Winning can become habitual. Believe it or not, the victor in the Bears-Giants tilt next week could have sole ownership of first place in their respective divisions.
"The @Giants were not finding ways to win the last couple years; they were finding ways to lose. Brian Daboll knows how to win." — @PSchrags pic.twitter.com/iIsrnq0c6Y

— Good Morning Football (@gmfb) September 19, 2022
Northern Exposure
Green Bay: The Packers beat the Bucs 14-12 on Sunday, giving Aaron Rodgers his second win in five attempts over Tom Brady.
Minnesota: Star running back Dalvin Cook left Sunday's 28-24 win over the Lions with a shoulder injury. Vikings head coach Kevin O'Connell said Cook is "day-to-day."
Detroit: The Lions had a 24-14 lead over Minnesota but collapsed late, and sit at the bottom of the NFC North with a 1-2 record.
NFL News & Notes
O.J. Simpson said the Steelers need to bench starting quarterback Mitchell Trubisky. It's not a controversial take, except when it comes from Simpson.
Patriots quarterback Mac Jones suffered a high ankle sprain, but team officials fear ligament damage. X-Rays were negative, but they've scheduled an MRI for Monday morning.
The Chiefs were upset 20-17 by the Colts, and Kansas City quarterback Patrick Mahomes was very unhappy during the game with the team's conservative play calling.
After the game, Mahomes blamed himself for the loss.
Buffalo OC Ken Dorsey was filmed having an epic meltdown after time expired before the Bills could get their field goal unit on the field. The Dolphins escaped with a 21-19 upset win.
The Dolphins' win did not come without controversy. The NFLPA is concerned that Miami QB Tua Tagovailoa was allowed to play after hitting the ground hard in the first half. The union told the NFL that it wants to initiate a review of the league's concussion protocols.
Quarterbacks are now going to be fined for breaking tablets on the sideline. Call it the Brady Rule.
The NFL announced that pop singer Rihana will headline this year's Super Bowl Halftime Show.
Three Yards and a Cloud of Dust
Fields finished Sunday's game with a 27.7 quarterback rating, his worst as a starter. He had a 40.0 RTG against the Browns in his first career start. Fields was sacked nine times in that game.
Chris Olave, who was Fields' primary target at Ohio State, had more receptions today (9) than his former teammate had completions (8).
Every team has won at least one game except the Raiders. How's that for parity? The last time there was only one 0-3 team after three games was in 1959.
From the Podium
"Straight up, I just played — I don't want to say the A-word, but I played like trash. Really just got to be better." – Fields
"I think when you are working with a young quarterback in a new offense, I think the people around him have to be solid. So that's important for us, meaning that the protection has to be good, the run game has to be good, the defense has to be really good, and special teams, we've got to be awesome. What you do is support that quarterback while he's growing. And while he's going through this, and there's going to be good and there's going to be things that he has to improve on, but that's on the whole football team. The whole football team is like that." – Eberflus
"After two picks, the score is 20-20. The picks are not going to do anything for me now. It's like at that point, I'm going to do whatever I can to help us win the game. Of course, I want to play better but — I can't be out here sulking, this and that. Got to win the game." – Fields
Running Out the Clock
The Bears are certainly Chicago's most recent "winning ugly" team.