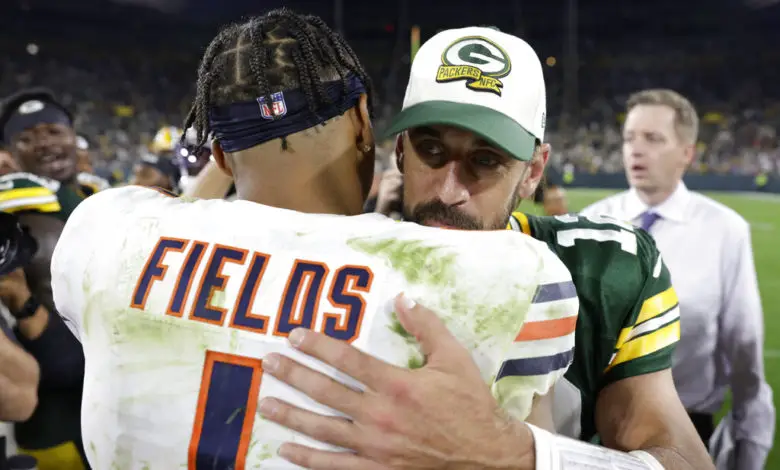 Bears Game Day: Crimson and Clover Over and Over
Repetition can be both annoying and frustrating. The Bears have lost five straight games and they've allowed at least four touchdowns in each of those losses. They've also made five fair-to-middling quarterbacks look like potential MVPs. That would be Mike White, Marcus Mariota, Jared Goff, Tua Tagovailoa, and Dak Prescott. Chicago's defense has allowed an average of 378 yards per game in each of those losses.
By the way, the Bears now own the distinction of having lost five straight in three consecutive seasons. It's like hearing Tommy James repeat the lyric "crimson and clover, over and over" 118 straight times. That song has over 300 million airplays in its lifetime. That's a lot of crimson and clover, and it's as annoying as the Bears are frustrating.
Allow me to be the contrarian for a moment or two. I think the most help that Ryan Poles can give Justin Fields is a defense that can stop its opponents from scoring at will. Yes, Chicago needs offensive linemen and a true No. 1 wide receiver. But if Matt Eberflus and Alan Williams had the talent to make just one extra stop per loss, the Bears would be 9-3 instead of 3-9. That's how close Chicago is to ending its mind-numbing cycle of repetitive futility.
That brings me to the legend of Aaron Rodgers. He's won 23 of 28 starts against the Bears, including seven straight and 11 of 12. Rodgers isn't kidding when he says he "owns Chicago." He's become a bit of a diva, but he's also the Bears' daddy, and nobody can deny that. Matt Eberflus and his charges aren't tanking for a better draft pick, and they'll do everything in their power to beat Green Bay today. Can they? They'll have to stop Rodgers, Christian Watson, Aaron Jones, and AJ Dillon. The Bears can score 30 against Green Bay's defense, but they just need to make sure they don't give up 35.
justin fields literally threw the same pass but in his rookie season, it took jordan love three years to master the same pass. God i love packers week🤣pic.twitter.com/gid3uq85PX

— alise (@ajdavis22800) November 29, 2022
If Justin Fields plays today, and all signs indicate he will, that will go a long way toward helping the offense. If he cannot start or finish, the Bears will have to rely on Nathan Peterman and Tim Boyle, two ex-Packers who stand no chance against Rodgers, especially with the way the Bears' defense is playing. Trevor Siemian is out for the rest of the season due to an oblique injury.
Green Bay is favored by four and a hook, the Bears are +178 on the money line (bet $100 on Chicago to win straight up and get $178 in return), and the over/under is 44.5. The two teams are a near-cinch to cover on total points, and though I don't think the Bears will win, I'd bet $100 straight up just for the potential payoff.
Field Conditions
It's going to be sunny at Soldier Field with a game-time temperature of 38 degrees. The field will be dry and fast, and will not affect the outcome of the game. Winds will be blowing SW at 10-20 mph, and as is always the case, swirling on the field.
Bears Trends
Chicago is 4-7-1 against the spread and has failed to cover in five straight and in eight of its last nine. The Bears are, however, 2-1 as a home underdog.
Fields is 0-3 against the Packers with three touchdown passes and four interceptions. Green Bay has sacked him nine times in those contests. The second-year quarterback is also winless in the second half of the season going back to last year. Fields is 0-7 in Week 9 games or later.
David Montgomery has been more successful as a pass catcher against Green Bay than any other team. He's caught 24 of 26 targets for 193 yards and one score. The Packers have a very weak run defense, and prior to last Sunday's 31-10 loss to the Jets, Chicago was averaging over 200 yards per game carrying the ball.
Packers Trends
Green Bay is 4-8 against the spread, the fourth-worst mark in the NFL. After starting 3-1 against the spread, the Packers are now 1-8 in their last nine, and they're 0-2 as a road favorite this season.
Head coach Matt LaFleur has never lost to the Bears. This will be his eighth meeting against Chicago, and he's 3-0 at Soldier Field. The Packers have won 11 of their last 12 against the Bears. Chicago has lost five straight since the trade deadline and eight of their last nine games.
Rodgers is throwing interceptions at the highest rate of his career, yet he still led the NFC in touchdown passes heading into this week's games. He's facing a Bears' defense that is ranked dead last against the pass and 31st against the run. The Jets gained 466 yards against Chicago in last week's win.
Why the Bears Will Win
Cole Kmet with a spectacular one-handed grab. pic.twitter.com/4op5l2yOr1

— Ari Meirov (@MySportsUpdate) November 20, 2022
Rodgers is hurting and the Bears have to find a way to knock him out of the game. Whether Rodgers or Jordan Love plays, Chicago has to generate turnovers. That's a tall order, though. Rodgers has 63 career touchdowns against the Bears, but just 10 interceptions in 28 starts. The Packers will want to run the ball, and I can't believe I'm writing this, but the defense has to force Rodgers into as many passing situations as possible.
Why? Rodgers is still building chemistry with Watson and Romeo Doubs. Allen Lazard has been a disappointment, as has Randall Cobb. But Jones has 821 yards rushing this season and is a threat to surpass 1,000 yards against Chicago's porous defense. Opponents are averaging 143.9 rushing yards per game. If the Bears can stop Jones and Dillon, they have a good chance to win the game.
Green Bay is allowing 31.7 points per game, and before Fields got hurt, the Bears were averaging 29.5 over five games. Chicago's running game poses a potentially disastrous situation for the Packers run defense. Eagles QB Jalen Hurts ran for 157 yards in last week's win over Green Bay, and the team ran 363 yards. Fields is averaging 6.8 YPC this season, so Luke Getsy will lean heavily on Fields and Montgomery this afternoon. The Bears are averaging 21.6 pass attempts per game, and they probably won't match that unless they are down two touchdowns or more.
Keep an eye on Cole Kmet today. I expect the tight end to have a huge game.
Why the Packers Will Win
Christian Watson has 6 TD through 21 receptions.

That means 29% of the time he's caught the ball, it's been a TD 🤯 pic.twitter.com/F2g7NIyd4w

— NFL Rookie Watch (@NFLRookieWatxh) November 28, 2022
The Bears' defense has responded poorly to trades that sent Robert Quinn and Roquan Smith packing. Their secondary will be down three starters this afternoon, and Chicago's linebackers are very weak against the run and short passing attacks. Expect Rodgers to go deep 2-3 times, but he'll be tremendously effective on passes in the 5-8 yard range. If Dillon and Jones can get beyond the defensive line, they'll chew up a lot of yards. Opponents are averaging 4.7 YPC against the Bears.
Green Bay's defense has taken a lot of heat, but the Bears are missing their top wide receiver and most prolific running back. That means all they have to do is stop Fields, who breaks at least one tackle on 30.4% of his rushing attempts. If Chicago has to punt the ball four or more times they'll lose this game. That's because the best hope for Chicago's defense is keeping Rodgers and company off the field of play.
Injuries
Bears: OT Larry Borom (ankle), S Jaquan Brisker (concussion), and CB  Kyler Gordon (concussion) are all out. Siemian, Darnell Mooney, Lucas Patrick, Eddie Jackson, and Kahlil Herbert are on injured reserve. OT Riley Rieff (back) and cornerback Kindle Vildor (ankle) are questionable. Fields (shoulder), WR Chase Claypool (knee), WR Dante Pettis (illness), and DB Sterling Weatherford (concussion) were full participants on Friday,
Packers: OT David Bakhtiari (kee) is out. S Darnell Savage Jr. (foot) did not practice Friday and is listed as doubtful. Doubs (ankle) and LN De'Vondre Campbell (knee) were limited all week and are considered questionable. Rodgers (thumb, ribs), Jones (shin), and OT Elgton Jenkins (knee) were also limited in practice but all are expected to play against the Bears.
Predictions
Our own Sean Holland previewed today's game on Friday, and he called a 31-28 win by the Packers. A shootout always favors Chicago's opponent so that makes sense. I don't think it's going to be that close unless Rodgers can't play or has to leave the game. The Packers beat the Bears 45-30 in Green Bay last December. I'm calling for a repeat of that score today.