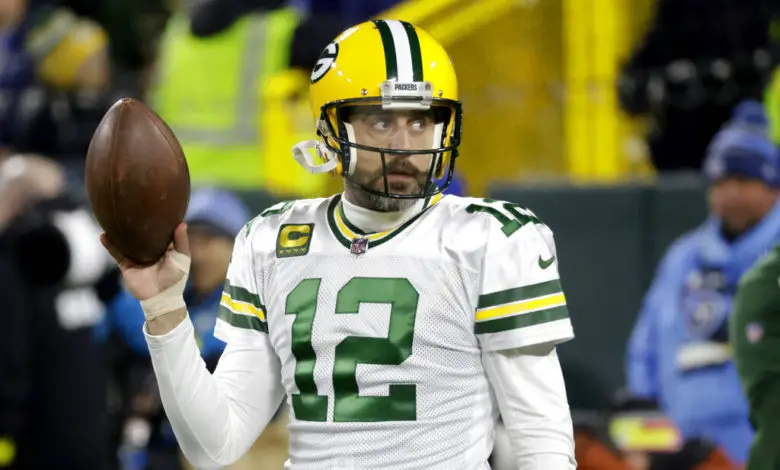 Packers QB Aaron Rodgers Has Become Quite the Diva This Year
When you're an 18-year veteran with a Super Bowl ring who earned four League MVP trophies, you're entitled to a few eccentricities. Of course, you shouldn't be able to play that card if it negatively affects your game and your teammates. Aaron Rodgers has become a bit of a diva this yea, and the Packers are perilously close to finishing below .500 for the first time since 2018, and just the second time since Rodgers became a full-time starter in 2008.
Packers head coach Matt LeFleur has always had to handle Rodgers with kid gloves. The Milwaukee and Green Bay media are in the same boat, and often, the quarterback's teammates, too. Rodgers has put his team on hold for the last two seasons. He's contemplated retirement and asked to be traded. He demanded to be the game's highest-paid player. Rodgers turns 39 on December 2, and he'll probably celebrate with a warm cup of hallucinogenic tea.
Your Christian Watson under props are safe for today. Aaron Rodgers won't be looking his way again. He may even get cut🤣#gamblingtwitter #GBvsMIN pic.twitter.com/8WLs2UwzT4

— Odds and Picks (@OddsandPicks) September 11, 2022
Make no mistake, Rodgers knows how his actions affect the team. He demanded so much money this year that he forced Green Bay to part ways with the NFL's best wide receiver, Davante Adams. The Packers owe Rodgers $150 million over three seasons, so things won't be getting better anytime soon. In fact, the Bears are the only team with enough cap space to realistically afford Rodgers. No thank you.
By the way, Rodgers said he has not second-guessed his decision to return to Green Bay. Of course, he hasn't. He has 150 million reasons to love every square inch of the northeastern Wisconsin paradise.
"When I decided to come back, it was all-in, and I don't make decisions and then hindsight, 20/20, have regrets about big decisions like that," Rodgers said.
What if his teammates, the fans, and Green Bay's front office feel differently? A lot of people want to see Jordan Love take over.
Ladies and gentlemen allow us to introduce you to the Jordan Love/Christian Watson connection pic.twitter.com/KOUvI6Ksvw

— Packers Total Access- Clayton (@packers_access) November 28, 2022
Things are so bad for the 4-8 Packers that Rodgers might cost GM Brian Gutekunst his job after this season. Gutekunst was between a rock and a hard place when Rodgers went public with his demands. The "pay me or trade me" strategy rarely works out well for the star unless he's a regional icon. LaFleur didn't help matters much when he played to his quarterback's diva sensibilities over the summer.
"I told him, I don't wanna be overbearing and tell him every day how much we love him and how much we want him back," LaFleur said at the NFL Combine, per ESPN "So you just wanna be respectful of his space and allow him to think through everything clearly without being annoying, I guess."
Do you think Vince Lombardi would have spoonfed Rogers? Maybe if Lombardi shit on the spoon, first. At some point, the rubber has to meet the road when it comes to the half-baked quarterback. He's still dictating terms to LeFleur.
"Look, I'd love to finish the season out, but I understand this is a business and there's a lot of us kind of older guys who play a decent amount and they might want to see some younger guys play," Rodgers said Wednesday. "Hopefully we don't have to have that conversation. But if that conversation comes up, I'll approach that with an open mind and without any bitterness or resentment. Obviously, like I said, I want to win out and we don't have to have those conversations. I understand if we don't that's a possibility to have that conversation."
Give Rodgers an A+ in passive-aggressive manipulation. Give him an F in sincerity. For someone who claims to live a peaceful, drama-free lifestyle, he sure seems to revel in the drama. Perhaps someone laced his Ayahuasca tea with a double espresso or some Jack Daniels.
Remember when Brett Favre wasn't bigger than the iconic franchise, no matter how hard he tried? Favre was a three-time MVP with a championship ring who was run out of town when he tried to lasso his coaches and Green Bay's front office. Gutekunst is obviously no Ted Thompson.
Rodgers's $58.3 million bonus for 2023 is fully guaranteed. Unless he retires or manages to persuade another team to take him in trade, the Packers are stuck with Rodgers for at least one more season. The option bonus makes up most of his 2023 pay, totaling $59.515 million (including a $1.165 million base salary and a $50,000 offseason workout bonus). The timing is important because if the Packers were to trade him, they'd want the team that trades for him to pay it.
Good luck with that.
Rodgers leads the NFC in touchdown passes, but his interception rate is the highest of his career, and the Packers are only averaging about 20 points per game. Is he past his prime? He's straddling that fence at the very least.
In the meantime, the drama continues. Bears cornerback Jaylon Johnson called Rodgers a "shit talker" on Thursday, though he added that the veteran QB backs it up. Chicago has lost seven straight to Rodgers and 11 of their previous 12 meetings. It would be nice to send the diva QB back to Green Bay carrying a loss.