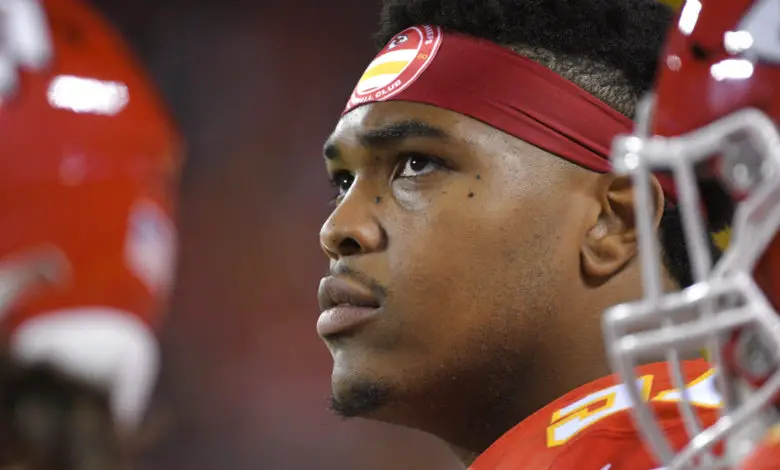 Bears Free Agent Profile: Orlando Brown Jr.
Free agency starts a week from Wednesday, and we're going to spend the time between now and then evaluating potential Bears acquisitions. Today we'll look at a possible fit for Chiefs LT Orlando Brown Jr.
Brown is a four-time Pro Bowl left tackle entering his age-27 season. He's the best available offensive lineman in this year's free agent cycle, and Pro Football Focus predicts he'll get a five-year deal worth $105 million, with $70 million guaranteed. The Bears have a little over $100 million to spend in free agency, but they also have Braxton Jones on a rookie contract. The math is easy on this one. Brown is not a fit, at least financially.
Mahomes is ridiculous but watch #Chiefs LT Orlando Brown Jr. casually sitting down Khalil Mack on this play. Absolutely shuts down his counter. pic.twitter.com/khQklnsRV6

— Devin Jackson (@RealD_Jackson) September 16, 2022
Normally, Brown is a guy Bears fans would salivate over. Pro Bowl left tackles rarely become unrestricted free agents. GM Ryan Poles was an executive of player personnel when Brown signed with the Chiefs, so he's familiar with the behemoth tackle. But there are three things to remember here:
Poles had Jones on his draft board last year from the get-go. The big-bodied lineman is the future at left tackle for this team, and Brown's availability isn't going to likely change that.
The Chiefs could have tagged or extended Brown this year and chose not to. They've signaled their intent to go younger and cheaper.
Jones and Brown had the exact same overall pass-blocking grade per PFF and Jones was a much better run blocker.
It's hard to justify $21 million in AAV if the player you sign isn't going to be significantly better than what you have. The Bears have a lot of holes to fill before the draft. Spending 20% of their cap to get essentially the same level of production makes poor fiscal sense. You could call Poles cheap if he passes on Brown, but frugal and smart make a lot more sense to me. Jones could very well be much better than Brown in 2023-24.
Neither Brown nor Jones is likely to move to the right side, either. Brown was elated to go to the Chiefs because he wanted to play left tackle. As for Jones, why would the Bears waste an entire year of development just to move him over to the right side? A seasoned veteran? Maybe. But a second-year starter who is still honing his craft? That feels like a big step backward.
Jones has never played right tackle in his life. He was a left tackle at Southern Utah and he played on the left side all of last season. If Brown isn't an improvement over Jones, why make the line weaker by asking the second-year player to learn an entirely new position?
If the Bears want to improve the line, they would be better served to sign Mike McGlinchey instead. He's a natural right tackle and would be a perfect fit for Luke Getsy's offense. McGlinchey has earned an 84.5 run-blocking score since he entered the league and is still growing as a pass blocker. The Bears need a center and a left guard too, so that makes Brown a little bit of a luxury, albeit an expensive one. Cody Whitehair and Lucas Patrick are very expendable.
Scheme Fit: No. The Bears are better positioned to grow with Jones than sign an expensive veteran.
Fills a Need: No. If Brown would agree to move to the right side he'd be very intriguing. I just don't see that happening, though it's not impossible given his history with the Bears' GM. If anyone could talk Brown into moving, it's Poles. Brown earned Pro Bowl honors twice as a right tackle when he played for the Ravens.
Priority Level: Low, unless Brown will consider playing right tackle. He'd be a significant improvement over Riley Reiff.
Affordability: Expensive. The Bears have far too many holes to fill. It, therefore, doesn't make a lot of sense to spend $105 million just to give Jones some competition. Javon Hargrave would be a perfect acquisition for the Bears at his projected price, but Brown isn't the elite player Hargrave is.
Odds Brown Signs With Chicago: Slim. His price will have to come down about $ 6 million per season before Poles would feel comfortable. Even if Brown is willing to move to the right side, that's a lot of money.