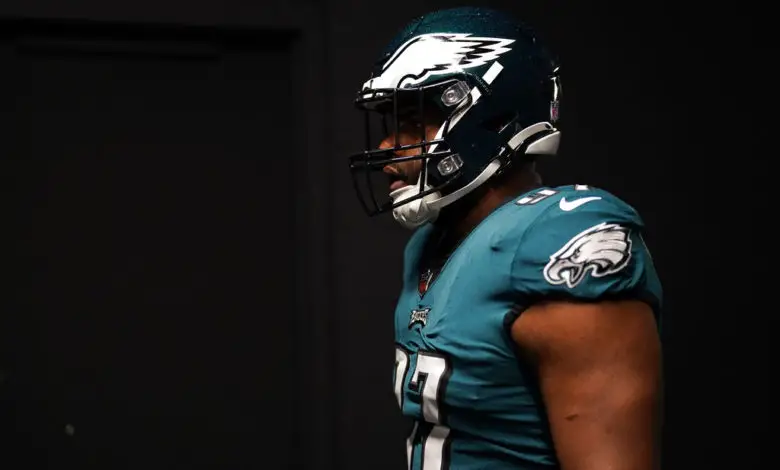 Bears Free Agent Profile: Javon Hargrave
Free agency starts a week from Wednesday, and we're going to spend the time between now and then evaluating potential Bears acquisitions. Today we'll look at a possible fit for Eagles DL Javon Hargrave.
Hargrave is a dominant interior lineman who fills a need. He's the best available player outside of quarterbacks Lamar Jackson and Geno Smith, and Pro Football Focus predicts he'll get a three-year deal worth $55 million, with $36 million guaranteed. The Bears have a little over $100 million to spend in free agency, so Hargrave would be a nice addition at $18.33 million AAV. Put him on your wish list.
Javon Hargrave… 4th most iDL QB Pressures

Beast. pic.twitter.com/ZHaVpnNg45

— Ben Fennell (@BenFennell_NFL) January 9, 2023
Hargrave plays violently and is all about disruption, and that will endear him to GM Ryan Poles. His 2022 stat sheet reads better than the entire output of the Bears' front four. Hargrave helped the Eagles get to the Super Bowl with a Herculean effort that included 11 sacks, 57 pressures, 40 hurries, and 16 quarterback hits. He had 60 combined tackles, including 10 that resulted in negative yardage. He also forced one fumble and recovered two others. In case you're wondering, safety Jaquan Brisker led the Bears with three sacks in 2022.
The Eagles have made it clear they want to retain the All-Pro lineman, but might not be able to meet his asking price. Poles is minted this year, and if he wants Hargrave, he should have no problem beating any offer. That said, the second-year GM is thriftier than most, preferring to shop the second and third tiers of free agency. Will he make a big splash this year? If so, he can't do worse than Hargrave. Since 2020, Hargrave's 92.2 pass-rush grade trails only Aaron Donald and Chris Jones at the position, with his 18.8% pass-rush win rate also ranking third.
That said, Hargrave turns 30 this season, and Poles might consider him a little long in the tooth at this stage of the team's rebuild. He's been injury-free for seven NFL seasons, however, and interior linemen tend to maintain longevity well into their thirties. If you're looking for a guy to lead your front four, Hargrave's your guy.
Because he'll command top dollar, few teams will be able to meet his asking price. The Seahawks will be interested, but they'll need to figure out their quarterback situation first. That leaves the Bears and the Eagles, but Hargrave will have to give Philadelphia a hometown discount to stay put. That gives Poles the edge if he wants to sign him.
Chicago is linked to most of the top free agents, and rightfully so. The Bears have the most available cap space, $40 million more than the runner-up Falcons. Poles has the ability to dramatically improve his roster ahead of this year's draft. Seattle has about $25 million in cap space. The Eagles will need to restructure some contracts to participate in the bidding. They also have 65 players under contract, so they can free up money by cutting some of them.
Hargrave has a say in the matter, too. He may prefer to stay with the Eagles so he can help them finish what they started last year. A gig with a rebuilding team like the Bears may not be very appealing. Then again, money talks in the NFL, and the Bears are flush with it. Jalen Carter has run into some serious legal issues and is no longer an option at the top of the draft. The Bears could sign Hargrave, trade down with the Colts, draft Will Anderson Jr., and have the makings of a dominant front four.
Signing Hargrave would give Chicago an elite defensive tackle to anchor their line. While the Bears have many holes to fill, Hargrave is a great fit for their defense, and he could earn a huge payday from a team on the rise. He'd be an impact signing that would attract other free agents to the Bears. Hargrave would immediately be Chicago's best defensive player.
Scheme Fit: Yes. The head coach is a strong voice in every team's free-agent process; in some cases, he is the strongest voice. Matt Eberflus wants to build his defense on the back of a dominant three-technique.
Fills a Need: Yes. The Bears are overhauling their defensive line.
Priority Level: High. The Bears need to land an impact DT through free agency or the draft.
Affordability: Expensive, but worth it. The Commanders franchise-tagged Da'Ron Payne, so he'll earn $18.937 million this year. Hargrave at $18.33 million almost seems like a bargain.
Odds Hargrave Sign With Chicago: High. Poles has money to burn, but he's not going to engage in auction bidding. If his contract offer is at the market level, Hargrave will sign. The executive can't be too cute, however, especially after the Roquan Smith negotiations. If three years at $55 million with $36 million guaranteed will get the job done, that's what Poles should offer.