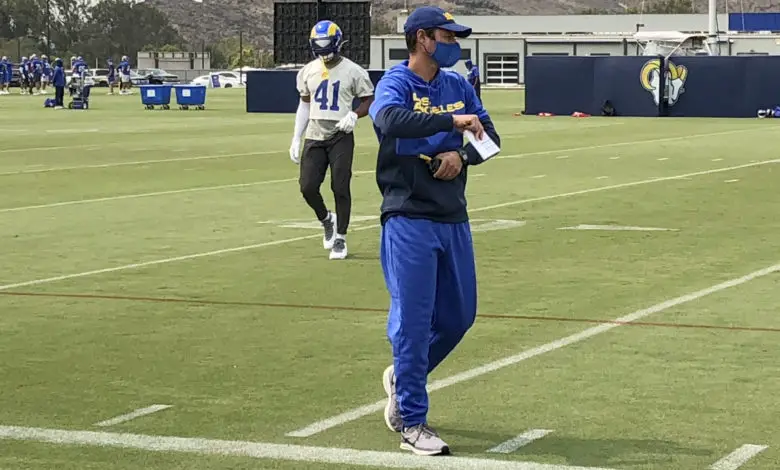 First and Long: A Bears Holiday Wish List, Halas Hall Shut Down Again Due to COVID-19, NFL Announces Walter Payton Award Nominees
"If wishes were horses, beggars would ride." – Scottish Proverb
In normal times, these three days would represent the biggest shopping weekend of the holiday season. With so many people grounded and quarantined because of the pandemic, it looks like the big winners will be Amazon and online sites for Target and Walmart. In football parlance, that's like the Chiefs, Packers, and Steelers separating from the rest of the pack.
With that in mind, I thought I'd put together my holiday wish list for our favorite football franchise, the Chicago Bears.
If the Bears have a coaching search to conduct next month, Rams defensive coordinator Brandon Staley should be one of the top candidates.

The former Bears assistant has proven himself as a defensive mastermind in Los Angeles, and has familiarity in Chicago.

— Chris Emma (@CEmma670) December 11, 2020
The organization has many needs from the top of the executive chain all the way down to the forgotten offensive linemen on the practice squad. We can hope with all our hearts we get that for which we humbly ask. I'll go five deep with my wish list, and yes, they're all obvious.
A new president and CEO – Ted Phillips has to go and the McCaskeys need to find an experienced replacement with a winning track record. Yes, Virginia, that means we need Santa Claus to drop a tried and true football man, one who can restructure the entire organization, into your lap. The last time the Bears were this insufferable, George Halas turned over the reins to Jerry Vainisi, and three years later they won Super Bowl XX. The McCaskeys dismissed Vainisi after a 14-2 season in 1986 and things have gone downhill since. It's time to pry Eric DeCosta from the Ravens with a promotion and a big raise.
A new GM – Only the Bears have a general manager who is not the equivalent of other top personnel executives. Ryan Pace, currently sitting in the big chair, is nothing more than a lackey with a honey-do list who plays the submissive to Phillips. Pace has been maintaining mediocrity since he arrived in 2015, spending big on skill positions in free agency (sells tickets!) while hurting the franchise with bad draft day trades (please don't trigger me). Chicago needs someone to work with DeCosta while being able to think outside the box when necessary. My choice is Omar Khan, currently employed by the Steelers as VP of football and business administration. Elevate his role, then give him a raise and control of building the roster. If needed, kick in some moving expenses to finalize the deal.
A new head coach – I've wavered on this because I genuinely want an offensive genius, but what the heck, let's go to the well that has provided the team with its most historical successes and bring in a hot defensive coordinator to be the new head coach. With that in mind, give me Brandon Staley of the Rams. He worked under Vic Fangio here in Chicago so he has the pedigree; he's young, a current trend in NFL coaching circles; and by God, he's got the perfect name. Khalil Mack has lost his mojo and look what Staley has done by pairing Aaron Donald with ex-Bear Leonard Floyd. Kick Nagy to the curb and bring in the hot shot 38-year-old. If anything, the presser should be a real gasser.
A franchise quarterback – All of a sudden the Bears have some young offensive weapons in David Montgomery, Cole Kmet, and Darnell Mooney. Now they just need a QB1 who is capable of spreading out defenses and connecting with each of the three on big plays. You could look at potential free agents Andy Dalton or Dak Prescott, but it may be better to save the free agency budget for the O-line. This year's draft is deep in quarterbacks and the Bears could have their choice between Trey Lance of North Dakota St. or Kyle Trask of Florida, depending on how they finish this season. They could also wait until the second round and grab Kyle Wilson of BYU or Mac Jones of Alabama. Yes, I think both will drop. If Chicago can get Lance, that's my guy, or give me Wilson with a mid-second round pick.
A revamped offensive line – Here's where the Bears need to spend in free agency, and it's a good year to load up on the "big uglies." Ronnie Stanley, Laremy Tunsil, and Taylor Decker could all be available this spring. Start spending dough and plugging holes. If those guys are too expensive or otherwise unavailable, Trent Williams and Alejandro Villanueva are older options.
Thank you, Santa. I've been good, and my content output for my bosses has been exemplary.
Bears News & Notes
There's a Flag…On the Play
It's a bit of a stretch, though Deshaun Watson would have been a better pick than Mitch Trubisky, and Pace wouldn't have had to sell his soul to draft him.
In a parallel universe somewhere, the Bears won Super Bowl LIII after the 2018 season with Deshaun Watson at quarterbackhttps://t.co/CytJrnp8ux

— Bears Talk (@NBCSBears) December 10, 2020
Northern Exposure
By the numbers, Packers QB Aaron Rodgers has become a top-five all-time NFL signal-caller.
Green Bay's offensive line is quietly having a stellar season, giving Rodgers ample time to pick apart opposing defenses.
The Vikings-Buccaneers game could be the biggest of the weekend. Minnesota is one game behind Tampa Bay in the Wild Card race, and the winner of the game will hold the tie-breaker.
The Vikings are winless against Tom Brady throughout his career, though this is the first time they will face him without his former Patriots teammates.
Interim Lions head coach Darrell Bevell has helped Matthew Stafford and his talented receivers rediscover the long passing game.
Bevell once worked for the Packers and was actually the first quarterback coach Rogers had as a professional.
Around the League
The NFL announced its 32 nominees for the Walter Payton Man of the Year Award, including Bears TE Jimmy Graham.
Could the Jets consider trading their likely first overall draft pick and along with it, a shot at drafting Clemson quarterback Trevor Lawrence? Let's hope the New York front office doesn't call Pace and Nagy.
Cowboys star running back Ezekiel Elliott offered a very blunt assessment of his team.
Defensive coordinator Patrick Graham of the Giants is emerging as a potential head coaching option.
The one thing you should never have to talk about is Fight Club effort, at least according to Cowboys head coach Mike McCarthy.
Eagles backup QB Jalen Hurts will be making his first career start against the Saints who have the top defense in the league.
Fumblerooski
Cam Newton would like to remind you that not all average joes wear capes.
This pregame routine for @CameronNewton and the @Patriots is certainly … something 😅 pic.twitter.com/rD4RULltlx

— FOX Sports: NFL (@NFLonFOX) December 11, 2020
At the Podium
"Obviously, we're not exempt from this pandemic. We all know that cases are on the rise. And I just want to credit our players and coaches for adapting and staying flexible. It's not easy. But we have the right mindset. I think that our guys showed that this morning with being able to adapt on short notice." – Matt Nagy
Today's Halftime Entertainment
(Everybody's Waitin' For) The Man With the Bag by Seth MacFarlane – My dad had a different quote about wishes but I'll keep it clean here.