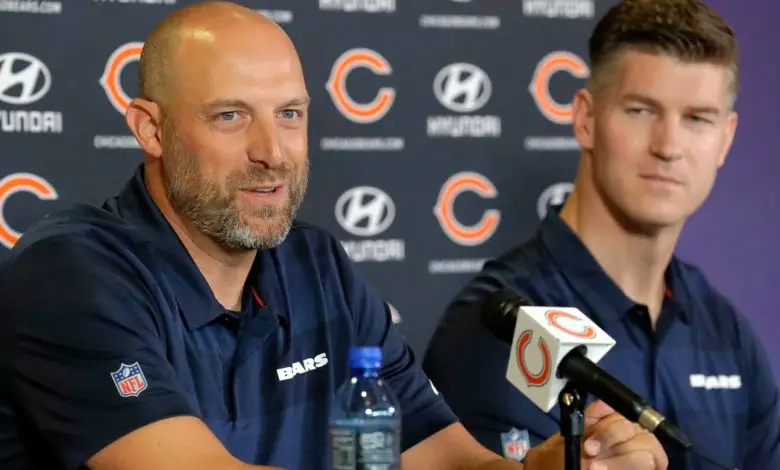 Bears Expected to Fire Matt Nagy After Today's Game, Restructure Front Office
The Bears have decided to move on from head coach Matt Nagy sometime this afternoon according to Ian Rappaport of Rap Sheet. However, major questions remain about how the organization will be restructured once the offseason officially starts. The Bears will complete the 2021-22 season after today's match with the Vikings.
The @NFLGameDay Notebook with @MikeGarafolo & @TomPelissero: #Broncos moved on from Vic Fangio; The #Seahawks and Pete Carroll will meet after the season; The #Texans will evaluate David Culley; #Vikings coach Mike Zimmer is likely out; The #Bears likely move on from Matt Nagy. pic.twitter.com/hWJH91hOMV

— Ian Rapoport (@RapSheet) January 9, 2022
Per CBS Sports, team president Ted Phillips and general manager Ryan Pace have made their cases for remaining with the NFL's charter franchise, but ownership has also had discussions about going in several different directions after today.
Some consideration has been given to agent Trace Armstrong to assume an executive position, perhaps as team president or director of player personnel. Ironically, Nagy is one of Armstrong's clients.
The Bears usually outsource front office and coaching evaluations, and league sources indicated that the McCaskeys are very high on former NFL executive Rod Graves, as well. Graves currently runs the Fritz Pollard Alliance, which works with the NFL to promote diversity in new coaching and front office hires. The executive worked for the Bears as a scout and personnel director from 1984-1996 before becoming GM of the Cardinals. Graves is one of just several former Bears players or staff whose name has come up internally in what has reportedly already been a long process.
That includes a potential hire of Jim Harbaugh as head coach. The former Bears quarterback has yet to announce he will resign from his duties at the University of Michigan, but sources told Jay Glazer of Fox Sports that Harbaugh has already started vetting potential assistants should he make the jump to the NFL. Harbaugh has previously indicated that it would be a dream come true to coach the Bears, but the Raiders could be interested as well. Harbaugh may use that as leverage to get the Bears gig (or vice versa) and should be one of the first new coaches hired if he decides to leave his current position.
Leslie Frazier has also been mentioned as a potential head coach, as has Vic Fangio, who has already been told by the Broncos that he will not be retained after this season. It's doubtful Fangio would accept a job as a coordinator or assistant coach should any organization recruit him for that purpose. Many Bears fans are hoping otherwise.
It's no secret that the Bears intend to make changes, but just how far they will go in cleaning house is anyone's guess. Pace is completing his seventh season with the Bears, and Ted Phillips has been a member of the organization since 1984. He became VP of Operations in 1993 before being promoted to club president on February 10, 1999, after the botched hiring of Dave McGinnis by Michael McCaskey. The former president of football operations initially announced McGinnis as the team's 12th head coach before being forced to walk that back. Chicago has gone 177-191 since then under five head coaches: Dick Jauron (35-45), Lovie Smith (81-63), Marc Trestman (13-19), John Fox (14-24), and Nagy (34-30, pending the outcome of today's game).
Phillips did not hire a GM during his first season as team president and has hired Jerry Angelo, Phil Emery, and Pace since.
Per CBS, some within the organization believe that the McCaskeys will ultimately overhaul the front office, with a new head coach and a GM who will report to a head of football operations. It's doubtful Philips will be fired after nearly 40 years with the Bears, so he'll likely move to a role overseeing the construction of a new stadium in Arlington Heights. That said, Pace is very well-liked by ownership and could be promoted to replace Phillips. Obviously, things will become much more clear after today's game and in the days ahead.