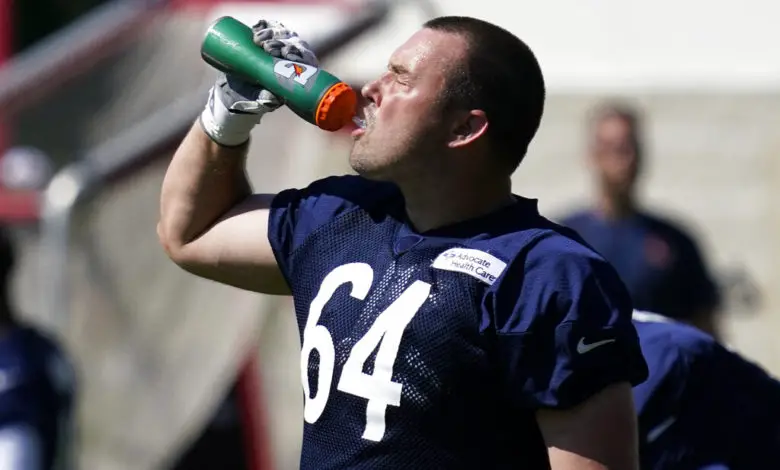 Camp Notes: Jenkins Maturity Questioned, Additions of Reiff and Schofield Improve O-Line, Williams Raves About Gordon
It's been reported that OT Teven Jenkins may have more of a bruised ego than an actual injury, but nevertheless, he sat a third straight day this weekend. Here are all your Mondy morning Camp Notes.
Speculation about why Jenkins isn't practicing has spanned many potential reasons. Perhaps his back is flaring up. Maybe it's COVID. According to NBC Sports Chicago's David Kaplan, it may be something that isn't health-related. Jenkins may have a maturity problem.
#Bears practice is off and running at Halas Hall. Still don't see Teven Jenkins. pic.twitter.com/8ib0vg8Bmb

— Patrick Finley (@patrickfinley) July 30, 2022
Last week I speculated that Jenkins and the Bears might not be a fit. The second-year tackle worked hard this offseason to improve his conditioning and he even gave up beer. During minicamp, Jenkins was demoted to second-string. First Braxton Jones took his position, and then GM Ryan Poles signed Riley Reiff. When practices started last week, Jenkins was AWOL.
The Bears have also given plenty of opportunities to rookie draft picks Doug Kramer, Zachary Thomas, and Ja'Tyre Carter. It's all part of a numbers game that doesn't seem to favor Jenkins.
Head coach Matt Eberflus told reporters Friday that Jenkins is "working through something with the  trainers" and "when he's able to return, he'll return."
Center Lucas Patrick will miss a minimum of six weeks due to his hand injury. That puts Kramer in the starting role, at least for now. That's notable considering Sam Mustipher started all 17 games at center in 2021. It also says a lot about Kramer's ability and the hard work he's put in this summer.
The Illinois graduate penned a piece on the Bears website for the team's Rookie Diary series. Kramer mentioned that he grew up a Bears fan and that his first favorite player was Brian Urlacher.
The arrival of Reiff and Michael Schofield has vastly improved Chicago's offensive line. Both worked with the starters in team drills for the first time Saturday. Larry Borom has consistently been the right tackle. "Now getting Reiff and Schofield, and before the Patrick injury, they've got four guys that I know are competent NFL offensive linemen," according to NFL veteran Ross Tucker. "I have seen them start enough games, play enough games to realize they're not bad and they're not going to get Fields killed. Cody Whitehair is a little better than that. Patrick and Schofield are serviceable starting linemen. Reiff is better than that."
Defensive Coordinator Alan Williams is impressed with cornerback Kyler Gordon: "He's a ball magnet."
Gordon was the Bears' top draft pick in April, selected at No. 39 in Round 2. And it has been clear from the outset that the Bears have been impressed with his feel for the game, ability to change direction, and playmaking skills.
According to Albert Breer of Monday Morning Quarterback, Justin Fields has already made strides with his footwork and picking up the new language. He's impressed the new staff with his drive. His deep ball looks good too. Breer also hinted that the Bears might be looking to add depth at linebacker, especially with Roquan Smith sitting out.
That said, the offense is struggling, though not because of Fields. There were several pre-snap penalties, dropped passes, and a botched hand-off during Saturday's run-game heavy practice.
In an interview for the NFL Network, Fields said he hopes that teams continue to sleep on Darnell Mooney.
Edge rusher Dominique Robinson is another rookie who has stepped up. He arrived at camp in phenomenal shape, and his athleticism and hunger have not been lost on his teammates, including Trevis Gipson. "He's a great player. He's a great student of the game, comes into work, is never late, always has his playbook in his hand, and is eager to learn. Sort of reminds me of me, honestly. A fifth-round pick, chip on his shoulder, dominating practice every day and still looking to get better anywhere he can."
Running back Khalil Herbert said that the Bears coaching staff are really good teachers and they sometimes play Kahoot during meetings to make things fun and make it a competition.
According to ESPN's Power Index, the Bears have a 5% chance of winning the NFC North and a 12% chance of making the playoffs this season. The Packers are listed as the division favorites.
The Packers have a 51% chance to win the AFC North this season, per ESPN's Football Power Index. It's the 2nd-highest chance of any team to win its division this season (Bills, 55%). pic.twitter.com/pfatq9ZGiV

— ESPN Stats & Info (@ESPNStatsInfo) July 31, 2022
Five Things
The Bears will hold their first practice in full pads today. That's significant because the coaching staff will be able to fully gauge how much work Fields and the offense needs. Nothing much else came from the first four days of practice except one great positive—Justin Fields is unquestionably in total control as the leader of the offense and their playmaker.
Running back David Montgomery looks reenergized according to many reports. The three-year veteran is once again underrated according to most polls and position analysis reports. "I take everything personally," Montgomery said. "It's just like y'all see lists, I see them too."
We should expect Gipson to have a breakout campaign. The edge rusher was named Chicago's most-improved player after taking over for Khalil Mack in 2021. He expects to be even better this season. "I would say I'm more confident," Gipson said. "Just the way that I ended last year and the things that I know I'm capable of doing. I'm getting more reps. I'm being coached even more. Everything is all coming along. I'm getting the ball rolling. I just focus on getting 1% better every day, man. It doesn't matter who lines up in front of me."
At some point, Jenkins will return and will quickly work his way into the tackle rotation. Kaplan can be a bit over-the-top at times but he makes good points. However, Jenkins has been an enigma since he was drafted last year. He has yet to really find firm footing in the organization. And let's face it, depth at the position is a problem. Give Eberflus credit for not coddling Jenkins, and more so for keeping private whatever it is that is keeping the sophomore tackle off the field. Jenkins will have his work cut out for him, and he'll have to earn the trust of his teammates and coaching staff. If he does, he should be a big part of Chicago's offense this season.
Gordon and fellow rookie Jaquan Brisker have been the talk of camp through the first four practices. Eberflus and Williams have been quick to point out their maturity and big play capability. That bodes well for the secondary, which was one of the team's biggest weaknesses last season. The key will be Eddie Jackson. If he truly reemerges as the All-Pro safety he was three seasons ago, the Bears will have one of teh strongest defenses in the NFC North.
Camp Quotes
"That's a big deal when players want to do what you ask them to do. Some guys are just compliant. They go, 'Hey, coach, I'll do anything you ask me to do.' But when you have a guy who wants to do what you're asking him to do, you're getting a little extra edge in terms of how that guy performs.T here's going to be a learning curve [for Gordon] because it's the NFL. But we feel good about the direction he's heading in terms of getting lined up [correctly], where his eyes are, and then just making plays." – Alan Williams
"Our front office is not going to stop chipping away and bringing good football players to the team." – Poles
"[Fields] doing an incredible job. Everyone is behind him. We follow behind him. I'm excited to see what he is going to do cause he's going to be incredible. He's going to surprise a lot of people." – Montgomery