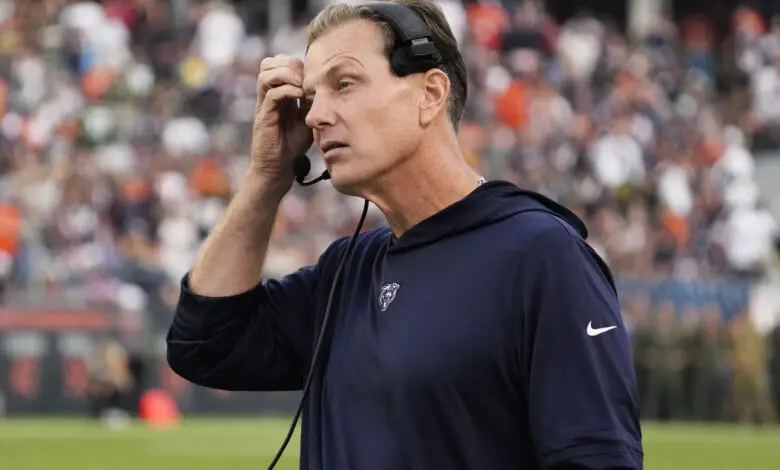 Bears Coaching Staff Could Be More Dysfunctional Than Previous One
The Bears have played 19 games under the direction of Matt Eberflus and have lost 16 of them, including 12 straight going back to last October. Luke Getsy has been criticized for his playcalling in the two losses this season, and now defensive coordinator Alan Williams has resigned.
Williams cited health and family concerns as his reasons for leaving the team, and nobody should doubt that. Rumors have circulated that a police raid was conducted at Halas Hall and the Williams' home, but his agent immediately dispelled those allegations. Williams has been away from the team for about a week, and Eberflus called the defensive plays in Sunday's loss to the Buccaneers. To his credit, the unit rebounded in the second half despite the loss. Everyone hopes Williams will recover and continue his career somewhere else.
I spoke with Andrew M. Stroth, a sports attorney based out of Chicago who is working with former Bears DC Alan Williams. He told me Williams is resigning due to health concerns and and family issues.

"Given the false rumors and what seems to be out there on social media, I just…

— Courtney Cronin (@CourtneyRCronin) September 20, 2023
Eberflus declined to give any insight into the situation and refused to answer Wednesday whether he and Williams have even spoken during the past week. That said, there's no need to pile on the man without any evidence of wrongdoing.
If Williams' resignation was the only issue with the Bears, it'd be nothing more than a hiccup. But it's not, and the guy at the top deserves all the blame, and that's Eberflus. Chicago lost big to the Packers and Buccaneers. Justin Fields is frustrated with the offense and about being overcoached and has also performed poorly. The blame game by fans choosing Getsy, Fields, or both as responsible has been as farcical as it is frustrating. The two will be separated before next season starts, and my money is on Getsy being the second coordinator to resign if he's not fired.
"You know, [it] could be coaching, I think," Fields said today. "At the end of the day, they are doing their job when they are giving me what to look at, but at the end of the day, I can't be thinking about that when the game comes. I prepare myself throughout the week, and then when the game comes, it's time to play free at that point. Thinking less and playing more."
Fields clarified his comments a few hours later. I'll bet he caught an earful from Getsy and Eberflus before backpedaling.
"I'm not blaming anything on the coaches," the quarterback said after a change of heart. "I'm never going to blame anything on the coaches, I'm never going to blame anything on my teammates. Whatever happens in a game, I will take all the blame. I don't care. If it's a dropped pass, it should have been a pass, put it on me.
"Whenever you hear anything come out of my mouth to where I would blame it on somebody else in this organization, my teammates, never will you hear that. I just want to clear that up. Just know I need to play better. That's it, point-blank. That's what it should have been in the first place.
"My goal this week is to say, 'F it – just play football. That's when I play my best, when I'm out there being free. I'm going to go out there and be me."
No matter what Fields thinks, says or does, the disarray within the organization is alarming and reminiscent of the Ryan Pace/Matt Nagy regime. It might even be worse, though I admit recency bias is clouding my judgment.
That said, Fields isn't the only offensive player struggling right now. If an offensive coordinator can't get his team to run the correct plays, he's doing something very wrong.
Justin Fields isn't playing well, but we're already getting video yesterday and today of:

1) His WRs running the same route to the same spot
2) Tampa guys calling out they knew exactly what plays were coming

How is any QB supposed to succeed with that incompetence around him?

— FullCountTommy (@FullCountTommy) September 18, 2023
Chase Claypool said after the Packers loss that the playcalling confused him.
"Sometimes 10 guys are doing a good job, and one person isn't," Claypool said after the Week 1 loss. "Like me, I think it's a run play, and it's a screen. That's my fault."
Getsy's offense confuses a lot of fans, too. He lined Cole Kmet up behind center in the Green Bay game. That killed Chicago's opening drive. A sweep by Velus Jones that netted negative yardage hurt the offense in the Tampa Bay game. Getsy is also failing to fool opposing defenses. Lavonte David said the entire unit knew the play Getsy called when Shaq Barrett intercepted a Fields pass for a late pick-six.
Fields went on to say that during the offseason, coaches wanted him to work on staying in the pocket, and that point of emphasis may have cost him when he was strip-sacked on third down before halftime against the Bucs.
"Yes, there are times where I could have stayed in the pocket, but in that play specifically, I was in the pocket for a long time," he said. "I've got to extend the play, get out of the pocket, extend the play, and do something with it. Make something shake. That's kind of what I'm talking about, though, in getting back into my game and becoming more of a football player than such a thinker on the field."
I'm not going to dissect every sentence, but these types of conversations are usually kept in the locker room and on the practice field. The third-year quarterback is right in his self-assessment, however. He is not a pocket quarterback, and it's doubtful he will ever become one. We've all seen the glaring mistakes. He holds the ball too long. His reads are too slow. He doesn't see open receivers.
It's puzzling that Getsy keeps ignoring the skills that Fields does possess. The OC said last year that the staff wanted QB1 to be "a mobile rocket launcher." Why doesn't the playcalling reflect that?
Give Fields credit, however. He does want to improve. The coaching and the scheme are part of the problem, but the signal-caller is far from blameless. We also haven't discussed the sieve that Chicago calls its offensive line.
Fields is on pace to be sacked 85 times this season. The line lacks talent in the middle, and the tackles are manned by second-year lineman Braxton Jones and rookie Darnell Wright. Teven Jenkins is injured, and Nate Davis has been dealing with personal issues since training camp. Cody Whitehair looks washed up, and Lucas Patrick isn't much better. Ja'Tyre Carter was the best offensive lineman on Sunday, at least according to the eye test.
If the receivers don't know where to line up, or can't tell a screen from a running play, who's to say that the linemen know their blocking assignments? I'm not willing to assume that.
The blame game at quarterback goes back several regimes, all the way back to Marc Trestman. Fields-Getsy sounds a little too much like Nagy and Mitchell Trubisky, or Jay Cutler and Trestman or John Fox. Cutler and Trubisky were eventually run out of town, and Fields could be next.
Trestman, Nagy, Eberflus… Bears have a habit of hiring coaches that develop a system for the players they wish they had rather than the team they do have. I getting pretty damn tired of it.

— Brad Robinson (@bradrobinson8) September 19, 2023
Or, the Bears could do the right thing and develop their quarterback while designing an offense that plays to Fields' strengths. That was the goal from day one, and Getsy and Eberflus said it so much it became nauseating. Maybe the two are simply trying to force the hand of GM Ryan Poles. That's exactly what Nagy did with Pace when he tired of starting Trubisky. Same shit, different day, right? The deliverable in that scenario is another scorched-earth rebuild. That's what happens when you have to replace a head coach and his staff, and then find a new starting quarterback.
Poles shouldn't have to draft another potential QB1 next year because his coaching staff won't be able to develop one. Caleb Williams is the top quarterback in this draft class. Williams has weaknesses that are similar to Fields' according to his draft profile at Pro Football Network.
Struggled to play within the offense's timing, sometimes due to poor blocking and other times because he wanted to extend the play for bigger opportunities.
Prone to getting happy feet and breaking out of the pocket before it's necessary.
Needs to find a better balance between being a playmaker and taking the easier throw to extend drives.
Like Fields, Williams is an incredibly gifted playmaker who struggles as an anticipatory passer. If Poles and his coaching staff think they can correct those flaws, why aren't they doing it with their current quarterback?
The problem at Halas Hall is not the players, it is the men calling the plays. Forcing a square peg into a round hole doesn't work. It never works. Teams rarely make wholesale changes midseason, so Fields and Getsy are going to have to figure it out together. I just don't think Getsy is the guy that should be mentoring Fields.
And maybe Fields just isn't the franchise QB we all want him to be. He hasn't proved anything, though his freaky athleticism suggests he's worth developing. We'll never know unless the coaches put him into comfortable situations that properly align with his skills. If Eberflus and Getsy no longer want to be tasked with that assignment, each should be asked to leave.