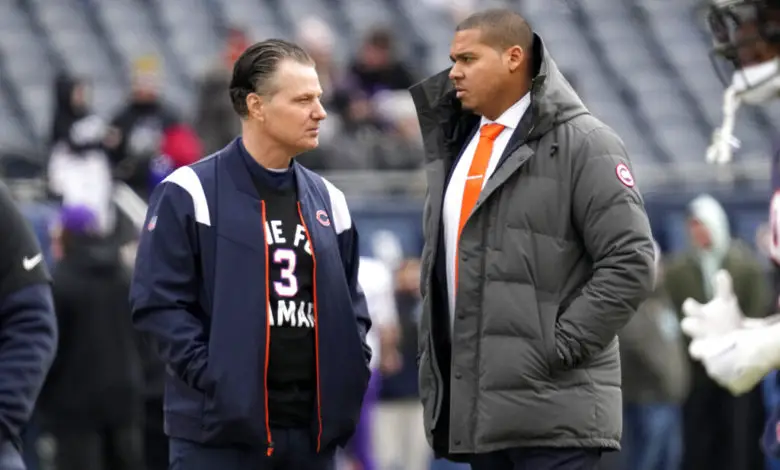 Assessing Bears Needs Ahead of Free Agency
Ryan Poles made quite a splash on Friday when he traded the No. 1 pick to the Panthers. The haul he received included the Nos. 9 and 61 picks, a first-round selection next year, and a second-round pick in 2025. He also landed wide receiver D.J. Moore, who becomes the top wideout the Bears have been lacking since Allen Robinson left.
That's a nice way to jumpstart a rebuild, but there's much more to come. Poles has a projected $76.5 million to spend in free agency, and he can officially start negotiating with players on Monday. That's more than double the amount of all but three teams and easily laps NFC North opponents Green Bay ($24.8 million), Detroit ($21.4 million), and Minnesota (negative $6.7 million). When you finish last in your division you should have the most money to spend, a concept that was lost on the previous regime.
Thanks to poor spending by Ryan Pace, the Bears paid a league-high $93.29 million in dead cap space last year. Having sufficiently cleaned up their books, Chicago owes a projected $22.97 million in projected dead cap space this year, with about $13 million attached to Robert Quinn. Poles has done a terrific job cleaning the messes left behind by Pace and Ted Phillips. Last year's limitations resulted in a piss-poor roster and a 3-14 record. Now it's time to have some fun.
Chicago's most pressing needs, in order, are defensive line, offensive line, linebacker, running back, and cornerback. Before we get too excited, Poles has pledged to exercise patience in free agency. The second-year GM won't come out swinging for the fences, and will probably pass on the top available players unless one or more accepts a contract he's comfortable writing. If anything, Poles has proven that he won't exceed the ceiling he sets on a player's value. That's why Roquan Smith was traded to the Ravens.
Poles, who has emphasized value at every turn since taking the job last year, was asked if he can find value in the first wave of free agency.
"No, not really," he said at last week's Scouting Combine.
The agents for those players will nonetheless reach out to Poles because he has more money than anybody else. That drives bidding wars among other teams, something the executive would rather avoid. Poles wants to win this year, but he also wants to avoid the type of problems that derailed that Pace. Besides, he'd rather build his core through the draft. He'll check with Matt Eberflus on anybody he intends to sign, and won't add any player that the head coach doesn't want.
Assessing the Bears' Biggest Needs