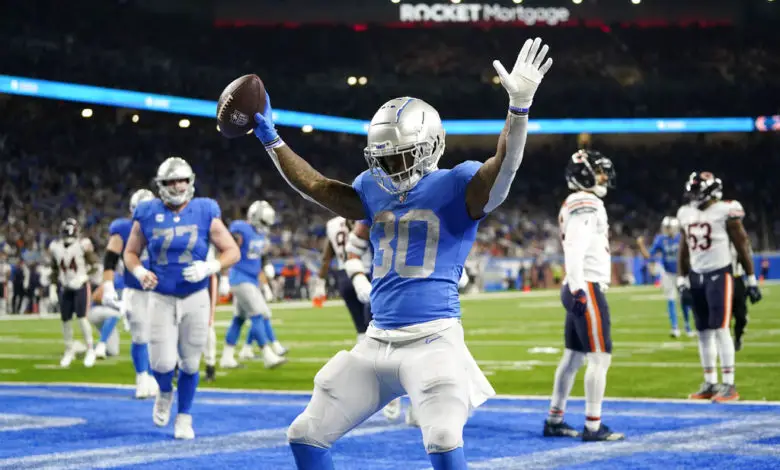 What Is the Bears' Plan at Running Back?
Earlier today, the Giants applied a franchise tag to star running back Saquon Barkley, essentially taking him off the market. The Raiders did the same with Josh Jacobs and the Cowboys locked up Tony Pollard. On the other hand, Ryan Poles appears to be moving on from David Montgomery, making Khalil Herbert the Bears' new starter.
🚨David Montgomery has very likely played his last game in a Chicago #Bears uniform, per source.

The Kansas City #Chiefs and Atlanta #Falcons are expected to have interest in the former third-round pick, source says.

I'm told Montgomery is, "really tight" with #Chiefs… pic.twitter.com/FN5KNhJHsL

— MLFootball (@_MLFootball) March 7, 2023
The Chiefs and Falcons appear to be the favorites to sign Montgomery. That's interesting because Matt Nagy is with Kansas City and Ryan Pace works in Atlanta's front office. The soon-to-be former Bear will have his pick of teams since he's now the top running back on the open market. The Dolphins will be looking for a running back, as will the Panthers, Saints, and Broncos. Montgomery will get his due, just not from Chicago.
The Bears now need a running back unless they plan to open this season with Trestan Ebner and Darrynton Evans as backups. Poles needs a back that's adept at getting the football into the endzone. Unrestricted free agent Jamaal Williams of the Lions is just that guy. He'd battle Herbert for the starting gig, but there are plenty of touches available in Chicago's run-based offense. It would be nice if someone other than Juston Fields led the Bears in rushing.
Williams is a priority free agent for the Lions, and Detroit says there is "mutual interest." His ability to put the ball into the end zone is unparalleled. He scored a league-high 17 rushing TDs in 2022. The six-year veteran is very familiar with the NFC North, too. He was drafted by the Packers in 2017 and played for two years in Green Bay before moving to Detroit. Williams would round out Chicago's backfield quite nicely.
Herbert is a dynamic talent but he's at his best with a solid running mate to share the load. Ebner and Herbert are very similar, and though Evans is a solid back, acquiring Williams would be a grand slam. The Detroit free agent is not among the top 100 free agents. He was ranked sixth among available backs heading into the offseason. The Bears have a little over $100 million in cap space while the Lions have approximately $22.4 million in available funds. Poles can easily outbid the Lions or any other team if he wants Williams.
None of the other free agents seem like a good fit for the Bears. Miles Sanders (Eagles) is a little overrated and Kareem Hunt (Browns) is more of a pass-catching back. Damien Harris (Patriots) is injury-prone and the Lions may turn to Devin Singletary (Bills) if they can't sign Williams. D'Onta Foreman (Panthers) is the current flavor of the month and could be ticketed for Denver or Miami.
Similar size, similar combine testing; when I watch the Tank Bigsby tape, I see definite shades of Jamaal Williams – probably with a little more wiggle.#NFLDraft pic.twitter.com/tWhsh5blwU

— Simon Carroll (@NFLDraftSi) March 6, 2023
Poles could look to the draft to replace Montgomery, but he'll likely wait until Day 3 of the event. That eliminates Bijan Robinson (Texas) and Blake Corum (Michigan). Keep an eye on Tank Bigsby if he falls and Poles acquires extra selections. Kendre Miller (TCU) is practically a Williams clone and Roschon Johnson (Texas) had the highest broken tackle rate in the country. Poles will undoubtedly stack UDFAs as potential backups.
I'm a little surprised that the Bears intend to move on from Montgomery. Of course, it could be a negotiating ploy, but it doesn't have that feel. Obviously, Poles is not as enamored with the incumbent starter as the Giants are with Barkley. The running back franchise tag is worth $10.09 million this year. PFF projects that Montgomery will get a three-year deal worth $19.5 million, with $12.25 million guaranteed. Williams, on the other hand, is projected to earn $8.4 million on a two-year deal. One would think Poles has to consider Williams as Montgomery's potential replacement.