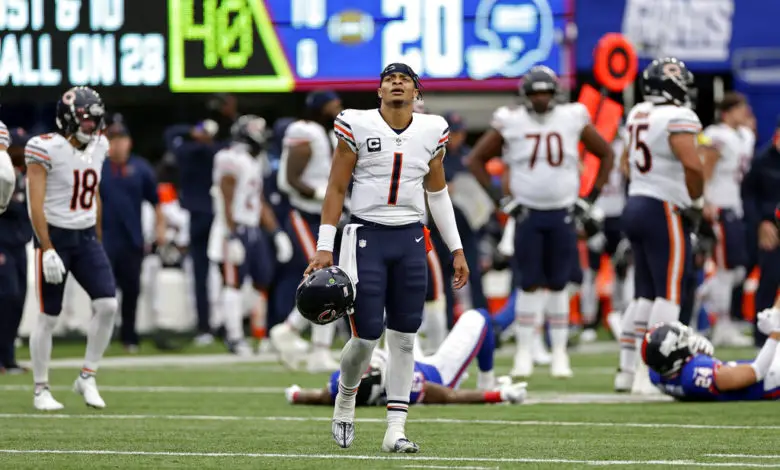 Analytics Prove Bears Have Highest QB Pressure Rate and Lowest Separation Rate
I hate that I have to constantly lead with the caveat that I'm not a Justin Fields apologist, but I also know that if you don't give a man the proper tools to get the job done he's almost always going to fail. In the case of Chicago's second-year starting quarterback, those tools would be wide receivers and a competent offensive line.
Has Justin Fields struggled? Yes

Does he have quite comfortably the toughest situation in the NFL? Also yes pic.twitter.com/gwWTvNxmD3

— Brad Spielberger, Esq. (@PFF_Brad) October 3, 2022
#Giants DT Dexter Lawrence had eight total pressures yesterday against the Bears.

That's tied for the most ever in a single game by a defender listed over 320 pounds.

— Doug Kyed (@DougKyed) October 3, 2022
The combination of an offensive line that can't block and wide receivers that cannot get separation is going to get Fields maimed, if not killed, before the end of the season. That graphic above also explains why Giants head coach Brian Daboll started putting nine and even 10 defenders in the box to stop Khalil Herbert on Sunday. The best way to beat the Bears is to render their rushing attack ineffective. That's what New York did, and that's why the Bears lost 20-12.
The Bears Lack Playmakers
As I mentioned yesterday, Chicago's personnel problems rest on the shoulders of Ryan Poles. The first year GM sought players with known blemishes because he felt they'd be hungrier. He wants players to prove they belong in the NFL. That they are the misfits and castoffs of other organizations doesn't bother Poles. However, if you field 11 players with a single glaring weakness or two, the lack of all-around group talent is exponentially amplified.
The newly-minted executive did not sign a single player in the first wave of free agency. Larry Ogunjobi was a borderline elite defensive tackle, but he failed to pass his physical. He was replaced by Chargers' castoff Justin Jones, who has been one of Chicago's better players this season. That's one instance of Poles' philosophy working. But so far, it's the only one.
"[Those players] have that chip on their shoulder that we're looking for, and I think that is the first step," Poles said after the first wave of free agency ended. "[Making] sure that we get the locker room right, the culture right, and all of those guys are hungry to make plays. You know when you get toward that second and third wave, you always have guys that felt like they deserved more, they felt like they were out to gain respect for how they played, but also they had an element of [putting the] team [first]."
Remember, Poles was once one of those players. But he never escaped the practice squad before retiring to work as a personnel executive.
The GM honestly believes that the bargain bin free agents will play better because they have more to prove. That is the precise summation of his thoughts regarding players no other GMs wanted. It's why the Bears tried to patch their line with Willie Wright, Riley Reiff, and Michael Schofield. That's also why Poles asked Fields to make do with receivers Byron Pringle, Dante Pettis, Equanimeous St. Brown, and N'Keal Harry. You could even apply that to Chicago's draft strategy. Most of Chicago's selections were fifth-year seniors who needed that extra year of eligibility to get noticed. Heck, Velus Jones Jr. was a sixth-year NCAA player.
Chicago's Coaches Need to Be Better 
Getsy and head coach Matt Eberflus deserve some blame, too. Getsy needs to find quicker routes to get Chicago's speedy receivers into the flat, and Eberflus needs to do a better job of forcing his offensive coordinator to adjust his game plan. Opposing teams have given the Bears the entire middle of the field. Getsy has no interest in using the passing game to expose that. If the running game is stopped then the Bears should switch to slant routes, bubble screens, and better play action. But they don't.
Fields needs to adjust, too. He can't just tuck and run at the first hint of pressure. Then again, if his receivers can't get open, what's the point of forcing the pass? And if the blockers aren't buying him enough time to keep the pocket clean, he has no choice but to run. Fields has been sacked 16 times in four games when he's opted to trust his pass blockers while waiting for his wideouts to get open.
I won't go as far as to say that Fields is being set up to fail. Something that egregious would most certainly get Poles and Eberflus fired as quickly as they were hired. But, the Bears desperately lack playmakers. Speed does the team no good if the receivers can't shed defenders or catch the ball. Linemen who can't protect the quarterback render an offense one-dimensional. The combination of the two is a recipe for disaster.
It's Incorrect to Solely Blame Justin Fields
Justin Fields was under pressure on 51.4% of his dropbacks against the Giants.

On plays where he was kept clean, he went 10-of-14 for 168 yards, with a PFF grade of 90.3

— Lorin Cox (@CoxSports1) October 3, 2022
Nobody should place the entire burden on Fields' shoulders. It's not fair, and it's an inherently flawed analysis. None of us needed Pro Football Focus to state the obvious, but at least now it's there for textual reference. The Bears can't block, they can't escape defenders, and they can't catch, at least not at an NFL level.
Before you ask, Cole Kmet has been a problem, too. But, I'll save that for a future column. Let's just say tight end needs to be at the top of Chicago's priorities this March.
It's also unfair to ask the coaches to make line adjustments if they don't have the personnel to do so. The best they can do is move Lucas Patrick to center, bench Sam Mustipher, and give Teven Jenkins the bulk of the reps at guard. Is that enough? It's not even close. But now Cody Whitehair is hurt, so expect Mustipher to stay at center with Patrick and Jenkins manning both guard positions. That's not going to provide Fields any comfort.
Another play another Mustipher BAD beat.

People ask why Fields doesn't step up in the pocket? It's because a 340lb just flashed right in front of him.#DaBears #Bears #BearDown #ChicagoBears pic.twitter.com/18F5OLwpiX

— Clay Harbor (@clayharbs82) October 3, 2022
What Happens After This Year?
It is fair to wonder if Poles will take the same approach to build his roster after this season. After all, he likes those underdog players, the misfits with chips on their shoulders with the need to keep their careers alive. Those types of players are happy to sign one-year prove-it contracts. That's not an optimal way to build a team around a quarterback that still needs development time. Maybe he can take chances with one or two subprime free agents. It's folly, however, to convince yourself lightning can strike several times. It just doesn't happen.
Two wins in three games provided a great deal of hope, despite the obvious flaws. The loss to the Giants exposed what most analysts knew about the Bears coming into this season. Chicago's roster has too many players who probably don't belong in the NFL. Even worse, too many of those players are being counted on to win ballgames. They cannot, and they will not. Not without better coaching, and for the rookies, not without a lot more reps.
Those who have a predetermined notion of Fields' abilities will point to his questionable judgment. He still hasn't started a full season of games, and he's working with his second coaching staff and second offense in two seasons. He does not have a true WR1, and outside of Darnell Mooney, he's stuck with a cast of receivers who would struggle to make the rosters of most teams. Aaron Rodgers was instrumental in getting St. Brown cut last season. Patrick Mahomes had little desire to work with Pringle in Kansas City, and for that matter, neither did Andy Reid.
The Bears signed Reiff after the Bengals released him, and Cincinnati had one of the league's worst offensive lines last season. Schofield is a seven-year veteran who the Bears placed on the practice squad, and nobody claimed him. If you still feel the need to blame Fields, don't forget to point out the GM and coaches who were supposed to build an offense based on the quarterback's strengths.
"What am I about and what's my philosophy?" Poles asked rhetorically at his first press conference. "We're going to build through the draft and we're going to acquire young, fast, and physical football players. We [will be] selective in free agency, and we're going to connect evaluation with valuation.
"I believe in Justin. Our staff believes in Justin. And like I've said from the beginning, we're going to set this up for him to succeed. I've gotten a lot of questions: 'But what about wide receiver?' We're going to do the best we can with the roster. We're going to improve the roster as well, but we're also going to [focus on] the scheme, the technique.
"We're going to have a relentless approach to fix our weaknesses. And, we're going to maintain great self-awareness of who we are. We're going to solve problems with open communication and candor. And we're going to consistently put players in a position to succeed. Finally, we're going to take the NFC North, and we're not giving it back."
Nothing that has happened this season reflects any of those statements, and that's not something Justin Fields should be blamed for.