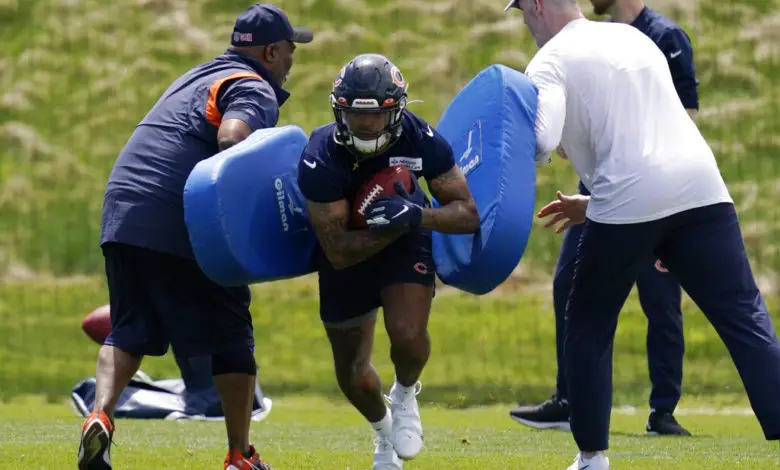 An Early Peek at Bears' New Offense
Offensive coordinator Luke Gesty has kept things pretty close to the vest through the Bears' minicamps and OTAs, but some details of his offensive plan are starting to emerge. Based on the players Chicago has acquired to complement Justin Fields, and by looking at what Getsy did in Green Bay, we can at least provide an early peek at the Bears' new offense.
🎯🎯🎯@Hyundai | #1920FootballDr

— Chicago Bears (@ChicagoBears) May 28, 2022
It's no secret that Getsy plans to blend the passing concepts of Kyle Shanahan's West Coast Offense with a zone running game. That's the base offense, and the Bears will rely on the running game and completing a high percentage of short passes to set up potentially explosive plays downfield.
By placing an emphasis on speed, Getsy intends to spread out defenses to create open space against teams that deploy run-heavy personnel groups. He'll ask Fields to use plenty of misdirection — handoffs, end-arounds, and bubble screens — to create mismatches. Look for the second-year quarterback to go off-script at times to become more of a mobile launching pad and buy time while he looks for open receivers downfield.
"I would say, 'Man, [Fields] throws a good deep ball,'" head coach Matt Eberflus said last week. "I'm excited about that. You could see it in the 7-on-7 and 11-on-11s. We're going to take our shots down the field. He does a nice job doing that, and that's what stands out to me."
The Bears will look to improve on a number of key metrics in 2022. Eberflus and Getsy know Chicago needs to average more yards per play and more points per drive. They also want to improve the percentage of drives that result in a score. The '21 Packers ranked eighth in the league in offensive efficiency as measured by Football Outsiders' DVOA. The Bears were No. 24.
What will Getsy do to improve efficiency? It comes down to a few simple tenets that are staples of any offense.
Increase the number of positive yardage plays.
Less predictability.
Win the battle for time of possession.
Reduce penalties and turnovers.
The Bears will use the running game to move the ball downfield in small chunks. That means David Montgomery will have to do much better than the 3.8 yards-per-carry he averaged last season. Montgomery is one of the best in the league at accumulating yards after contact, so it will be up to Chicago's offensive line to open holes and get the running back beyond opposing defensive linemen. Look for Khalil Herbert to see more playing time this year, and rookie Trestan Ebner could see some time as a pass-catching back. If the Bears can't run this season, the passing game will lose effectiveness.
"Justin will be a much better quarterback if we can be productive running the football," running backs coach David Walker said. "That's going to open up a lot of stuff for him."
Gesty won't just rely on the run, however. Fields will count on receivers Darnell Mooney, Velus Jones Jr., and Byron Pringle to matriculate the ball downfield via the short pass. That means Fields will need better mechanics and a quicker release this year. He'll also have to do a better job at reading defenses. Getsy will be asking his quarterback to combine quicker decision-making with an improved release to create easy, low-risk plays, the NFL equivalent of "layups," which will be the hallmark of the new offense.
"We're always just trying to be efficient and compact," quarterbacks coach Andrew Janocko said this week. "Everything starts with our feet and building it from the ground up. And then from there just being compact and allowing him to have the best release possible from the ground up, from the waist up, with his base and all that."
"Justin Fields' work ethic is insane. He's in the facility everyday. I know with this week off a lot of people aren't there right now but he's still in the building everyday. That motivates me to see my QB putting in the work."
– Chicago Bears WR Velus Jones Jr

(Via @SIRIUSXM)

— Daniel Greenberg (@ChiSportUpdates) June 3, 2022
Efficiency in the short game will make Fields and his receivers much more dangerous when attempting to strike downfield. With that in mind, look for the Bears to deploy a diverse screen game to reduce turnovers and disrupt defenses. Getsy will want to get the ball into the hands of his playmakers with plenty of blockers and open space. Screens also reduce the number of offensive line penalties, keep the chains moving, and will give Mooney, Jones, Pringle, and WR4 Equanimeous St. Brown more opportunities to create big plays on the perimeter.
A look at Green Bay's offense under Gesty shows that the Packers used pick routes more than any team in the NFL. Look for the Bears to do the same. That should help free Mooney for big plays, but the design means that TE Cole Kmet will be more involved in this year's offense, too. It wouldn't be wrong to expect Mooney and Kmet to lead the team in targets and catches this year. Gesty sees the value in making the tight end an elite offensive weapon.
"I've been very impressed with Cole," Getsy said. "Just the ability, the flexibility as a player, I think he has all that stuff. So I'm excited to see him have a bunch of different roles in our offense.
"Some players that are out there, they're kind of like this is what they do well. But I think the more guys that you can get in a system that can do a bunch of different things, the more success you're going to have, and I think Cole is one of those guys."
Kmet has been equally impressed with the new offense, a sure sign that Getsy intends to get the tight end more involved in the passing game.
"I don't want to get too much in detail with it, but Justin's on the move a lot, and I think he does well with that," Kmet said. "That's been exciting to see, and you see the types of throws he can make with his legs and on the run and off-schedule."
More than anything though, the key to the entire scheme will be the offensive line. First-year GM Ryan Poles asked his linemen to be lean and fast to improve their zone blocks. Teven Jenkins, who has been moved from left to right tackle, utilized Pilates while eliminating carbs to drop from 345 lbs. to 325.
"It is a big difference," Jenkins said of the scheme. "It's a lot faster pace, a lot more up-tempo, getting around, setting edges, all that stuff. How that affects you is you got to slim down a little bit more, get faster, [and] speed up in certain areas."
If everything clicks, it will be a joy to watch Fields continue to develop on-field chemistry with Mooney, Jones, Montgomery, and Kmet. Getsy will demand precision, which means concentrating on footwork, ball placement, and down-and-distance awareness. Because the second-year quarterback has such an accurate deep ball, opposing defenses will prepare to eliminate that threat. If the offense becomes as proficient as Getsy and Eberflus believe it will, defensive backs will no longer be able to cheat or they'll give up large chunks of yards underneath.
The Bears' late-season 45-30 loss to the Packers at Lambeau Field offers incredible insight into Chicago's plan of attack this year. A couple of big plays gave the visitors an early lead before Green Bay forced 14 points off of two turnovers and then buried Chicago with its running game and short passing attack. Aaron Rodgers finished 29-of-37 for 345 yards and four touchdowns, Davante Adams caught 10 of 13 targets for 121 yards and two scores, and the Packers averaged 4.95 yards per rush while providing a clinic in offensive efficiency.
At its peak, and if all goes according to plan, the Bears' offense will look strikingly similar. It's no wonder Chicago's players and coaches are so excited to get started.