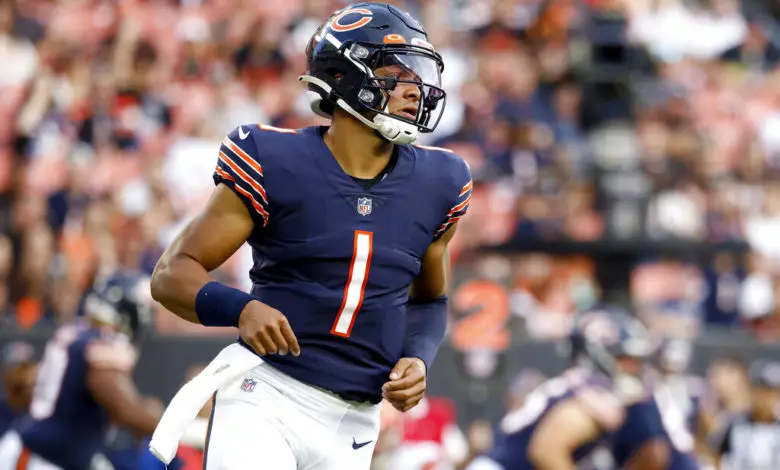 10 Bold Predictions for Bears Heading into 2022-23 Season
The night before Opening Sunday is bittersweet. Most people call September 1 the start of meteorological fall but I think the start of the NFL season serves as a better benchmark. Here in the Midwest, we've still got about six weeks of mostly decent weather, but make no mistake, summer is now in the rearview mirror. I listed 10 bold predictions for the Cubs last week over at Cubs Insider, and this evening I'll make a similar list for the Bears.
The Bears Will Win 10 Games This Season
I already covered this in an earlier post, and Chicago has the league's fourth-easiest schedule based on last year's records. A lot of writers and analysts are ranking the Bears far too low, and the Bears (as a team) enter the season with a big chip on their shoulder. Head coach Matt Eberflus is tuning out the noise, and the players are, too.
"In today's age, everybody looks at everything. It's part of our life now," Eberflus said. "You understand, you put that in a bucket, it's an opinion of somebody's or it isn't fact. We write our own story. I told the guys that all the time — we're writing our own book."
Cornerback Jaylon Johnson echoed his head coach's sentiments.
"I mean, for me, shit it bothers me," Johnson said Friday. "I see it. You get the mentions. Honestly, anybody that says they see it and it doesn't bother them, I think they're lying."
Sunday's game against the 49ers will be a barometer with which to measure the season. If the Bears pull off the upset, they have a legitimate chance to go 3-1 through the first quarter of the season. If they lose, wins might be tougher to come by, especially if Chicago loses badly. San Francisco is a seven-point favorite.
The Bears Defense Will Be Among the NFC's Best
I haven't had a chance to thoroughly assess AFC defenses, but I've got a pretty good read on the NFC teams. Chicago's weakest group last season was the secondary. This year that group is a strength. GM Ryan Poles sent a loud message when he drafted Kyler Gordon and Jaquan Brisker with his first two picks. Johnson has been one of the team's best defenders, and Eddie Jackson has promised a bounce-back season.
The Bears are buying into Eberflus' HITS philosophy. That stands for hustle, intensity, takeaways, and (playing) smart. Roquan Smith is a big believer, too.
"When you have those types of guys in the locker room and a good leader in 'Flus' and [coordinator] Alan [Williams] from the defensive side," said Smith, "it makes guys want to buy in like, 'OK, this is what it's going to take? OK, we're all for it. Let's go.'"
13th sack of the season for Robert Quinn ‼️#CHIvsGB | #ProBowlVote pic.twitter.com/O5vxtI23pq

— Chicago Bears (@ChicagoBears) December 13, 2021
Robert Quinn is confident in Chicago's defense ahead of Sunday's game. The veteran defensive end also believes there is talent across the entire unit.
"I think we will be a great defense," Quinn said. "Again, we've got great players at every position. Like I said earlier, can we do it consistently and often? That will determine how great we really are because we've got great players. Now, can we collectively do it together?"
Poles and Smith Will Reach an Agreement on a Contract Extension
Though negotiations seemed to be a little testy at times, I believe Smith wants to stay with the Bears, and I also believe Poles wants Smith to be part of Chicago's next playoff team. The two sides aren't that far apart in terms of total money, but some of the terms reportedly bothered Smith. The linebacker is intent on being one of the game's highest-paid at his position.
"First of all, he's a good player, Poles said last week. "That's never changed. And he's a good dude. I have faith that he's going to have a good year and we'll work on our relationship and all that. We've all been there, right? You have disagreements and you have to come back together and be teammates. That's what I expect. We've shifted gear, and it's all ball now."
Give Smith credit for leaving the financial matters behind. He expects to have a big season, just as he's had every season since he was drafted by the Bears.
The Bears Will Beat the Packers This Season
I had them losing both games in my initial predictions, but I'm wavering a bit. Why? Green Bay's receivers room is a mess and Aaron Rodgers doesn't have a go-to tight end either. That means the Packers are going to be relying on a mixture of veterans who have been in supporting roles (Allen Lazard), unproven young players (Amari Rodgers), and rookies (Christian Watson, Romeo Doubs).
Aaron Rodgers runs it to the house and lets Chicago Bears fans know

"I STILL OWN YOU. I STILL OWN YOU." pic.twitter.com/GQHz0ONUoT

— IKE Packers Podcast (@IKE_Packers) October 17, 2021
The Packers lack depth at secondary, too, though the group is not in the same class as Chicago's 2021 defensive backfield. I think most of the Packers' opponents are going to challenge Rodgers and company into high-scoring affairs. In years past, that was the recipe for a guaranteed loss. Not this year. Watch how the Vikings attack Green Bay on Sunday. If they goad the Packers into a high-scoring game and win, the Bears are likely to create a similar game plan. Chicago could leave Lambeau Field with an upset win, something that one player guaranteed last year.
The Packers used 11 picks in the draft but didn't add a defensive back with any of them. A healthy Jaire Alexander, Eric Stokes, and Rasul Douglas are a strong trio at the corner. Adrian Amos and Darnell Savage are decent safeties, but there is no room for injuries. Subsequently, running those guys ragged will be the key to beating the Packers this year. Chicago will have to eliminate turnovers, however.
Four Bears Players Will Make the All-Rookie Team
The Bears are starting the season with 15 first-year players, and four are starting. Gordon and Brisker are easy choices but left tackle Braxton Jones looks primed to have a strong season, too. Punter Trenton Gill is a near certainty, and he might even get some All-Pro and Pro Bowl votes, too. Keep an eye on Jack Sanborn. He's an overachiever who steps up whenever he's asked to. If Sanborn gets enough playing time, he has a shot to make All-Rookie, too.
Quinn Will Not Be Traded Mid-Season
The front office and coaching staff like Dominique Robinson a great deal, and he's a future starter. But, he's just not ready yet. Even if Chicago is as bad as most analysts are projecting, Quinn provides a great deal of value as a mentor to D-Rob. In fact, a scenario exists where Poles could agree to rework the defensive end's contract to give Quinn a little more security.
The Bears Will Have a 1,000-Yard Rusher This Season
David Montgomery is a happy man these days, and that's because Luke Getsy plans to give him a significant increase in carries this year. Because the fifth-year running back is in his contract year, expect him to take advantage. You'll see Montgomery smiling everywhere except when he's carrying the ball. He's an angry runner who knocks defenders on their asses once he has the ball in his hands.
Montgomery's success will keep defenses from keying on Justin Fields and Darnell Mooney. If defenses do not respect Chicago's running game, Montgomery will run wild. If they go into games intent on stopping the run, Fields will pick them apart across all three offensive zones. Montgomery will get his stick if he stays healthy.
Fields Will Throw for 4,000 Yards
The Bears have never had a quarterback throw for 4,000 yards in the history of the franchise. Fields will be the first. That's not really a bold prediction, however. If the second-year quarterback can stay healthy all season, he needs to average about 253 yards passing per game to reach that benchmark. Last year 10 quarterbacks threw for 4,000+ yards, and seven others finished within 400 yards of that mark.
He's blocking out the noise & ready to ball 🤫

Get ready for @justnfields Year 2 pic.twitter.com/5kxCczgRof

— Chicago Bears (@ChicagoBears) September 10, 2022
In order for Fields to do that, he's going to have to get the most out of all of his receivers not named Mooney. Cole Kmet should have a big year. If he and Mooney can combine for 2,300 yards, Fields should be able to get the extra 1,700 yards among Equanimeous St. Brown, Byron Pringle, Velus Jones, Jr., Dante Pettis, and Ihmir Smith-Marsette. Don't forget that N'Keal Harry is supposed to return sometime this season, too. I know the Bears lost Allen Robinson, but their receivers group is much better this season even without him.
"I'm tired of the three to four plays we ran in [the] preseason," Mooney said the other day. "I'm ready to open this thing up and get everybody off our back."
Bear in mind, that 4,000 yards and a winning season do not go hand-in-hand. Indeed, Fields may get there because he has to play a lot of come-from-behind football.
Luke Getsy Will Be the League's Top Head Coaching Candidate 
If the Bears win with his offense, and if Fields, Montgomery, Mooney, and Kmet have breakout seasons, this prediction is a no-brainer. Some analysts suggested Getsy was a better candidate this season than Nathaniel Hackett, who left the Packers to coach the Broncos. Expect Getsy's name to come up frequently by the middle of November, if not sooner.
Poles Will Trade Down if He Gets a Top-Five Draft Pick
If the Bears play as poorly as analysts suggest, earning a high draft pick, expect Poles to trade down. It's possible that four quarterbacks could be chosen among the first 10 selections. The class is led by Bryce Young (Alabama), C.J. Stroud (Ohio State), Will Levis (Kentucky), and Anthony Richardson (Florida). Poles could trade down, stay in the top 10, and then select wide receiver Jaxson Smith-Njigba (Ohio State) or Kayshon Boutte (LSU). If heaven forbid, the Bears get the No. 1 overall pick, they could trade it to Seattle for the Nos. 4 and 21 picks. Let's hope it doesn't come to that, though. DraftTek.com has Chicago sitting at that top spot entering play tomorrow.