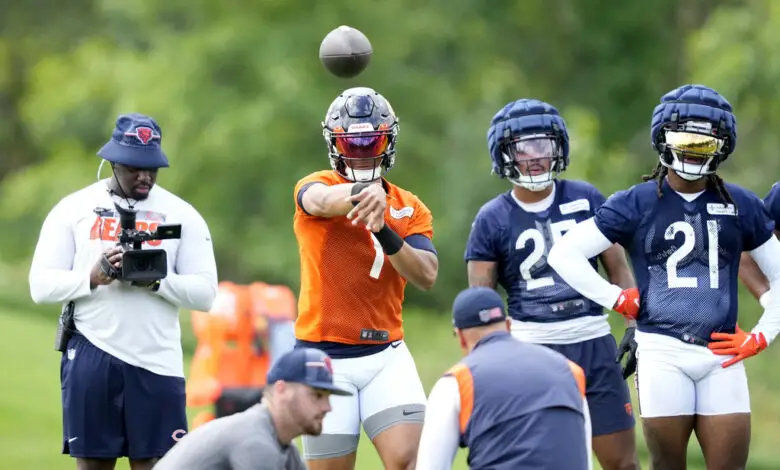 Will Justin Fields Throw for 4,000 Yards?
In a very bold statement earlier this summer, Justin Fields boasted that he will throw for 4,000 yards this season. That's a nice number and would put him in the group of quarterbacks considered elite. But is it realistic? Let's break it down.
Justin Fields has big goals this season:
Be the first #Bears QB to throw over 4,000 yards 👀

Fields out here proving that he DEFINITELY can throw a dot 🎯

(h/t: @DeeksViewOG)#DaBears

— The Athletes Plug (@TheAthletesPlug) July 31, 2023
First of all, it's important to note that no Bears quarterback has ever thrown for 4,000 yards in a season. Jay Cutler didn't do it. Erik Kramer came close in 1995. Fields threw for 2,442 yards in 2022, good for 26th overall in 102 years of Bears football. If he adds 100 yards per game to that total and stays healthy all season, he'll hit 4,000 yards. But that's asking a lot.
Fields has never thrown for 300 yards in one game. He came close during his rookie season, notching 291 yards in a 29-27 loss to the Steelers, and 285 yards in a 17-9 loss to the Vikings. His highwater mark last season was 254 yards in a losing effort to the Packers. In fact, Fields eclipsed 200 yards on just two occasions in 2022. So yes, adding 100 yards per game isn't the easiest target. The smart approach, therefore, is to wait and see.
It's also important to remember that Chicago's offense favors the running game. The Bears averaged 177.3 rushing yards per game last year, but Fields account for just over 76 yards per contest. David Montgomery signed with the Lions in the offseason and Khalil Herbert is the incumbent until he isn't. Chicago signed D'Onta Foreman and Travis Homer as free agents, and drafted Roschon Johnson, who might be the best back in the group.
Additionally, Cole Kmet is coming off of a breakout season, one that earned him a hefty contract extension. The Bears also signed Robert Tonyan, who had some big years with Green Bay. Last week they added another former Packer to the tight end room when they signed Marcedes Lewis, who's considered a monster blocker.
GM Ryan Poles is doing his part to help Fields reach his stated goal. He traded for D.J. Moore and beefed up the offensive line with first-round tackle Darnell Wright. The Bears moved Cody Whitehair to center, his best position, and signed Nate Davis to play guard opposite Teven Jenkins. But Davis and Jenkins are currently hurt, Whitehair is struggling, and Wright is a rookie. Braxton Jones can't block five defensive linemen at once. If visions of Lucas Patrick, Larry Borom, and Ja'Tyre Carter are dancing in your head, you might be having a nightmare.
NFL insider Arye Pulli reported that Fields' teammates can see an improvement in all areas of his game. That's important, because the third-year quarterback tends to hold the ball a little too long, and chooses to run instead of checking off to other receivers. He can be gunshy at times, too, opting to run instead of trusting his arm to hit the open receiver. Darnell Mooney believes Fields can hit his goal.
#Bears WR Darnell Mooney told reporters that QB Justin Fields is a different than last year, and improved in a number of areas.

Mooney: "We'll do a two minute drill and he'll call the plays himself. That's something that he wasn't able to do last year."

Last year he told… pic.twitter.com/0A06HjFwSp

— Dov Kleiman (@NFL_DovKleiman) August 2, 2023
There is a caveat to adding all of that talent. What happens if Fields doesn't improve? The last thing Poles wants to do is to start looking for Chicago's next franchise quarterback. If it comes down to that, you can add another three years to the current rebuild. Now Fields has to put his money where his mouth is.
Here is a list of quarterbacks who threw for 4,000+ yards last season:
Sportsbooks will let you bet for or against Fields in his attempt to make team history. A $10 bet will win you $150 if the young quarterback hits his mark. If you're feeling lucky, lay down a hundo and let the spinning wheel spin. You'll take home $1500, and Fields will have likely led the Bears to the playoffs. The consensus among sportsbooks is that 2,800 to 3,000 yards is a more realistic target.
Do I think Fields will bomb defenses to the tune of 4,000 yards in 2023? I'm more comfortable stating he will once again lead the team in rushing yards. I believe a 4,000-yard season is in his future, but Fields probably won't hit that mark this year. The Bears need an elite receiver, like Justin Jefferson, Davante Adams, or the next Jerry Rice, if Fields hopes to be among the best passers in the game.