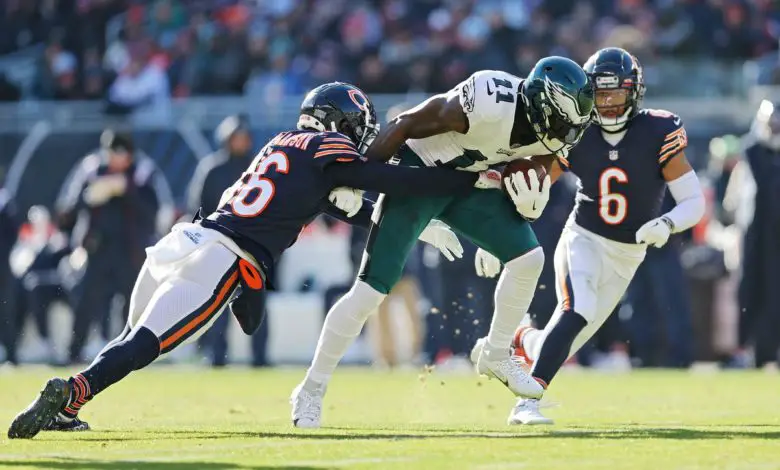 Chicago Bears Score and Recap (Week 15): Eagles 25, Bears 20 – Bears Put Up Big Fight But Lose to First Place Eagles
The Chicago Bears welcomed the mighty Philadelphia Eagles to Soldier Field Sunday afternoon. It turned out to be a much closer game than anticipated even though the final outcome went as expected.
The Bears defense held tough through most of the first half keeping the explosive Philadelphia offense to just three points. Justin Fields had another dazzling quarterback run to set up a David Montgomery touchdown and despite a botched extra point, the home team led 6-3.
It was at that point that Jalen Hurts, who had been struggling early, came back to life. The MVP candidate scored a touchdown on a 22-yard run through a gaping hole at the end of the half to make it 10-6 Eagles.
Philly came out of halftime with a 58-yard kickoff return by Boston Scott that led to a quarterback sneak touchdown by Hurts. It looked like the Eagles were getting ready to pull away up 17-6 but then RB Miles Sanders fumbled a screen pass.
Philadelphia's third turnover of the game led to Montgomery's second touchdown of the day on a dump-off pass and the Bears only trailed by four. Things stayed that way well into the fourth quarter when stud receiver A.J. Brown finally got free for a 68-yard reception and Hurts snuck in a third TD.
Fields, battling leg cramps that briefly kept him out of the game, hit Byron Pringle for a 35-yard touchdown to reduce the lead to 25-20. That was as close as the Bears would get, however, as an onside kick failed and the Eagles were able to run out the clock. (Box score)
Why the Bears Lost
The Eagles very talented offense was just good enough to overcome a spirited effort by the injury ravaged Bears defense. Philadelphia's pass rush was all over Chicago's weak offensive line forcing Fields to run for his life.
Key Moment
Brown's long catch came on a 3rd down and 6 deep in Eagles territory. If Chicago had forced a punt in that spot they may have been able to pull out a victory.
Stats That Matter
Justin Fields was great again throwing for 152 yards and two touchdowns and running for 95 more. He is the first Bears quarterback to run for 1000 yards in a season and only the third in NFL history.
Montgomery had 91 combined yards running and receiving and scored twice.
Cornerback Jaylon Johnson had a very good day matching up with A.J. Brown. Despite the big catch late, he kept the big WR in check most of the day.
Bottom Line
The Bears really put up an impressive battle against possibly the best team in the NFL. The Eagles may have been having an off game but still the defense looked as good as it has in months. Fields had another great game and was luckily able to escape injury after being sacked six times. Also if you are hoping for the second overall pick this loss was very important.
Next Up
It's another home matchup against one of the best teams in football when the Buffalo Bills come to Soldier Field Saturday, December 24 for a Christmas Eve showdown. The 12pm CT kickoff is available on FOX.