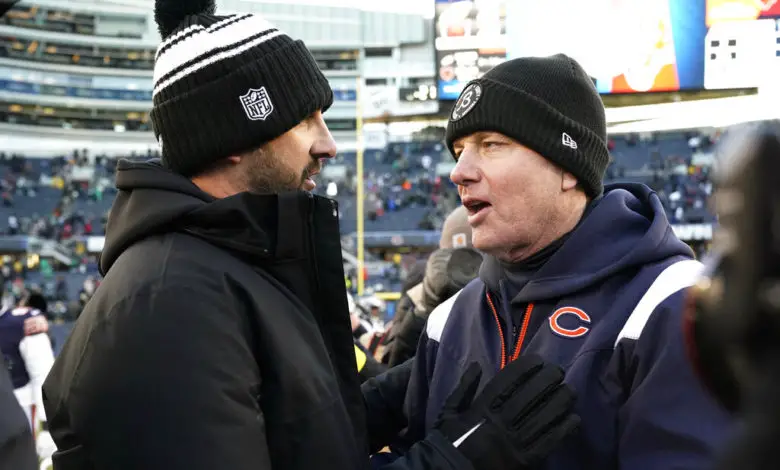 Draft Pick Jockeying: Loss to Eagles Puts Bears Back in Top Two
The Bears lost their seventh straight game on Sunday, their eighth one-score defeat of the season. With a 3-11 record after its 25-20 loss to the Eagles, Chicago showed marked improvement while protecting the No. 2 overall draft choice. The Broncos gave the Bears a big boost by beating the Cardinals 24-15. Arizona was without starting quarterback Kyler Murray, and both teams fell to 4-10. The Bears have three games left, and even if they win one of those tilts they'll draft no lower than fourth.
GM Ryan Poles has a number of needs to address once the season ends, but he's sitting on a treasure chest of assets to quickly improve the team. The rookie executive should have between $125-$135 million in cap space, and he holds nine draft choices. If Chicago holds the second selection, they'll start the draft with the Ravens' second-round pick and their own third-round choice. That would be numbers 57 and 66 based on today's standings.
Poles could trade down to a team that needs a quarterback, and there are nine of them at last count, or he could keep his choice and help his defensive line. The Bears entered Sunday's game with the league's worst pass rush and the fewest sacks in the NFL. Poles could select one of Will Anderson (EDGE, Alabama), Jalen Carter (DT, Georgia), or Myles Murphy (EDGE, Clemson). I prefer Murphy is Anderson is not available when the Bears make their selection. More on that below.
Jalen Carter vs. Will Anderson Jr.

Who you taking #Bears fans?@Eric_Edholm shares his thoughts. pic.twitter.com/Olys5gv6Ji

— CHGO Bears (@CHGO_Bears) December 14, 2022
Four teams are now officially eliminated from postseason contention with three games remaining. Here are those teams with records, strength of schedule, and their remaining opponents. The Seahawks own Denver's first pick.
Texans (1-12-1) .408: Titans (7-7), Jaguars (6-8), Colts (4-9-1)
Bears (3-11) .690: Bills (11-3), Lions (7-7), Vikings (11-3)
Broncos (4-10) .548: Rams (4-9), Chiefs (11-3), Chargers (8-6)
Cardinals (4-10) .476: Buccaneers (6-8), Falcons (5-9), 49ers (10-4)
If the Bears win out, which they will not, they'd pick no lower than 10th based on total possible wins and tiebreakers.
Chicago's key free agents are RB David Montgomery, OL Sam Mustipher, and wide receivers N'Keal Harry and Dante Pettis. Montgomery is the likeliest of the four to be retained, but that's certainly no guarantee with Poles, who has now traded Khalil Mack, Robert Quinn, and Roquan Smith. The GM also let WR Allen Robinson and a host of other players leave via free agency.
In addition to needing help on the defensive line, the Bears also need wide receivers, offensive linemen, and linebackers. But, as mentioned earlier, Poles is armed with a lot of weapons to get his team the players it needs. Based on those needs, here are the top ten players expected to reach free agency:
It's also worth noting that Smith will be a free agent, though a reunion with Poles seems unlikely given his demands and previous negotiations with the team.
The Seahawks could be interested in Chicago's first-round pick if only to block another team that needs a quarterback from jumping ahead. That's a sweet irony considering that that's exactly how the Bears were able to draft Mitchell Trubisky in 2017. The Bears gave the 49ers the No. 3 pick in that draft, plus their third- and fourth-round selections to jump one spot. Former GM Ryan Pace also gave San Francisco a third-round pick in 2018. The Colts, Panthers, and Falcons could also pursue Chicago's spot. None of those teams have multiple first-round picks, however, so the Bears don't have much leverage to force Seattle into moving up.
That means Poles is probably going to keep the No. 2 pick, and he'll use that selection to help his defensive line. The Texans are expected to drat one of the top quarterbacks, either Bryce Young (Alabama) or CJ Stroud (Ohio State). That said, Lovie Smith is the head coach at Houston, and he could change the dynamic of the draft completely by taking Anderson, Carter, or Murphy. Smith's defense is only slightly better than Chicago's. The Texans can wait until the 13th pick to select a quarterback. Anthony Richards (Florida) and Will Levis (Kentucky). Bo Nix (Oregon) has decided to return for his senior season.
In fact, I really don't see a scenario where Anderson drops to the Bears at number two. The Texans have 13 selections next April. It's entirely possible that they'd consider trading Nos. 13 and 33 to Poles to have the top two picks in the draft. Houston GM Nick Caserio would have to include the No. 75 pick and something of value in 2024 to make that trade work.
It's still a little too early to speculate, however. The Bears will be heavy hitters in free agency, which commences March 15, 2023. Lamar Jackson and Geno Smith will be free agents, and so will Brady if he plays another season. The Seahawks would like to retain Smith and could saddle him with a franchise tag. Jackson could end up with the Lions if the Ravens do not tag him. In fact, he's stated a preference to play for Detroit. The franchise tag will be worth $19.1 million dollars.
Daniel Jones of the Giants and Jimmy Garoppolo of the 49ers could be available, too. The Bears are set at starting quarterback with Justin Fields, obviously.