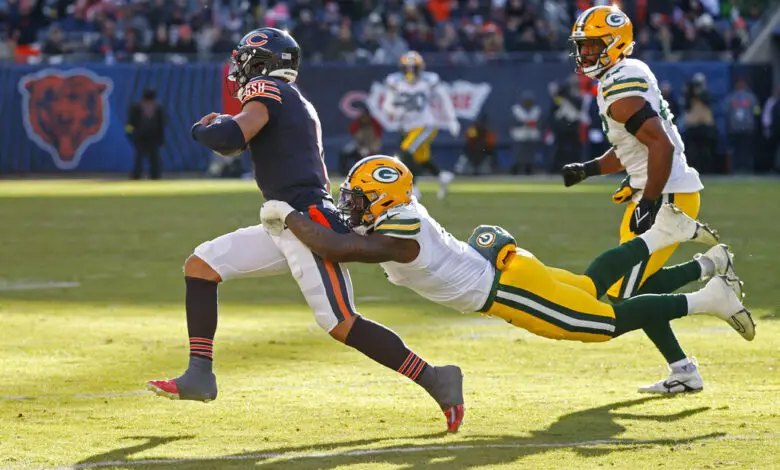 Bears Game Day: Burns Like a Red Coal Carpet
Football season is here and the Bears are launching their 2023 campaign against their most bitter rival. In the immortal words of Jaquan Brisker, "People hate Green Bay. I hate Green Bay." Let your freak flag fly, Jaquan. I'm here for every bit of it.
It's easy to hate the Packers, so Brisker isn't providing any new insight. They've dominated Chicago for the better part of three-and-a-half decades. Maybe the Bears cursed themselves when they fired Mike Ditka, but only Lovie Smith has found any semblance of success against the team's rivals from North of the Cheddar Curtain. The Packers have won the last eight games in the rivalry and 36 of 43, including a 21-14 win in the 2010 NFC championship game.
Bears fans see today's game as a clean slate because Aaron Rodgers is gone. Rodgers owned Chicago and backed it up with win after frustrating (read: nauseating) win.
Aaron Rodgers still owns Chicago. 😅🤷‍♂️ pic.twitter.com/hS47i1Jvra

— theScore (@theScore) December 5, 2022
"War, children, it's just a shot away."
The Bears are better this year than last, and the jury is still out on Green Bay because little is known about Rodgers' replacement Jordan Love. The Packers have a good defense and a better running game. They're built like those 1980s Bears teams that used to bludgeon their divisional brethren. Chicago's offense is a work in progress, but Luke Getsy is confident that success will find Justin Fields this year.
"If I don't get some shelter, ooh yeah I'm gonna fade away."
Fields may be more proficient in Getsy's offense, but if the offensive line doesn't stop Green Bay's pass rush, he's going to have a long day. The line is in flux just like it was at this time last year, and there's going to be no monsoon like the one in last year's opener to level the playing field. The Bears will lose if Fields is sacked five times or more.
The Bears are favored by a point and a half, and the over/under is 41.5. Chicago is -123 on the money line, meaning you must bet $123 to win $100. I'm taking the Bears minus the points and the over, though Green Bay's ground game still scares me. Chunk plays will decide the game, and the team that has more will win. I'll take Chicago.
Field Conditions
Sunday's weather calls for sunny skies and low-to-mid 70s temperatures. Winds will be ENE at 5-10 mph and will not be a factor. The turf at Soldier Field will be dry and fast. The Bears have a lot more playmakers this year, so that should be an advantage. Green Bay is hurting, but more on that in a minute.
Bears Trends
Chicago beat the 49ers in last year's home opener, and head coach Matt Eberflus excels when he has more than a week to prepare for his opponent. The Bears are 9-14 in season openers since 2000. They were 5-11-1 against the spread last year but have won nine of the last 15 games that they've entered as home favorites.
Packers Trends
The Packers lost last year's opener to the Vikings in a game where Rodgers clearly lacked chemistry with his receivers. Head coach Matt LaFleur has yet to lose to the Bears, and Green Bay is 8-2 against the spread as underdogs during the last two seasons. The Packers have beaten the Bears by seven points or more in each of their previous eight contests.
Why the Bears Will Win
DJ MOORE FOR SIX

📺: #TENvsCHI on @NFLNetwork
📱: Stream on NFL+ https://t.co/bBFpXevVUR pic.twitter.com/FLD23yTXeZ

— NFL (@NFL) August 12, 2023
Fields has a new weapon in D.J. Moore and greater depth at wide receiver. Chicago lost running back David Montgomery but has taken a page out of the Packers' playbook. Getsy will run Khalil Herbert, D'Onta Foreman, and Roschon Johnson at teams this season in the same way Green Bay relies on Aaron Jones and AJ Dillon.
Chicago's offense will put up big numbers if Fields has pocket protection. The running game will help keep Green Bay off balance. Foreman rushed for 914 yards last season while Herbert rushed for 731, averaging 5.67 YPC. Fields ran the ball 160 times for 1,143 yards and excels on designed running plays.
That said, the defense will determine if the Bears win or lose today. Opponents scored at will last season and on far too many possessions. GM Ryan Poles signed playmakers Tremaine Edmunds and T.J. Edwards to play linebacker. He also added Yannick Ngakoue, DeMarcus Walker, and Andrew Billings to beef up their front four. Rookies Zacch Pickens and Gervon Dexter Sr. are waiting in the wings. If that group puts pressure on Love and stops Jones and Dillon, the Bears will win the game.
Will the defense be up to the task? The unit as a whole is unknown, so we'll find out this afternoon.
Love won't be able to rally the Packers the way Rodgers did for over a decade. Look for the Bears to try to score early and force Love into obvious passing situations. The best thing Chicago can do to help itself is render Jones and Dillon useless.
Why the Packers Will Win
Love attempted only 33 preseason passes but completed 64% and had three TD passes without an interception. The Packers have selected eight pass-catchers in the past two drafts, but they'll rely heavily on Jones and Dillon. The Bears had trouble keeping runners in front of the linebackers last year, so Green Bay is going to test that front seven until the Bears force Love to throw the ball.
Dillon has scored at least one touchdown in five of the past six games. Christian Watson and Romeo Doubs combined for 83 catches for 1,036 yards. Watson has been ruled out and Doubs is questionable, so the Packers are going to need big games from their running backs. Green Bay was 1-2 last season when Watson was inactive.
The Packers will also be hoping for big games on defense from Kenny Clark and Jaire Alexander. Clark has 4.5 sacks in the past six meetings with the Bears. Alexander has three interceptions against Chicago and finished last season with five.
Key Stats
The Packers rank 31st  of 32 teams with 4.73 yards allowed per carry during LaFleur's tenure.
The Bears, meanwhile, ranked No. 1 in the NFL last season with 5.41 yards per carry. Fields, whose 1,143 rushing yards last year rank second all-time at the position, averaged a league-high 7.14 yards per carry. Herbert ranked fifth with 5.67 yards per carry.
Green Bay ranked 12th with 4.63 yards per carry while Chicago was 27th with 4.93 yards allowed per carry.
Green Bay's defensive line is inexperienced and a big question mark. Clark is the only member of the unit that has more than 600 career snaps.
The Packers have no big-play receivers without Watson, who recorded five plays of 27 yards or more last season. Doubs had zero, and averaged a mere 10.1 yards per catch last season.
Edmunds, a two-time Pro Bowler with the Bills, has topped 100 tackles in each of his five seasons. Edwards ranked among the NFL leaders with 159 tackles last season.
Injury Reports
Bears: Linebacker Dylan Cole (hamstring) is questionable. Brisker and Eddie Jackson were full participants in practice for the second consecutive day and are off the injury report.
Packers: Watson is out (hamstring) and Doubs' availability (hamstring) will be a game-time decision.
Bears Players of the Game
Fields, Moore, and Herbert, of course. But give me rookie right tackle Darnell Wright and fellow rookie cornerback Tyrique Stevenson. I'm tired of hearing about who the Bears should have drafted instead. Ngakoue and Walker will get to Love. Johnson will have one or two jaw-dropping runs. Brisker will have a sack and force a turnover.
Predictions
Our own Sean Holland previewed today's game on Friday and gave the Packers a 17-14 win. I respect Sean's opinion but I'm far more bullish on the Bears. Injuries at wide receiver will make Green Bay's offense one-dimensional. I'm expecting big games from Fields, Moore, and Herbert because Green Bay's defense is never as good as the press makes it out to be. Rodgers is gone, and Fields has an opportunity to become the division's best quarterback, apologies to Love, Jared Goff, and Kirk Cousins.
The Bears have to beat LaFleur sometime and it starts today, and Eberflus will be fully prepared to end his streak. I'm taking Chicago 31-16 in a game that will send notice to the rest of the NFC North that the Bears are contenders.