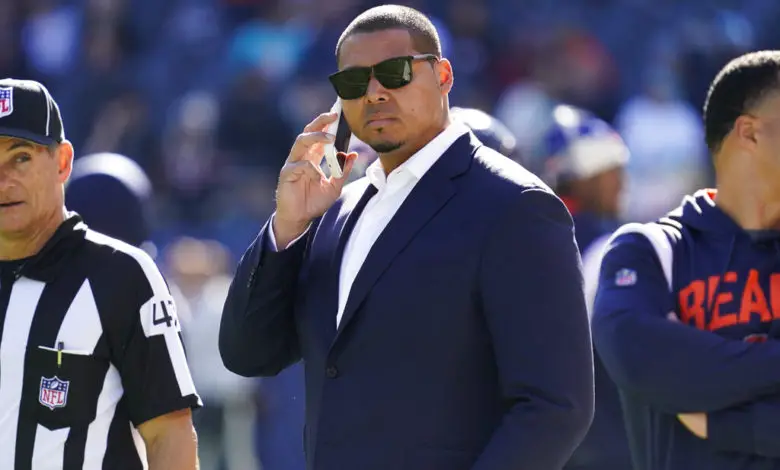 Watch: Ryan Poles Breaks Down Bears' Blockbuster Trade
Hear from general manager Ryan Poles as he discusses his pre-draft deal with the Panthers for the No. 1 overall pick. Then go behind the scenes with a few of the players and the Bears' free-agent signings as they arrive in Chicago. Finally, go in-depth with the scouting staff to learn more about contract negotiations and analytics.
Poles was adamant that he get the package he wanted, which included wide receiver D.J. Moore and future draft picks. Moore gives QB Justin Fields the No. 1 wide receiver that the team has been missing since the signal-caller was drafted. Chicago's receiver room now includes Moore, Darnell Mooney, Chase Claypool, Equanimeous St. Brown, and Velus Jones.
The content that the Bears' media team has put out since Poles took over for Ryan Pace has been nothing short of magnificent. Chicago's front office looks and feels competent for the first time. Poles and his crew value analytics, and it shows in the way they recruited free agents. The additions of Tremaine Edmunds and T.J. Edwards give the Bears one of the best linebacking corps in the league. The Bears also improved at running back despite losing David Montgomery to the Lions.
It's also interesting to note that Poles and his staff rely on a Touchpoint type of engagement when recruiting players. The five touchpoints are awareness, consideration, decision, action, and advocacy. That type of analytics can provide insight into the way the front office is leaning as it heads into the draft. It might, for instance, prevent the Bears from drafting Jalen Carter. If they do, however, it's because they're convinced Carter will fit in seamlessly with the rest of the roster.
Using Touchpoint as a foundation for draft analysis also means Poles will stick to selecting the best player available. At least for the most part. Need and best player available often collide, especially if the front office stays true to its analytics. The Bears could draft Bijan Robinson, for instance, or trade down, based on that insight. It all depends upon where the team ranks players on its big board.
We mocked the Bears' entire draft in a previous post if you're interested. The only certainty is we will probably miss every selection. It's a fun and exhausting exercise nonetheless.
Here's the latest episode of "1920 Football Drive" courtesy of the Chicago Bears.