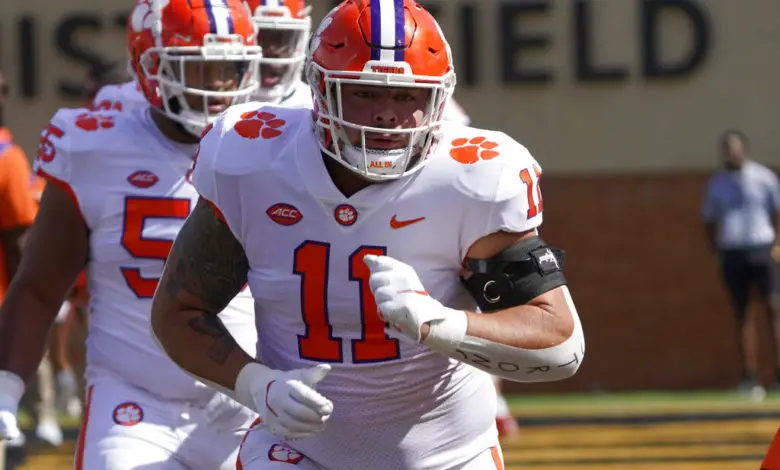 Bears Insider 2023 Mock Draft 2.0
I've been hesitant to do a mock draft because the Bears have so many options and so many needs, it seems almost impossible to create something that makes sense. There are no guarantees in life, but I think it's a given that Ryan Poles will make a trade or two (or more) to accumulate extra picks. For the purpose of this mock, I'm going to start with a Bears/Steelers trade. It doesn't give Chicago any extra picks of real value, but it does give the front office a little more flexibility.
So, let's assume that the Bears trade the No. 9 overall pick and the No. 148 pick to Pittsburgh for Nos. 17, 49, 234, and 241. The trade favors Chicago just a bit, but that's a fair premium to get into the top 10. I used the revised trade value chart at DraftTek, and the Bears are giving up 400 points of draft assets for 418 points. I think it's fair to say that both teams would be pleased with the deal.
If Jalen Carter and Will Levis are available, the Bears will be well-positioned to clear even more premium in a potential trade. All bets are off if that's the case. There has been some buzz that the Lions will select Bijan Robinson at No. 6. If Detroit does select the Texas running back, Carter should fall to the Bears, and Poles will have a very high number of potential suitors. But let's just consider the Steelers trade the more likely option, at least for now.
The Bears can use the two extra 7th-round picks they acquire in another trade or to find value at the end of the draft. Their board looks like this following the swap of picks:
R1P17
R2P49
R2P53
R2P61
R3P64
R4P103
R4P133
R5P136
R7P218
R7P234
R7P241
R7P248
Let's mock it, shall we?
.@ClemsonFB DL @bryan_bresee is a top prospect and projected 1st rounder 👀

Who could use his talents?

📺: 2023 #NFLDraft — Starts Thursday, April 27 on NFLN/ESPN/ABC
📱: Stream on NFL+ pic.twitter.com/QxDZ90omtq

— NFL Network (@nflnetwork) April 14, 2023
Bresee is a monster in the middle but he's not a finished product — yet. He has an explosive first step that is exceptional for a player his size. Bresee also has incredible strength and elite athleticism, but he needs some refinement. Head coach Matt Eberflus and his staff will have to work with Bresee to get him to play a little lower. That said, he has powerful hands that he uses to knock blockers off balance quickly and efficiently. It's incredibly evident when he's rushing the passer. He holds blockers well and doesn't get moved off of his spot.
Stats that Matter: 51 tackles, 28 solos, 15 TFLs, 9.0 sacks, 4 passes defended, 1 forced fumble.
Measurables: 6-foot-5, 298 pounds, 4.86 in the 40-yard dash, 29″ vertical jump.
Strengths: Explosive vertical burst combined with elite lateral athleticism; first-step quickness; enough power to obliterate ball carriers; plays violently at the point of attack; shines in pursuit.
Weaknesses: Bresee is a better run defender than a pass rusher at this point, though he's still very good at both. Plays high at the hip and is a little too upright at times. He also needs to improve his lower body strength.
Buyer Beware: Bresee had ACL surgery in 2021 and shoulder surgery in 2022.
NFL Comp: Nathan Shepherd (Jets)
PFF Rank: 21
Backup Choices: RB Bijan Robinson (Texas), EDGE Nolan Smth (Georgia), OL Paris Johnson Jr. (Ohio State), OL Darnell Wright (Tennessee), S Brian Branch (Alabama), WR Zay Flowers (Boston College), and DL Calijah Kancey (Pitt).
Sooo this @BadgerFootball C Joe Tippman is 6'5 315lb, pulls a ton andddd he's insanely strong?!

Alright alright…. pic.twitter.com/6DP9a9Wscu

— Ben Fennell (@BenFennell_NFL) December 15, 2022
Tippmann is arguably the most athletic offensive lineman in this draft class. He's quick and explosive off the snap which allows him to quickly gain leverage. Tippman is effective in pass protection because he is very strong at the point of attack. He is also good at forcing defenders upward and onto their heels. I've always felt Teven Jenkins belongs at right tackle. Tippman would strengthen the middle of Chicago's line and would likely move to guard.
Stats that Matter: Allowed only one sack and five pressures over 338 pass-blocking snaps.
Measurables: 6-foot-6, 313 pounds, 4.90 in the 40-yard dash.
Strengths: Savvy, quick, technically sound, and physical; elite lateral movement; high motor and plenty of raw power; high character; book smart.
Weaknesses: Tippman is a little tall for an interior lineman and is unlikely to stay at center; can get grabby at times which could lead to holding penalties; short area footwork needs improving.
Freak Factor:  Made Bruce Feldman's Freak's List – ranked No. 28. Feldman wrote, "Tippmann is a terrific combination of strength (635-pound back squat and 455-pound bench) and athleticism, clocking a 4.31 pro agility time and a 1.65 10-yard split, which would've been faster than any O-lineman at the NFL combine this year."
NFL Comp: Rob Havenstein (Rams)
PFF Rank: 52
Backup Choices: C Luke Wypler (Ohio State), CB Kelee Ringo (Georgia), EDGE Keion White (Georgia Tech), S Antonio Johnson (Texas A&M), and WR Jalin Hyatt (Tennessee).
Another week, another awesome sack by Kansas State EDGE Felix Anudike-Uzomah.

Euro-step and double-swipe at the apex, then a rip to splice around the corner and into the pocket. The definition of smooth execution. pic.twitter.com/wLSlXnjcYH

— Ian Cummings (@IC_Draft) October 3, 2022
Anudike-Uzomah has long arms for a defensive end. His speed allows him to threaten on the edges. He's also a high-effort, high-motor pass rusher with enough quickness to close on the run. Anudike-Uzomah has forceful hands and explodes into offensive linemen with authority.
Stats that Matter: 28 tackles, 8 TFLs, 9 QB hits, and 8.5 sacks.
Measurables: 6-foot-3, 255 pounds, 4.73 in the 40-yard dash.
Strengths: His strong core strength allows him to power through blockers. Anudike-Uzomah possesses fluid footwork to redirect, reverse momentum, and close with a burst. He's also very instinctive and improved his technique in each year of his college career. Has a natural nose for the quarterback.
Weaknesses: Anudike-Uzomah struggles when double-teamed or playing against longer-edged blockers. That limits him considerably when defending the run.
NFL Comp: LaMarr Woodley (Steelers)
PFF Rank: 32
Backup Choices: OT Cody Mauch (North Dakota State), OT Matthew Bergeron (Syracuse), RB Zach Charbonnet (UCLA).
Jonathan Mingo is significantly better WR than Quentin Johnston

He has everything people think Johnston has: size, speed, and physicality plus better hands, more developed routes, and blocking

Everyone will quickly wonder how Johnston was ever considered the better prospect pic.twitter.com/lmdvdHymKX

— Draft Hub (@DraftHubNFL) April 13, 2023
The Packers won't be very happy with this pick, and Mingo is one of my favorite wide receivers in this draft. As a matter of fact, I'm surprised he has such little buzz (it is getting louder, however), but, PFF has him at No. 148 on its big board. I think that's far too low. Only one publication has mocked Mingo to the Bears (Round 4), though I've seen him projected anywhere from No. 26 overall to the mid-6th round. He's a big, strong slot receiver. Mingo is, in fact, built like a running back, gets a lot of tough yards after the catch, and he's an excellent run-blocker, too. I admit this selection is largely influenced by Poles' decision to reach for Velus Jones last year.
Stats that Matter: 51 receptions, 861 yards, and 5 touchdowns.
Measurables: 6-foot-2, 225 pounds, 4.46 in the 40-yard dash, 39.5″ vertical jump.
Strengths: Mingo is a broad-shouldered, long-limbed, and smooth athlete who shows the ability to make plays downfield. He's particularly dangerous in catch-and-run situations. Mingo is also a much better deep threat than his timed forty would suggest and tends to get faster the deeper he gets.
Weaknesses: Mingo struggles to get separation, and can be a bit of a body-catcher at times. He also needs to improve his routes and has struggled to stay healthy.
NFL Comp: Anquan Boldin (Cardinals)
PFF Rank: 148
Backup Choices: EDGE Tuli Tuipulotu (USC) S Jordan Battle (Alabama), CB DJ Turner (Michigan).
How in the world did Sydney Brown catch this?? 🔥pic.twitter.com/QQToOI5pts

— The Illinois NIL Store (@illinistore) November 26, 2022
I'd love to see a tandem of Brown and Jaquan Brisker at safety next season. Brown picked off six passes last year and broke up another seven. He has the transitional quickness to work in the slot or in the deeper portions of the field. Like Brisker, he can get up on the line of scrimmage to punch routes before they get started. He's also a violent tackler with click-and-close ability, though he can be inconsistent at times.
Stats that Matter: 43 tackles, 6 interceptions including one TD return, and seven passes defended.
Measurables: 5-foot-10, 211 pounds, 4.47 in the 40-yard dash, and a 40.5″ vertical jump.
Strengths: Brown is an athletic safety prospect with impressive speed and overall explosiveness. He had an excellent Combine performance that included a  4.47 forty, an 87th percentile 10-yard split, and a 96th percentile vertical jump. He is peaking at the right time and could land anywhere between rounds 2 and 4.
Weaknesses: Brown sometimes struggles in man-to-man coverage. He also has a high backpedal which could hurt him against speedier receivers.
Freak Factor:  Made Bruce Feldman's Freak's List – ranked No. 34. Feldman wrote, "Brown made All-Big Ten honorable mention in 2021, led Illinois with 81 tackles, and also forced two fumbles. He added almost six pounds of lean muscle mass this summer while losing one pound of fat. He has also hit 22.4 mph on the GPS in-game."
NFL Comp: Mike Brown (Bears)
PFF Rank: 91
Backup Choices: EDGE BJ Ojulari (LSU), CB Tyrique Stevenson (Miami), RB Devon Achane (Texas A&M), EDGE Derick Hall (Auburn), and WR Nathaniel Dell (Houston).
Kendre Miller has some serious explosiveness to his game:

19 15+ yard runs (8th in the class)
591 yards on those runs (7th in the class)#FantasyFootball pic.twitter.com/hqcCDbwTe1

— Jeremy (@PopesFFH) March 18, 2023
I know a lot of fans are hoping the Bears take Robinson in the first round because he is the prize of this year's running back class and could be a generational player at the position. Still, Miller is a damn good back in his own right. He's a dense, well-leveraged back, and within his frame, he delivers high-end functional athleticism. Miller also has an explosive second gear and can quickly throttle up and attack the outside, showing exceptional control. Additionally, Miller has the necessary long speed to maintain separation once he finds daylight, and he finishes big plays with that top-end speed.
Stats that Matter: 1,399 rushing yards, 17 touchdowns, 6.25 YPC.
Measurables: 5-foot-11, 215 pounds, 4.58 in the 40-yard dash, and a 40.5″ vertical jump.
Strengths: Miller has a three-down starter ability with natural instincts. He's patient but with quick feet and a very impressive second gear. Miller has good vision and a knack for finding the end zone.
Weaknesses: Miller is barely adequate as a receiver, and can be overpatient at times, which can result in big negative yardage plays. He's also not a very good blocker.
NFL Comp: Nick Chubb (Browns)
PFF Rank: 97
Backup Choices: WR Rashee Rice (SMU), CB Eli Ricks (Alabama), RB Tyjae Spears (Tulane), OT Wanya Morris (Tennessee), and OT Tyler Steen (Alabama).
Eastern Michigan's Jose Ramirez knows how to get after the QB. Wins four different ways here with a dip-n-rip, a euro step club-swim, a forklift, and a long arm.

Day 3 prospect in the 2023 NFL Draft with production (20.5 sacks last 2 years) and athleticism (6.95 3-cone + 4.3 SS) pic.twitter.com/WsqjQ8zEb5

— Bobby Football (@Rob__Paul) April 13, 2023
Some scouts consider Ramirez a bit of a project and that's a fair assumption. He needs a lot of work on defending the run, but he's a playmaker as a pass rusher, admittedly against some less-than-quality competition.
Stats that Matter: Recorded 31.5 TFLs and 18.5 sacks in the last two seasons. Ramirez had 12 QB hits in 2022 and 14 TFLs.
Measurables: 6-foot-2, 242 pounds, 4.73 in the 40-yard dash, and a 38.5″ vertical jump.
Strengths: Ramirez has an excellent first-step burst and can be dominating when rushing the passer.
Weaknesses: He needs a lot of work in the run game, and played mostly against inferior competition at the collegiate level.
NFL Comp: Shaquil Barrett (Buccaneers)
PFF Rank: 133
Backup Choices: TE Davis Allen (Clemson), RB Chase Brown (Illinois), OT Nick Saldiveri (Old Dominion), and DE Byron Young (Tennessee).
Going to have a really hard time unseeing Jaelyn Duncan manhandling Aidan Hutchinson like this. He definitely lot his share of reps in this game. But the LT out of Maryland has some serious upside. pic.twitter.com/EDshFizWSe

— Quinten Krzysko (@ButkusStats) January 10, 2023
Duncan is a raw but gifted athlete who held down the left tackle position for four years at Maryland. His size and natural athleticism make him an intriguing pro prospect. I actually like Duncan more than Blake Freeland, who's ranked a bit higher by most analysts.
Stats that Matter: Blocked for a Maryland passing offense that ranked third in the Big Ten in 2022 with an average of 259.8 yards per game in the air.
Measurables: 6-foot-6, 306 pounds, 5.10 in the 40-yard dash, and a 31.5″ vertical jump.
Strengths: Duncan has excellent size, length, quickness, and agility.
Weaknesses: He's raw, needs to work on his footwork, and can play a little too high in the hip at times. Has a lot of room for improvement as a run blocker.
NFL Comp: D.J. Humphries (Cardinals)
PFF Rank: 128
Backup Choices: EDGE Zach Harrison (Ohio State), DL3T Keondre Coburn (Texas), RB Roschon Johnson (Texas), and S Christopher Smith (Georgia).
Asim Richards is a middle/late round developmental Tackle to keep an eye on. Played really well against Notre Dame and Isaiah Foskey #Bears https://t.co/UWCzOk4uBM pic.twitter.com/SKNi1kKvP0

— Chicago Football Connection (@CFCBears) January 4, 2023
I'm going best available here and uncover a versatile and physical tackle who oozes nastiness. Richards can even play defensive tackle or tight end if needed. This is a great value pick for the Bears.
Measurables: 6-foot-4, 309 pounds, 5.16 in the 40-yard dash, and a 29.5″ vertical jump.
Strengths: Richards is a quick starter with a strong leg drive who played more than 2,500 snaps in his collegiate career. He's powerful and plays violently. Positional versatility provides seventh-round value.
Weaknesses: Like Duncan, he's raw, and needs to work on his footwork.
NFL Comp: Zach Fulton (Chiefs)
PFF Rank: 217
It's been a while so I thought I would bless your timeline with some Deebo Sa… sorry, Puka Nacua!

— Matt FF Dynasty 🏈 (@MattFFDynasty) March 16, 2023
Nacua will catch anything thrown at him.
Stats that Matter: 48 receptions, 625 yards, with 5 TDs.
Measurables: 6-foot-2, 201 pounds, 4.55 in the 40-yard dash, and a 33″ vertical jump.
Strengths: Nacua's ball skills and the competitive nature he brings to the field give him a fighting chance to make the roster. He works best in short and intermediate situations as an extension of the run game. He's talented with the ball in his hands, so jet-sweep work in the pros could be an option.
Weaknesses: Nacua lacks pro-level acceleration and the ability to separate. His upright running style will make him easy to redirect. If drafted, he'll need to stand out on special teams to make the roster.
NFL Comp: Danny Amendola (Patriots)
PFF Rank: 233
South Alabama CB Darrell Luter Jr. here working as a flat defender in Cover 2.

Physical jump jam to disrupt #1's release➡️sink to eliminate hole shot➡️trigger when shallow crosser enters flat➡️vice tackle short of the sticks.

Teach tape‼️✅ pic.twitter.com/h7i0AoPDJx

— owenstraley21 (@owenstraley21) March 28, 2023
Another BPA pick, Luter had an outstanding 2021 season before backsliding a little in '22.
Stats that Matter: 24 tackles, 1 INT, and 5 passes defended.
Measurables: 6-foot, 189 pounds, 4.46 in the 40-yard dash, and a 40.5″ vertical jump.
Strengths: Luter is a small-school prospect who plays much bigger. He's an outstanding zone corner who flashes excellent instincts, awareness, and ball skills.
Weaknesses: Needs a lot of work in man-to-man coverage. The regression during his senior season (at a small school) is concerning.
NFL Comp: Christian Benford (Bills)
PFF Rank: 243
Aubrey Miller Jr. just doing Aubrey Miller Jr. things at the Senior Bowl 💥 #TheDraftStartsInMOBILEpic.twitter.com/xEed1UeV9R

— The Bluebloods (@The__Bluebloods) February 4, 2023
The versatile linebacker and Missouri transfer is a force in the run game but can also hold his own when dropping back into coverage. Miller is a big hitter and vicious defender with a "junkyard dog" mentality. If Poles really likes athletes that play with a chip on their shoulders, Miller is definitely his guy. His performance earned him an invite to the Reese's Senior Bowl this past February.
Stats that Matter: 226 total tackles, 23.5 TFLs, 8.5 sacks, nine PBUs, six forced fumbles, and three fumble recoveries in 26 games at Jackson State.
Measurables: 6-foot-2, 225 pounds, 4.85 in the 40-yard dash, and a 40.5″ vertical jump.
Strengths: Miller shows a knack for separating the ball from the ball carrier, and is the collegiate epitome of Chicago's HITS philosophy. He's also an excellent special teams tackler and will be an immediate contributor in that phase of the game. He has a violent streak, but is intelligent, and is considered a leader on defense. He's a veritable ball of organized chaos.
Weaknesses: Miller struggles in space as a tackler. His special-teams prowess could buoy his draft position, but he might be a reach before the seventh round.
NFL Comp: Otis Wilson (Bears)
PFF Rank: 228