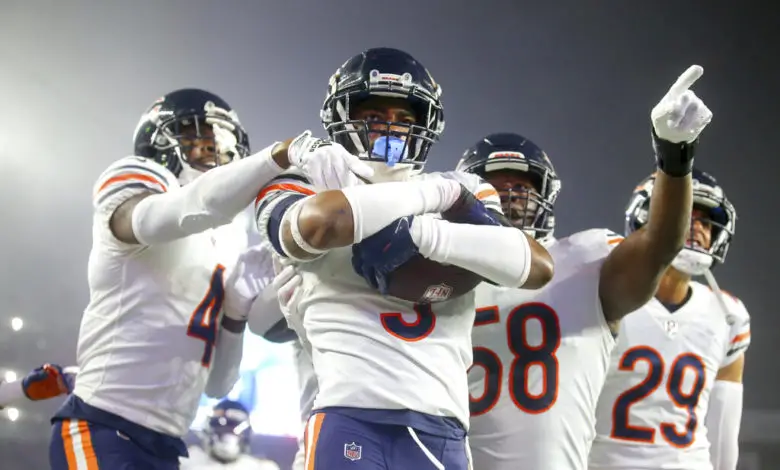 Watch: Bears Postgame Celebration and Matt Eberflus Speech
Matt Eberflus had his moment yesterday, and truth be told, it was well-deserved. The first-year head coach spent the mini-bye week speaking individually with each of his players. He commended them for their growth during a season with more downs than ups. He also told the team he wanted them to finish better, and preached crisper execution. Eberflus finally told his players he believed they could beat anybody, including the Patriots.
The Bears went out and completely dismantled the Patriots in front of a nationally televised audience. Former POTUS Barack Obama provided commentary with Peyton Manning and Eli Manning on the ESPN 2 simulcast. Comedian Bill Burr was part of Manningcast as was Chicago native Vince Vaughan. The Bears had a veritable coming-out party in their 33-14 win over New England and played their best game in nearly three years.
The younger Bears were Monday night's stars. Kyler Gordon and Jaquan Brisker had interceptions. Braxton Jones had a key block to spring Khalil Herbert on a 25-yard screen pass the second-year running back took to the shed. Dominique Robinson was excellent while rushing the quarterback, and tipped a ball that Roquan Smith intercepted.
At one point the Bears scored on five consecutive drives. They executed in the red zone and converted 11 of 16 third-down attempts. Chicago's defense held the Patriots to 70 yards on the ground, and except for two early series, shut down Bailey Zappe. That's something no team had done prior. The defense forced Mac Jones out of the game after Brisker's interception. Though Zappe gave the Patriots a quick 14-10 lead, Chicago responded with 23 unanswered points to seal the victory.
Justin Fields is 1 of 2 players in the last 30 seasons to have 100+ pass yards, 1+ pass TD, 70+ rush yards and 1+ rush TD in an opening half.

The other guy, Russell Wilson, has done it twice: in Week 15, 2012 and Week 5, 2014.#DaBears @ChicagoBears

— NFL Research (@NFLResearch) October 25, 2022
It seemed like Luke Getsy finally turned the keys to the offense over to his young quarterback. In fact, Fields ran on nine designed runs in the first half alone.
"I thought it brought a whole different element to our offense," Fields said of using his legs. "I think we executed that well. And there were definitely some explosive plays in the design runs for sure."
The young Bears still have a lot of room for improvement, but it's amazing what this team can do when Getsy schemes his offense based on the strengths of his QB1. Fields believes the best is yet to come, and that last night's win is something he and the team can build upon.
"My main goal right now is to continue to improve each and every day, each and every game," Fields said. "So, again, kind of look at tomorrow with the film, really tonight on what can I get better at and what I can improve on as an individual and what we can improve on as a team. So we're just focused on getting better each and every day."
The team celebrated appropriately in the locker room after the game. After, Eberflus glowed about the performance. He thanked and congratulated his players, and then he told them they could take Tuesday off. That's a nice gift considering Chicago has a short week before traveling to Dallas on Sunday to play the 5-2 Cowboys. If the Bears pull off a second consecutive upset, Chicago will lose its collective mind. For now, however, let's just all savor the moment, shall we?
"We're a pretty good team," the coach said after the game. "Can we get better? You betcha."